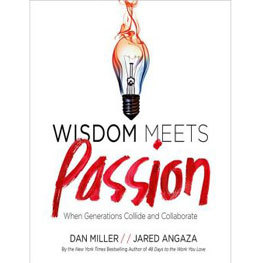 Office Space: November, 2013
On The Books: Bettering Oneself
Our December selection of new releases provides insight into standing out, staying strong and being better than the competition.
The Willpower Instinct: How Self-Control Works, Why It Matters, and What You Can Do to Get More of It
Based on Stanford University psychologist Kelly McGonigal's "The Science of Willpower" course, The Willpower Instinct uses scientific research in order to better understand willpower in order to get things done more efficiently and offer better quality of life. (Avery Trade, December 2013, $17)
Wisdom Meets Passion: When Generations Collide and Collaborate
Now available on audio, Wisdom Meets Passion helps to educate its reader on the benefits of combining the different types of passion, wisdom and goals experienced by 20-somethings and baby boomers alike. (Thomas Nelson, December 2013, $14.99)
Platform: Get Noticed in a Noisy World
In the ever expanding marketplace, which is flooded with new products every day, quality is no longer the only selling point to push a product off a shelf. It requires a strong knowledge of social media and how to use it properly. (Thomas Nelson, December 2013, $14.99)
Office Supplies: Executive Needs
Whether it's your business card or your office setup, presentation in the professional world goes a long way, so turn to this month's must-have supplies to show others that you mean business.
Make the Case
A sterling silver business card holder is a must-have when presenting your new contacts with your company information. This case by Monica Rich Kosann, patterned with sleek stripes on front and back, is sure to make the right statement. MRKStyle.com, $345
Set in Stone
This laser engraved marble desk name bar is perfect for any office and is personalized completely for your specific needs, whether to represent your company, name or logo. ImpressionsLast.com, $34.95
Get it Together
Being organized while looking good is essential. This Sundance Leather Desk Organizer has shelves, slots, and drawers perfect for keeping your desk clutter free—with the envy of the entire office. SundanceCatalog.com, $395
Crunching Numbers
$5.6 MILLION: Floor renovation cost recently announced by Bally's in Atlantic City, which will take four months to complete
67: Number of natural gas-powered trucks Republic Services, a waste management company in Mount Laurel, will now utilize in South Jersey and the Philadelphia region
$100,000: Amount donated, by Cherry Hill's TD Bank Group to the Red Cross to assist with typhoon relief efforts in the Philippines
2 Months: PSE&G will give customers credits for their electric bills $93 Average monthly savings residents will see from the credits in November and December
FORTY THOUSAND: Size, in square feet, of the new building in Logan that BK Specialty Foods has moved into, after relocating from Philadelphia
17%: Amount of vacant office space in the South Jersey region in the third quarter, according to Marlton-based Wolf Commercial Real Estate
Published (and copyrighted) in South Jersey Biz, Volume 3, Issue 11 (November, 2013).
For more info on South Jersey Biz, click here.
To subscribe to South Jersey Biz, click here.
To advertise in South Jersey Biz, click here.