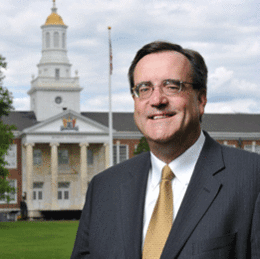 The Corner Office: Dr. Robert C. Beatty
Dr. Robert C. Beatty
Dean, William G. Rohrer College of Business
Rowan University
Dr. Robert C. Beatty says there are four main things he learned during his time in the military that benefit him as the dean of the William G. Rohrer College of Business at Rowan University: teamwork and cooperation, selflessness, and leadership. "In order to be a successful leader, you must first learn to be a successful follower. Leadership must be learned and earned," he says.
Beatty, who previously served as dean of the School of Global Commerce & Management at Whitworth University in Spokane, Wash., has more than 22 years of experience in the military. He's a lieutenant colonel and special agent in the United States Air Force Reserve, and was deployed as recently as 2005 in support in Operation Enduring Freedom. With business experience working for Kellogg Company, Amerada Hess Corp. and the Air Force, he was appointed the new dean last summer just as the college was celebrating its 40th anniversary—an ideal time to come onboard as Beatty had the opportunity to learn all about the history of the college and personally meet many of the stakeholders who played a part in its formation and success.
Beatty talked with South Jersey Biz about his experiences, as well as what he's found so far that makes Rohrer College of Business unique.
How has your own path affected your approach to education?
I believe that being a business professional for over a decade before making the decision to become a college professor had a profound impact on my current approach to teaching. While I was attending college, I found that I learned the most from the professors that had actually worked in the "real world" before teaching my class. When I was a student, I sought out faculty that were either currently working in industry or at least had significant business experience. These professors had immediate "street cred" with the students because they could teach the most current and practical skills, knowledge and abilities that we all knew would be able to help us find a job upon graduation.
When I develop a course plan for my students, you can be assured that the course topics will be current, practical and relevant to today's dynamic global business environment. Since I know that I am no longer a "business expert" because I have not worked in industry for a number of years, I make sure that I bring in numerous guest speakers from industry to provide my students with their perspectives of the topics I am teaching in class.
What have you found at Rowan that you find unique compared to the past schools you've been at?
First, the focus on practical and relevant education. The college curriculum is focused on providing students with the skills and knowledge they need to compete in today's global business marketplace. The college's commitment to student internships and project-based learning ensures students have the requisite skills to be successful in business. Secondly, personal education. Small class sizes, caring and dedicated faculty, and extensive support for student educational programs guarantees that each student is able to "craft" an educational experience that will allow them to meet their personal life goals.
What's the best business advice you ever received?
I received this advice from my father: "You must have integrity in everything you do." I have passed on this advice to my children. If you are not a person of integrity, words like leadership, trust, fairness, and honesty have no meaning.
Book recommendation.
While there are a number of books I have read that I think are excellent "reads" about business or higher education, I still love a book I accidentally found on an airplane a few years ago. The book, Everything I Know About Business I Learned at McDonald's, was a short book which concisely described the key skills and abilities that must be learned by all successful business professionals.
What gadget can't you leave home without?
I hate to admit this, but like every other person on the planet, I have to have my cell phone. I think it is frightening that I rely on a single device to do everything from give me driving directions to help me pick out a restaurant.
Published (and copyrighted) in South Jersey Biz, Volume 3, Issue 9 (September, 2013).
For more info on South Jersey Biz, click here.
To subscribe to South Jersey Biz, click here.
To advertise in South Jersey Biz, click here.