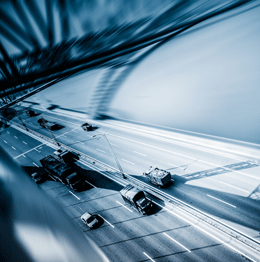 Transportation Solutions
…Special Advertising Section from the pages of South Jersey Biz…
These are the companies that make life just a little more efficient for on-the-go employers and employees alike.
A-1 Courier Service of South Jersey, Inc.
At A-1 Courier Service of South Jersey, Inc., they take their commitment seriously. They know the job is not complete until the last package has been delivered and you are happy. Since 1992, they have built their business on one simple belief: Always listen to the customer. When you call A-1 Courier Service of South Jersey, Inc., you will have the confidence and peace of mind that their experience and capabilities are the best available to fit your needs. They provide medical transport that includes ambulatory care for patients, including transport to doctor's appointments and rehabilitation. They also provide medical and lab delivery service. From their corporate office in Cherry Hill, they make customer input the cornerstone of their business and match that commitment with a skilled staff to serve all of your unique needs.
2 Split Rock Drive, Suite 5, Cherry Hill
(856) 424-8393
A1SJ.com
Cross County Connection
Cross County Connection, a nonprofit organization, partners with the North Jersey Transportation Planning Authority (NJTPA), the New Jersey Department of Transportation (NJDOT), the Delaware Valley Regional Planning Commission (DVRPC), the South Jersey Transportation Planning Organization (SJTPO), member organizations and the U.S. Federal Highway Administration to provide solutions to complex transportation problems for counties, municipalities, and employers in the southern New Jersey region encompassing Atlantic, Burlington, Camden, Cape May, Cumberland, Gloucester and Salem counties. Their free services for employers include: offering real solutions, electronic tools and customized information on commute options to employees, assistance with transportation challenges, and ridesharing assistance. The mission: "Improving the quality of life in southern New Jersey through transportation solutions."
4A Eves Drive, Suite 114, Marlton
(856) 596-8228
DriveLess.com
Davis Transportation Services
The American Trucking Association says about three million truckers are on the nation's roads today, but companies need about 30,000 more. The war on talent is hitting the transportation industry with force. Qualified, dependable, drivers are in high demand and Davis Transportation Services (DTS) has the experience to deliver top talent to your doorstep. Their team of recruitment and dispatch professionals work with only the best and safest drivers in the tri-state/Delaware Valley market. With a dedicated safety and compliance officer on staff, DTS is in the unique position to ensure that you are focusing on your business while they handle finding safe drivers and maintaining their qualification files. Call them when your drivers are sick, a new rush delivery is needed, or when your drivers are out of service. With offices in Cherry Hill, Vineland and Newark, DTS will help you drive your business.
1415 Route 70 E., Suite 103, Cherry Hill
(877) 428-2806
DavisDrivers.com
Medi-Clean Healthcare Laundry Service, LLC
Medi-Clean provides nursing homes, rehab hospitals, surgical centers and all types of medical facilities in Center City, Philadelphia and surrounding areas with convenient, high-quality health care laundry programs. Servicing customers from Trenton to Wilmington and anywhere else within 60 miles of downtown Philly, Medi-Clean is a full-service health care linen company offering top-quality medical linen rentals, along with laundry service that is in strict compliance with OSHA standards as well as pickup and delivery programs. Whether their clients are renting linens or simply need linens and lab coats laundered, Medi-Clean creates customized packages that fit each client's needs, timetable and budget.
1 Judy Way, Aston, Pa.
(610) 485-6334
MediCleanLaundry
Sensational Host Caterers
From corporate lunches to company picnics and cocktail receptions—regardless of size, scope or guest list for your corporate event, their corporate catering team has everything covered. Allow one of their corporate catering professionals to assist with company training meetings, client appreciation events, company breakfasts and lunches, sales meetings and holiday parties. They also specialize in planning and executing training for transportation companies that are required to re-certify their employees and drivers. Sensational Host Caterers knows that catering isn't just about dropping off food. Their well-trained corporate event planners can create something truly special, whether a box lunch or convention showcase. Their corporate catering professionals, from their culinary team to servers, are some of the best throughout the tri-state area. Sensational Host makes sure everything runs smoothly, the food is creative, and everyone has an amazing time, even if it's just lunch. Simply call to set up a complimentary consultation to learn the difference Sensational Host can make for your corporate catering. Whether you're ordering meals for your business at your location or planning a companywide event at one of their facilities, let Sensational Host professionally handle the details efficiently and deliciously.
3030 Route 73 N., Maple Shade
1 (800) 808-CHEF (2433)
SensationalHost.com
Published (and copyrighted) in South Jersey Biz, Volume 3, Issue 9 (September, 2013).
For more info on South Jersey Biz, click here.
To subscribe to South Jersey Biz, click here.
To advertise in South Jersey Biz, click here.