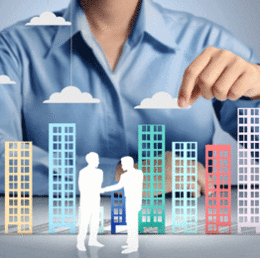 Maximize Your Real Estate
…Special Advertising Section from the pages of South Jersey Biz…
The physical aspects of your business—where it's located, how it's designed, how it's landscaped—say a lot, especially when it comes to first impressions with new clients. Here, our experts tell you what you should know, along with some real estate tips for your home, as well.
"What is the advantage of hiring a professional landscape company for your commercial property?"
First impressions are very important when marketing any property, but especially if you are attempting to sell or lease a commercial property of any type. How your business looks from the street can speak volumes about your image. Working with a professional will help create and maintain the exterior look, while improving the value and appeal of the property. A professional attends to grounds maintenance and irrigation systems, and automatically handles removal of snow and ice services, keeping your property inviting and ready for business. Plus, it ensures the safety of your tenants.
Dave Feast
Elite Landscaping
Berlin
(856) 753-1944
EliteLandscaping.com
"What are the most significant advantages to hiring professional property management?"
Many people want rental properties as investments but are afraid that managing will take so much time that they won't be able to concentrate on their own job/life. In addition, individual landlords are not familiar with industry standards and find themselves being taken advantage of by a tenant. A professional property manager understands what it takes to obtain good tenants while maintaining the property. They are familiar with the legal issues of rentals and can keenly assess circumstances as they arise. With monthly reports being given, the daily concerns are removed from the owners' attention and thus they have the benefit of owning the investment without the hassles.
Dave Gorham
NJ Realty Solutions, LLC
Audubon
(855) 547-4700
NJRealtySolutions.com
"What advice can you give business owners and decision makers who want to expand or move their businesses?"
When someone wants to relocate his or her business, it is very important to understand why. There are any number of reasons to relocate, but most are unique to the individual business. Let's face it: Moving is not fun or productive to a business. As property owners, we start by asking a series of probing questions to understand the prospective tenant's needs followed by more specific questions as we gain more insight. As an example, a prospect that sells copy machines was awarded a contract to replace all the equipment for a hospital with three locations and more than 100 copy machines. To understand the prospect's needs, we would want to know such details as the contract length, number of additional employees, storage requirements, timing and location. With these answers in hand, we can help determine if the existing location will handle the tenant's new needs through reconfiguration or if relocation is recommended.
In this example, the decision is driven by a contract. There would no reason to be cautious and wait. At other times, companies choose to relocate because they want to upgrade their environment from a Class "B" to a Class "A" building. They obtain proposals from Class "A" landlords and decide if such a move makes economic sense. In this case, prospects are often more cautious and may take a "wait and see" attitude. As is the case in many business decisions, there is not one answer to the question. One's particular circumstance will dictate the ultimate course of action.
K.C. Isdaner
The Bloom Organization
Mount Laurel
(856) 778-0300
BloomOrganization.com
"What advice can you give homeowners who want to buy or sell a home?"
There are numerous factual circumstances beyond the state of the existing real estate market which may dictate the answer to this question. Notwithstanding existing interest rates and/or property values. According to a Bankrate.com national survey of large lenders, the benchmark 30-year fixed rate mortgage rose from 3.81 percent last year to its present position of 4.57 percent. This increase impacts both purchasers and sellers by naturally shrinking both markets. No one can predict the future, however all should recognize that the present interest rates are still historically low and the strengthening housing market reflects this fact. In light of the above I feel confident that the time to act is now.
Diane Ridgway
Surety Title
Marlton
(856) 988-8900
Surety-Title.com
"What are some tips on negotiation?"
The more you know about a seller's motivation, the stronger the negotiating position is. For example, a buyer or seller who must move quickly due to a job transfer may be amenable to a reasonable price with a speedy escrow. Other motivations include divorce, schools or lifestyle changes. Remember that the listing price is what the seller would like to receive, but he/she is expecting some negotiation. Before making an offer, ask your realtor to provide recent sale prices of comparable homes in the neighborhood. This will provide a guideline for value. An experienced realtor can help you to determine what offer would be well received and what is so offensive that the negotiations would terminate before they even get started. Hire an agent who is an experienced negotiator and who will make every effort to allow a buyer and seller to come together with a "fair" sale on both sides.
Nancy Schumacher Stevens
Re/Max Power Central
Medford
(609) 519-0076
PowerCentralRealty.com
"What advice can you give business owners and decision makers who want to expand or move their businesses?"
Business owners and decision makers should allocate ample time in their search of suitable properties which will be in concert with future operational needs while aligning themselves with a financially stable commercial landlord who can grow and/or contract with a tenant throughout its business life. Decision makers should be aware of a property's condition as it may be a reflection of deferred maintenance or capital constraints by its owner, a landlord's ability to provide professional property management and construction services, and its ability to provide continuity in matters which are crucial to meeting timelines. South Jersey is fortunate to have quality commercial real estate brokers and landlords who can help navigate this process and, as far as timing is concerned, now is a fine time to be looking for space. Landlords are generally open to making deals where they make sense and some concessions are still a part of the overall picture.
James Whitesell
Whitesell Construction Co., Inc.
Delran
(856) 764-2600 ext. 516
WhitesellCo.com
"What strategies can be used to reduce cost and better utilize a company's space?"
Here are nine tips to improve productivity and reduce costs:
• Reorganize your floor plan to create more efficient and effective interior layouts.
• Install energy-saving systems for heating, cooling and lighting, as well as the operations equipment.
• Optimize utilization of existing space, and/or strategically add new space.
• Improve the thermal envelope by upgrading roofs, walls, windows and doors to increase insulation and reduce infiltration.
• Reduce transportation costs by relocating to more accessible core areas with available utilities, highways, workers, and support services.
• Use more efficient or waterless plumbing fixtures to reduce water use. Cut back on irrigation.
• Subdivide unused existing space to lease or sublease. (This may require upgrades or reconfiguration of infrastructure: entries, restrooms, HVAC, etc.)
• Reconsider solar and wind orientation of entries and building mass. Plant landscaping to passively shade and protect structure.
• Before investing in any of these tactics, the initial costs of capital improvements will have to be weighed against the cost reductions.
Regan Young
Regan Young England Butera
Mount Holly
(609) 265-2652
RYEBREAD.com
The Top EIGHT
The following are the top economic projects underway in South Jersey, according to the Southern New Jersey Development Council.
• 295/76/42 Direct Connection Project: The aim of this project, which has almost 10 years left of construction, is to update and modernize the roadways making them safer and much easier to travel. This project is federally funded.
• South Jersey Light Rail: Set to connect Glassboro to Camden via a localized light rail, this project is currently in its environmental impact study phase. The current plan is to use existing railways and station stops (where available).
• Paulsboro Port Updates: This includes the marine terminal and access road and bridge. This project is designed to increase the productivity and shipping capacity of the Paulsboro Port.
• BL England Natural Gas Updates/ South Jersey Gas Pipeline: With the thought of energy availability in the immediate aftermath of Hurricane Sandy, the BL England Plant's conversion to natural gas from coal is seen as a way to provide more energy stability to the state. In addition, the natural gas will come from a currently unconstructed pipeline that will run from Pennsylvania to Cape May County. The natural gas pipeline will be built along existing roads with no deforestation in the New Jersey Pinelands.
• Columbia Pipeline East Side Expansion: This project is aimed at sending natural gas from northern Pennsylvania to markets with emerging natural gas demands in the Northeast and Mid-Atlantic.
• Higher Education Construction Projects: As a result of the Building Our Future Bond Act New Jersey voters passed in 2012, publicly funded universities and community colleges around the state have been approved for construction projects large and small. These projects will be continuing over the next several years.
• Military Base Construction Projects: At the Joint Base McGuire Dix Lakehurst, construction projects have been becoming more and more frequent. There are currently five slated for completion in the next 12 months.
• New Construction in Glassboro with Rowan's exploration in Public/Private Partnership: During the last few years, Rowan University has pursued public/private partnerships as a way of university growth and allowing the South Jersey business community to play a role in the shaping of education in the area. While driving through Glassboro, especially on Rowan Boulevard, it is not hard to see the various mixed-used construction projects both just getting started and just finishing up.
Published (and copyrighted) in South Jersey Biz, Volume 3, Issue 9 (September, 2013).
For more info on South Jersey Biz, click here.
To subscribe to South Jersey Biz, click here.
To advertise in South Jersey Biz, click here.