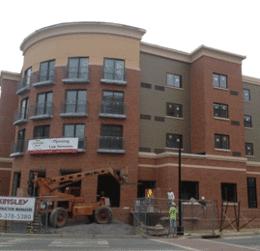 Close of Business: Ready for the Next Step
With yet another phase of the Rowan Boulevard project nearing completion, we take a look at the accomplishments and what's to come.
A few local baseball fans are taking their hobby to the bank, with a new company that has all-stars all across the country looking toward South Jersey.
More than $65 million in construction is about to wrap up on Rowan Boulevard in Glassboro with the opening of the 129-room Courtyard by Marriott Hotel on schedule for September. The Boulevard's second mixed-use retail and academic building, as well as a 1,200-space parking garage, will also open in September. All of this occurs as the borough continues a focus on retail attraction, revitalization of the old movie theater property, and a new Town Square to help complete one of South Jersey's largest revitalization initiatives.
According to Glassboro Councilman Ed Malandro, the payment in lieu of taxes (PILOT) and fees collected on completed construction this year alone total about $1.1 million. Property taxes collected on the 90 properties previously located at the redevelopment sites totaled less than $300,000 annually.
Councilwoman Anna Miller says the Courtyard by Marriott anchors Rowan Boulevard's mix of residential, retail, dining and academic buildings. "The hotel takes this redevelopment initiative to the next level, cementing Glassboro as a regional destination and demonstrating the value of this entire endeavor for our residents, businesses and university partners," she says.
Drawing in tenants, adding jobs
In preparation for opening, hotel general manager Mark Ludes says more than 450 resumes were collected at a hotel career fair in June and final hiring is now taking place for about 65 positions. He adds that room and special event bookings are well underway for the fall.
"We anticipate that occupancy will be consistently high for this property because of its location adjacent to the university as well as Glassboro's location at the center of Gloucester County," says Miller.
The four-story hotel includes an indoor pool and a deck with a fire pit. It also features a liquor license to serve a 4,140-square-foot conference space, including a 3,296-square-foot meeting space and an 845-square-foot pre-function space. The Shaner Group of State College, Pa., operates the hotel, which is owned and developed by Kinsley Equities and Sora Development.
Construction is also underway on the parking structure and mixed-use building, located adjacent to the Barnes & Noble. According to developer and builder Nexus Properties, these projects are also scheduled for completion in September.
The new mixed-use building includes 9,800-square-feet of first-floor retail, including four suites of 2,450-square-feet each. "Several retailers have already signed on—including a hair salon and an eatery—and we anticipate this building will be at full occupancy this fall," says Malandro.
Floors two through four of the mixed-use building include 54,600-square-feet of office and classroom space for Rowan College of Graduate and Continuing Education (CGCE). Gloucester County College will also offer programming on the fifth floor. The brick and glass exterior will complement the urban feel of Rowan Boulevard's existing structures.
"Rowan's CGCE is a 12-month operation that will bring young professionals and graduate students downtown all hours of the day, every day of the week, boosting economic activity for downtown merchants," says Miller.
The parking garage with 1,194 spaces is behind the CGCE building. Rowan will lease approximately 900 spaces for students living in Rowan Boulevard housing. About 300 spaces will be reserved for shoppers and visitors and will be located on the first level.
"The hotel, mixed-use building and garage account for hundreds of construction jobs today, as well as hundreds of permanent jobs, steady economic activity and tax ratables well into the future," says Malandro.
New in retail and the arts
Retailers have continued to join The Whitney Center, Rowan Boulevard's first mixed-use building which opened last year. Sun National Bank is completing fitout on its location and is opening in early fall. Adjacent to the bank is YoGo Factory, also opening this fall.
And Ry's Bagels is nearing completion. Forever Young Emporium opened a few weeks ago. These businesses join the restaurants PRIME Burger and Green Zebra on the first floor of this building, which includes housing for Rowan's honors students on upper floors.
At the same time, Glassboro is getting ready to award a contract for the next phase of construction, which will include upscale restaurant space with liquor licenses and market-rate housing above. This tract of land is located on the Boulevard directly across the street from the Barnes & Noble bookstore.
The borough has also begun planning and fundraising for a Town Square project. The 1 3/4 acre square will be a gathering space for community events as well as daily outdoor activities.
Glassboro is working on redevelopment of the old movie theater property on East High Street, as well. This section of downtown is designated as the Arts & Entertainment District and will include galleries, entertainment venues, restaurants and retail geared toward culture and the arts. The borough is working with Rowan on an Arts Collective project to help determine the best uses for this parcel. They will open up the process to the community for input in the coming months and have already issued a request for proposals for developer interest in redefining the space.
Published (and copyrighted) in South Jersey Biz, Volume 3, Issue 8 (August, 2013).
For more info on South Jersey Biz, click here.
To subscribe to South Jersey Biz, click here.
To advertise in South Jersey Biz, click here.