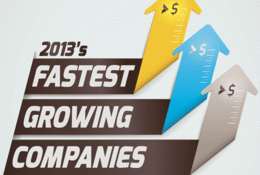 2013's Fastest Growing Companies
Every year, we ask our readers to nominate up-and-coming businesses for our Fastest-Growing Companies list, a chance to recognize those who have found their niche and are thriving in the post-recession era. This year, we've split up our annual list to highlight businesses of all sizes, a reflection of the fact that South Jersey's economy is made up of a myriad of businesses, from small startups to large, successful corporations. On both lists, you'll find some familiar names as well as new ones worthy of the spotlight. We also asked executives at each business to explain their growth driver—what they feel has led to their success—and the results are solid advice any business could follow.
Large Companies (Revenues greater than $500,000)
1. Trinity Packaging Supply, LLC
Base: Voorhees
Year Founded: 2010
Growth Percentage: 9,579 percent
Top Executives: Anthony C. Magaraci, President
No. of Employees: 4
Company Description: Trinity Packaging Supply, which has skyrocketed from just over $31,000 in revenue to $3 million in three years, is a wholesale supplier of packaging, shipping and industrial supplies. They partner with suppliers to offer more than 22 shipping locations nationwide and their catalog features more than 10,000 items available for same-day and next-day deliveries to customers across the country.
Growth Driver: Strategically sourced manufacturers and suppliers nationwide; free consultative site visits to ensure cost-efficient forms of packaging; packing technology that reduces the company's carbon footprint while lowering overall costs.
2. Source4Teachers
Base: Cherry Hill
Year Founded: 2000
Revenue Growth: 262.13 percent
Top Executives: J. Jeffrey Fox, CEO; Kevin Bush, President; Andrew Hall, Senior Vice President
No. of Employees: 7,000
Company Description: Source4Teachers recruits, hires, trains, places and manages qualified substitute teachers, paraprofessionals and school support staff in pre-K-12 school districts—filling more than 2,000 daily and long-term vacancies each day. The company, which recorded $32.4 million in top line revenue in 2012 and also has locations in Georgia and Florida, presents solutions that save districts money by reducing human resources and administrative burdens, fronting the payroll for substitute personnel, and providing ample insurance savings related to workers' compensation, general liability and unemployment.
Growth Driver: Innovative cost-saving solutions without compromising quality education. Experienced management teams at Source4Teachers pay attention to every detail to ensure each district's programs run seamlessly while focusing on providing the highest quality education.
3. TWO95 International, Inc.
Base: Cherry Hill
Year Founded: 2009
Revenue Growth: 191.38 percent
Top Executives: Shanker (Sam) Koladi, CEO; Mahesh Menon, COO; Ramesh Venkatesh, Vice President
No. of Employees: 90+ globally
Company Description: This information technology consulting and executive search company, headquartered locally with offices also in India, identifies and delivers the best candidates for the hardest-to-fill positions, which is done through a team of industry-specific recruiters. Through a combination of HR and staffing services, business advisory and authentication services, TWO95 International, which hit $4.5 million last year, offers cost-effective solutions that lead to a 40 to 50 percent reduction in ownership costs.
Growth Driver: An experienced team and a consistent process; flexibility; a large pool of resources across tools, technologies, applications systems and hardware platforms for talent acquisition; internal and external training for staff members for technical, managerial, competency-based and leadership development needs.
4. Pro Computer Service
Base: Moorestown
Year Founded: 2000
Revenue Growth: 154.53 percent
Top Executives: Anthony Mongeluzo, President/CEO; Traci Jordan, Dan Sommese, Jake Ruddy, Mark Mosley
No. of Employees: 38
Company Description: PCS provides IT services for businesses, with a major focus on an individualized approach for each company and leaving the "geek speak" in the office, putting everything in terms that any business owner can understand. PCS creates tailor-made IT solutions built to scale based on a business' needs. Headquartered in Moorestown, there are also locations in Buena, Wilmington, Del., and Philadelphia.
Growth Driver: A mission to create a healthy business eco-system by working late, working from home, or making the extra call to close the communication loop and keep clients informed. By focusing on making clients successful, it generates success in terms of new business, recognition and referrals.
5. Free For All, Inc.
Base: Mount Laurel
Year Founded: 2008
Revenue Growth: 99.3 percent
Top Executives: Gerard Ferro, CEO; Syd Eick, General Manager; Paul Hehn, Controller, Accounting; Vince Jasinnas, Manager of Information Technology
No. of Employees: 24
Company Description: Free For All, Inc., is an integrity-based pharmacy benefit administrator created to combat the rising costs of health care. The company's free RxCut Plus prescription savings card provides access to savings of up to 75 percent on prescription medications and up to 50 percent on laboratory and imaging services. In order to ensure that FFA will help those in need, Ferro insists the company only gets paid when the RxCut Card saves the cardholder money. FFA recorded $4.5 million revenue in 2012.
Growth Driver: A business model based on integrity, honesty and generosity. Since inception, Free for All has saved Americans more than $105 million in health care costs. Currently, the company has entered into revenue sharing partnerships with more than 400 nonprofits, 350 companies and thousands of individual distributors.
6. Ground Swell, Inc.
Base: Egg Harbor Township
Year Founded: 2001
Revenue Growth: 96.31 percent
Top Executives: Justin Tinel and Kurt Kwart
No. of Employees: 8
Company Description: Ground Swell, which nearly doubled in size last year, offers a technology support and consulting solution (with VoIP, hosted cloud services and more) designed to help businesses use technology as a competitive advantage and save money on their bottom line. The company provides IT support such as technical helpdesk support, computer support and consulting to small- and medium-sized businesses.
Growth Driver: Offering enterprise-level IT practices for the small-business sector; services aimed to save businesses time and money in an age where an increased technology footprint has created an increased need for predictable technology results.
7. eMaint Enterprises, LLC
Base: Marlton
Year Founded: 1986
Revenue Growth: 95.13 percent
Top Executives: Brian Samelson, CEO/President; Hannelore Fineman, EVP; Jon Hollander, EVP Operations
No. of Employees: 43
Company Description: eMaint, which also has locations in Florida and Ireland, provides Web-based maintenance management software (CMMS) and related services that help maintenance and facilities managers improve the efficiency and profitability of their maintenance operations. Recording $5.7 million last year, their flagship product is eMaint X3, a comprehensive asset, inventory and maintenance management system that is used by more than 18,000 individuals in 2,000 locations worldwide, ranging from small- and medium-sized organizations to global enterprises.
Growth Driver: A flagship product built to be flexible, scalable and easily tailored to support whatever each client needs to be successful; over-delivering on service to maintain a 96 percent retention rate.
8. Bear Staffing Services, Inc.
Base: Woodbury
Year Founded: 2005
Revenue Growth: 38 percent
Top Executives: Sherri Johnson, President/CEO; Gary Johnson, Vice President/COO No. of Employees: 285
No. of Employees: 8
Company Description: Bear Staffing Services is a diversified business specializing in temporary staffing, temp to hire and direct placement staffing in manufacturing, light industrial, logistics, administrative and clerical support and IT. Office locations for this consistently growing firm—whose top line revenue was $5.9 million last year—are in Bridgewater, N.J.; Philadelphia and York, Pa.; as well as Missouri and Wisconsin.
Growth Driver: Geographical expansion, with the ultimate goal to bring manufacturing jobs back to the United States
9. Team Builders Plus
Base: Marlton
Year Founded: 1991
Revenue Growth: 22.71 percent
Top Executives: Jeffrey Backal, CEO; Merrick Rosenberg, President/Chief Learning Officer
No. of Employees: 13
Company Description: Team Builders Plus offers team building and leadership coaching to help keep companies' employees invigorated and ensure low retention rates by building long-lasting, meaningful relationships. Offering employee events ranging from fun learning excursions to in-depth training, as well as employer training for executives of all levels, Team Builders, which also has locations in California and Pennsylvania, hit just over $2.3 million in revenue in 2012.
Growth Driver: A focus on innovation; staying ahead of the curve by continually developing new and exciting team-building programs to keep both the staff and their clients engaged.
SMALL Companies (Revenue less than $500,000)
1. PlayMore Sport & Social Club
Base: Cedar Brook
Year Founded: 2009
Revenue Growth: 436.50 percent
Top Executives: Jamie Connor, VP of Marketing; Mark DeNafo, VP of Sponsorships; Matt DeNafo, VP of Business Operations; Nick Gargano, VP of League Operations
No. of Employees: 50+
Company Description: PlayMore Sport & Social Club is a provider of sports and social entertainment for adults looking to stay active and meet new people. The company was founded as Glory Days Sports in 2009 by Jamie Connor, Mark DeNafo, Matt DeNafo and Nick Gargano and rebranded in 2012 to further establish an identity in the industry and to allow for immediate recognition of the product and services offered. PlayMore has grown from a seven-team softball league to a 20,000 member adult sport and social club offering basketball, dodgeball, flag football, field hockey and more.
Growth Driver: Growth is contributed to supporting the local community by renting government and school facilities for leagues; creating 50-plus jobs; and providing activities that help relieve the workaday stress for more than 20,000 members.
2. Rank Me SEO, LLC
Base: Haddonfield
Year Founded: 2009
Revenue Growth: 328.94 percent
Top Executives: Len Ward, Founder/CEO
No. of Employees: 5
Company Description: Averaging a more than 100 percent increase in top line revenue annually since 2010, Rank Me SEO provides search engine optimization and website design/development for small- to medium-sized businesses across the Delaware Valley region. The company also works on a white label basis for other major SEO companies nationwide.
Growth Driver: Consistent results for clients. In turn, client referrals are a great source of lead generation.
3. The Center for Emotional Health of Greater Philadelphia, LLC
Base: Cherry Hill and Princeton
Year Founded: 2009
Revenue Growth: 89.45 percent
Top Executives: Marla W. Deibler, Psy.D., Founder and Executive Director; Michael T. Wiltsey, Ph.D., Director of Forensic Psychology; Jayme Jacobs, Psy.D., Clinical Director, Princeton Office
No. of Employees: 10
Company Description: The Center for Emotional Health of Greater Philadelphia, LLC (CEH) provides a supportive, collaborative environment for adults, adolescents and children seeking evaluation and treatment of a wide range of psychological disorders and other clinical problems. CEH, which has grown nearly 90 percent in the last three years and almost 400 percent since its founding, offers specialized services in the evidence-based treatment of anxiety disorders and the spectrum of obsessive-compulsive and related disorders as well as comprehensive psychological and forensic evaluation.
Growth Driver: They have the ability to provide generalized services, but they focus on providing specialized care in the areas of anxiety disorders. There is also a focus on community outreach: The company holds free support groups, engages in social media and more.
Published (and copyrighted) in South Jersey Biz, Volume 3, Issue 7 (July, 2013).
For more info on South Jersey Biz, click here.
To subscribe to South Jersey Biz, click here.
To advertise in South Jersey Biz, click here.