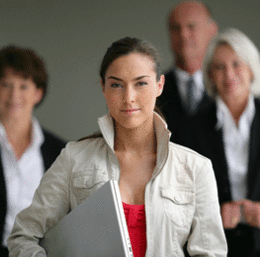 The Right Match
Hiring interns in your workplace just might offer more benefits than you think.
The benefits of internships for college students are endless, from providing real-world work experience to cultivating networks to boosting their chances of having full-time employment lined up prior to graduation.
But what you don't always hear about are the benefits to the business owner in working with driven, motivated college students who can provide not only a much-needed helping hand in a time of layoffs and downsizing but who can also offer a fresh perspective into operations or a specific project. "We've found that internships work especially well for the project the company has that they simply don't have the resources to tackle," says Margaret Van Brunt, assistant dean of the Rohrer College of Business at Rowan University.
How to get started
The best way to tap into that pool of talent and begin building an internship program in your office is by forging strong partnerships with local colleges and universities. Reynold Cicalese, a graduate of the Rutgers University – Camden School of Business and managing shareholder for accounting firm Alloy Silverstein Group in Cherry Hill, continues to work directly with his alma mater to hire interns and provide paid internships to all grade levels with the option to renew the following year.
"College students are eager to help and, as an employer, you get to see someone in action before they come to work for you," Cicalese says. "You can look at a resumé and ask all kinds of interview questions, but the only way to get to know their attitude and see if they show up to work on time and witness how they interact with colleagues and clients is to have that internship in place before you hire somebody on a full-time basis."
"The employer, without commitment, provides training, grows the intern's qualifications, and has the opportunity to observe the student's work ethic, drive and enthusiasm for the position extended to them," agrees Jayne McGovern-Unger, coordinator of the student employment office at Camden County College. Many community colleges also organize specific co-op classes and internship programs based upon the student's field of study. "The ideal candidates for these internships come from colleges and universities because students are majoring in a field that directly benefits the employer," McGovern-Unger adds.
For example, a program within Camden County College's automotive department requires students to find a dealership sponsor where they will work for nine weeks, and then return to school for nine weeks after the first semester, alternating until they graduate with their associate's degree and being compensated by the dealer for their time.
"The value of partnering with a community college lies in the fact that while we are here to educate, we also serve as partners in our communities and exist to help local organizations find those employees who are committed and invested in the core values of their business," says Rebecca Corbin, executive director of the Burlington County College (BCC) Foundation and acting dean of the corporate college at BCC.
BCC started a new internship program about three years ago with the help of the foundation, led in part by Tony Mahon, acting chair of the foundation and president of AJM Insurance Management. What started as a class in the insurance field paired with an internship opportunity has since grown to a program including some 50 businesses in fields ranging from culinary arts—where students have received internships in Atlantic City casino restaurants—to law—with students being placed in some of the area's top firms. The program is also expanding to include certification and licensing for certain majors to help students get a head start when they graduate.
"There's 14,000 students at the college," Mahon says. "[Businesses] can draw from this huge demographic."
Finding the right connection
Whether they're community colleges, state schools or private universities, more and more of the state's institutions of higher education are taking steps to more closely connect with local employers and help them develop successful internship programs; at Gloucester County College, the Cooperative Education Program allows students to enhance the academic portion of their degree by requiring them to take a course with 15 hours of instruction and 150 hours of work experience.
In addition, the program is designed to help employers implement a workforce development program targeted to their specific human resource needs while developing a pool of highly skilled, motivated, and well-trained applicants for future job openings.
"This is an excellent human resource strategy for businesses because they can help position themselves to get the best employees … they have a chance to work with the most highly-motivated students who can help improve their workplace, and then they'll have the first opportunity to recruit from those students to fill job openings," says Patricia Claghorn, dean of business studies for Gloucester County College.
Many schools are taking a more hands-on approach in matching employers with their ideal candidates, so businesses no longer need to worry about attempting to base their hiring decisions on student resumés. The Rohrer College of Business at Rowan University hosts supervised internship programs in fields ranging from accounting and finance to management and marketing. Like many colleges and universities, Rowan also hosts a variety of career events throughout the year, which allows employers to meet potential interns and conduct brief interviews on the spot, in addition to mentors, alumni and faculty members who routinely assist students in networking with local businesses.
According to Van Brunt, faculty members also make visits to the offices of potential employers.
"Any time you develop a relationship with a university, you can have that chance to meet a variety of candidates; it's pretty much a one-stop shop for the best interns, and there's no better place than a college or university to define and cultivate that talent," adds Robert W. Bullard, assistant director of the career management center at Rowan University. While some employers still turn to general job searching websites, coordinating their human resources efforts with a local college offers the peace of mind that the student will be well prepared for the interview—and, ultimately, the available position. "If you go to any college in New Jersey, you know you're going to find a quality hire because we're working with these students every day on skills ranging from resumé writing to networking to interviewing," Bullard adds.
A win-win
Along with having an opportunity to see a student in action before handing them a full-time job, Jim Marino, assistant dean and director of the career center at Rutgers University-Camden, notes that extending internship opportunities also benefits employers from a philanthropic standpoint. "You're providing somebody with an opportunity to take the theories they've learned in the classroom and apply them to a real-world experience, and there's an intrinsic value to the corporation in providing that chance for somebody to have that learning experience," he says.
While many internships provide the student with credit toward their degree, the question of providing financial compensation to students is typically one that the employer must decide; for example, Marino says approximately 50 percent of the internships taken on by Rutgers ­– Camden students are paid positions. Many college officials say offering an hourly wage or even just a travel stipend when applicable is something for employers to strongly consider and may just make their available positions that much more attractive. "The paid experiences are most popular with our students. Students can be employed while receiving training, understanding the organizational culture and, for the most part, completing project-based work," explains Debra K. Kelly, director of the career center at The College of New Jersey. "As college costs increase, students are looking to gain employment and experience in supplementing their education."
The best news of all is that, in many cases, the ideal intern for your business might be just a mouse click away; most institutions facilitate some form of online database where employers can post internship opportunities directly and view student resumés.
"Working with a college or university means employers receive a custom fit when it comes to their interns," says David Arnold, president of the Insurance Society of Philadelphia, which works closely with Burlington County College to develop pre-licensing courses and other opportunities to help students obtain the necessary skills and training required by potential future employers. "Instead of going into a store and buying off the rack, we're reaching out to a college or university and giving them our exact measurements—the criteria of the internship opportunity—and that's why the students we receive fit just right."
Mahon concludes that it's a great benefit to pair up with community colleges because many of the students are paying their own way through school and some are working parents. In other words, they're deserving. "These are students who are facing a variety of challenges but are also paying for college themselves, holding down one or two side jobs, and meanwhile they're excelling at school. From an employers' standpoint, what better person to bring on board to your company?"
Published (and copyrighted) in South Jersey Biz, Volume 3, Issue 6 (June, 2013).
For more info on South Jersey Biz, click here.
To subscribe to South Jersey Biz, click here.
To advertise in South Jersey Biz, click here.