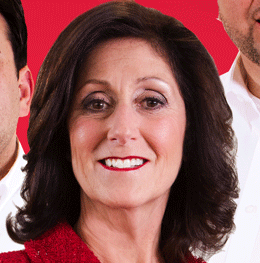 The Corner Office: Tina Wright
Tina Wright
President, Woodbury Nissan
Women-owned car dealerships made up just 2 percent of all dealerships in the United States in 2012, according to Coastal Northwest Marketing Research. One of the few is right here in South Jersey, as Tina Wright leads a thriving business as president of Woodbury Nissan. Founded in 1977, Woodbury Nissan has earned its sterling reputation by putting the customer first for more than 35 years. Located on South Broad Street in Woodbury, Wright's staff is dedicated to making the car-buying process fun and financially viable at the same time.
How has your company handled the ups and downs of this economy?
Woodbury Nissan has been in business for over 35 years and has a tremendous reputation in the auto industry. Our motto is "The Home of the Repeat Customer." Our strong customer base is what stabilizes us through any ups and downs of the economy.
What's your outlook for 2013?
We strive to grow our business and continue to give back to our community.
How has the company grown since its founding?
We started out as a Datsun dealer and, when Nissan became the nameplate, our business started growing rapidly. In 2005, we built a new state-of-the-art facility, and with the local growth of Gloucester County, our business more than doubled.
What are your short-term and long-term goals?
To grow as a business by adding to our facilities to accommodate our ever-growing customers' needs.
Describe your management philosophy and how you ensure your clients' needs are met.
Our management philosophy is to listen to the customers' needs and wants and translate that into the perfect purchase experience. Whether they are looking for an ecological Leaf or family-friendly Armada, we will strive to find the best fit. We also have a great relationship with over 15 banks that are willing to cater to our customers' financial needs.
What's the best business advice you ever received, or could give to others?
First and foremost, we treat people how we expect to be treated—with respect and courtesy. We never want a customer to feel unwanted. Always wear a smile, which will result in a smile back and a sense of comfort. This will make it easier to start a business relationship. Always remember, it costs nothing to be nice.
What gadget can't you leave home without?
My cell phone.
If you had to pick one Nissan car as your favorite, which one would it be?
The new 2013 Pathfinder. It has the perfect blend of room that everyone seems to need and luxury that everyone wants.
We know you are involved with several charities, including raising money for breast cancer research. Why is that one so important to you?
It is a disease that mostly affects women. Being a woman, it is something that I am always aware of. If we can help in any way, we are proud to do so. Our breast cancer event annually in October is a great way to bring awareness to our customers and community with good food and prizes that are generously donated by local businesses.
Through the years, Woodbury Nissan has had some creative television ads, often with Philadelphia athletes. Do you have a favorite athlete that you've met through those campaigns?
Working with [former Eagles linebacker] Jeremiah Trotter was a pleasant experience for Woodbury Nissan. He is a gentleman and has a great sense of humor. [Former Phillies pitcher] Brad Lidge generated a lot of excitement for our dealership and customers, having helped win the World Series for the Phillies in 2008. We plan to continue our tradition of partnering with local celebrities.
The Michael Vick sponsorship created a lot of attention, both positive and negative. Overall, what was that experience like?
The experience as a whole was positive. He was always pleasant and sincere whenever he interacted with our customers and employees. We had a lot of fun working with Michael. We wish him well in the future.
What's the best part of your job?
Talking to customers and employees. People are fascinating; all you have to do is listen.
Published (and copyrighted) in South Jersey Biz, Volume 3, Issue 5 (May, 2013).
For more info on South Jersey Biz, click here.
To subscribe to South Jersey Biz, click here.
To advertise in South Jersey Biz, click here.