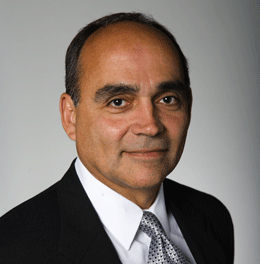 On The Move: May, 2013
Comings, goings, hirings, retirings and more in South Jersey.
Comings and Goings
Corporate executive and former New Jersey State Assemblyman José Sosa (pictured) was named CEO of Crossroads Programs, a nonprofit in Willingboro that empowers at-risk youth. Prior to joining Crossroads Programs, Sosa served as president of Americas Alliance Group, a firm that focused on business development and alliance and advocacy development programs covering numerous, diverse industries. Sosa also held positions at Johnson & Johnson and SmithKline Beecham Corporation.
Tradition Energy announced Lisa Illman joined the firm as vice president to lead the company's expansion in the Pennsylvania region, which covers Delaware, Maryland, southern New Jersey and Washington, D.C. Tradition will be opening an office in Philadelphia in order to provide full-service energy management and procurement services to commercial and industrial companies and governmental entities in the region.
Univers Workplace Solutions, a provider of strategic benefit communications, enrollment and administration solutions, named Craig Maloney as its new president. Maloney brings more than 25 years of insurance industry experience in benefits administration, HR outsourcing and health care exchanges to Univers. He joins Univers after a 14-year tenure with Aon Hewitt, where he recently served as executive vice president and division general manager for Aon Hewitt Healthcare Exchanges.
Duly Noted
Haddonstone (USA) Ltd., a leading manufacturer of landscape ornaments and architectural cast stone, has opened a new showroom in Mount Laurel. The new showroom can be found at 804 Birchfield Drive.
The Joseph Fund elected Rhonda Costello and Gene Mariano to its board of trustees. Costello serves as executive vice presi­dent/chief retail officer for Republic Bank. She directs Republic's store network and leads the Cash Management, Consumer Lending, Human Resources, Learning and Development, Facilities, and Marketing teams. Mariano is an attorney and a partner with Mount Laurel-based Parker McCay, where he specializes in litigation matters involving commercial, general business and constructions issues. The Joseph Fund was founded in April 2012, with the purpose of supporting the Ministries of the St. Joseph's Pro-Cathedral.
Ronald McDonald House of Southern New Jersey elected four prominent business leaders to its board of directors for one-year terms in 2013. The new members are: Chairwoman Denise Viola Monahan, executive vice president for PNC Bank; Vice Chairman Curtis Nagle, national sales manager for Coventry; Secretary Stephen DeNittis, managing shareholder at Shabel & DeNittis, P.C.; and Treasurer Steven Valleau, president of American Home Title Agency, Inc.
Accounting firm Alloy, Silverstein, Shapiro, Adams, Mulford, Cicalese, Wilson & Co. was one of three companies presented with the Rutgers School of Business-Camden Business Partner Award in celebration of the school's 25th anniversary. The award acknowledges local businesses that continually support, hire, and believe in the school, their students, and their mission.
Cooper Medical School of Rowan University (CMSRU) received Gold LEED (Leadership in Energy and Environmental Design) certification from the U.S. Green Building Council (USGBC) in Washington, D.C. The certification recognizes Rowan's strong commitment to the environment and its leadership in sustainability from start to finish in construction of the school's new six-story, 200,000 square-foot medical education building in Camden.
GREYHAWK, a construction project management and consulting firm, promoted Fritz Marth, PE, from managing consultant to senior managing consultant. Marth, of Hainesport, has worked with GREYHAWK for the past five years where he has performed lead/testifying expert roles for the company's diverse client base. In his new role, Marth will help grow and manage the consulting practice.
Burlington County College (BCC) signed a new Guaranteed Admission Program (GAP) transfer agreement with Saint Joseph's University (SJU). GAP agreements provide a structured method for BCC graduates to gain guaranteed admission to the school of their choice. This new GAP transfer agreement allows students at BCC to complete their associate degrees in certain majors and then seamlessly transfer to SJU as juniors to complete their bachelor's degrees.
Markeim-Chalmers, Inc., a commercial real estate, appraisal and property management firm, announced the sale of two high profile office/retail sites: 30 Washington Ave. in Haddonfield and Ramblewood Shopping Center at 1155 Route 73 in Mount Laurel. Kevin Burns negotiated the sale in Haddonfield between the seller, Ron DiPrietro of 30 Washington LLC, and a private LLC. The 23,000-square-foot multi-tenant office building, which has convenient access to downtown Haddonfield and the PATCO High Speed Line, sold for $2,400,000. Seth Hersh represented the other seller, Empire Ramblewood LLC to Ramblewood 73 Associates LCC, in the sale of Ramblewood Shopping Center. The 27,000-square-foot retail shopping center with second floor office suites is situated on 2.75 acres of commercial ground.
Accounting firm Alloy, Silverstein, Shapiro, Adams, Mulford, Cicalese, Wilson & Co. announced the addition of the following accountants to its staff: Shakeenah Lloyd, of Deptford; Rebecca Macey, of Delran; Scott McClay, of Mount Laurel; and Matthew Rambaran, of Voorhees.
Revel welcomed Jim Ziereis as the resort's vice president of Group Sales. With more than 25 years in the Atlantic City casino industry, Ziereis brings a wealth of knowledge and experience related to all aspects of hotel sales. In his new role, Ziereis will oversee Revel's group sales programs. Most recently, Ziereis worked as vice president hotel sales for Caesars Entertainment.
The New Jersey Hospital Association welcomed John Slotman as vice president of Graduate Medical Education Policy and Teaching Hospital Issues. Slotman will be responsible for focusing NJHA's efforts related to teaching hospitals, GME and medical residencies. He also will lead NJHA's Teaching Hospital Constituency Group. With more than 14 years of experience in health care policy and advocacy, Slotman, of Moorestown, most recently served as part of the health care regulatory and policy team in the Washington, D.C., office of DLA Piper.
Published (and copyrighted) in South Jersey Biz, Volume 3, Issue 5 (May, 2013).
For more info on South Jersey Biz, click here.
To subscribe to South Jersey Biz, click here.
To advertise in South Jersey Biz, click here.