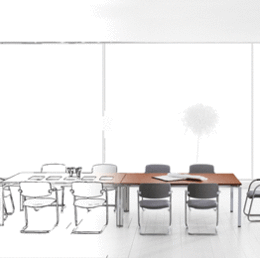 Outfitting Efficiency
A Special Advertising Section
While success in business is based on hard work and determination, having a reliable support team is also a valuable asset.
From office space design all the way down to technology services and equipment, the companies that provide the tools to make an office tick are just as important as the business they're supplying. Here, we take a look at the companies in the area that are helping make local businesses the successes they are.
Affordable Office Furniture, Inc.
Affordable Office Furniture, Inc., is one of the largest office furniture showrooms in South Jersey. Their 11,000-square-foot showroom has more than 250 lines of furniture, stocks much of what they display, and offers many unique items not available from other stores. Because it is difficult to select seating from a catalog, they have made seating a specialty, displaying more than 200 chairs at their showroom. They offer ergonomic seating solutions that combine comfort, contour and support with attractive appearances. In addition to giving you great value on furniture, they also offer space planning, panel reconfiguration and more. Their commercial salespeople will visit your location to design, lay out and spec your needs. Affordable Office Furniture services commercial, industrial, institutional, municipal, government and health care accounts with projects of all sizes. No job is too big or too small and they offer delivery/installation with their own trucks and staff.
2375 Route 70 W.
Cherry Hill
(856) 488-2100
AOFCatalog.com
American Duplicating
At American Duplicating, their most important partners are their clients. They go far beyond the standard service provider/customer relationship, building a team with common goals and excellent communication. They are a legacy dealership providing Konica Minolta products and related third-party products sold by Konica Minolta. Their team of devoted salespeople and technicians are also partners, collaborating to offer the world-class service that makes American Duplicating the great company it is. American Duplicating is devoted to customer satisfaction. Their award-winning team goes beyond conventional service, forming a partnership with your organization as you work together to manage your imaging needs. Using the best technology and knowledge available, they will streamline your document management process, maximizing efficiency while minimizing costs.
7882 Browning Road
Pennsauken
1 (800) 517-2417
AmericanDuplicating.com
Ancero
Relocation or new construction is the perfect time to switch to a Voice Over IP system. Ancero's utility VoIP service provides businesses a leading-edge phone system without the capital cost. Eliminate the past burden of an aging telephony structure dependent on costly maintenance and upgrades and replace it with a cloud-based hosted solution. From day one, a VoIP system delivers all the newest telecommunication features plus the 'future proof' advantage of seamless future upgrades to your system without new capital equipment investments. The scalable infrastructure expands or contracts based on your needs; perfect for a growing business with remote users or multiple locations. Utility VoIP empowers your business with the right tools for increased productivity, collaboration, lower telecommunication costs and the ability to communicate smarter.
1001 Briggs Road, Suite 220
Mount Laurel
(856) 210-5800
Ancero.com
Distinctive Wood Work, Inc.
Founded in 1995 by Jim Cherubino, Distinctive Wood Work, Inc., began as a small custom cabinetry business out of Cherubino's garage. After many years in the industry, the business has grown to a much larger operation out of Lumberton, although their philosophy on creating custom cabinetry has remained the same. They still build all their projects by hand with much thought, planning and pride. Distinctive Wood Work will be with you from start to finish. They design, manufacture, finish and install all of their own projects and will work with designers and architects to create a beautiful, custom look in cabinetry or architectural wood work for your business or home. The capable and experienced staff at Distinctive Wood Work is available to assist you with any questions on creating your custom design. The only limits are in your imagination.
70 Stacy Haines Road
Lumberton
(609) 714-8505
DistinctiveWoodWork.net
DLC Technology Solutions, Inc.
Welcome to your new office. Any office space—old or new—sets the stage for your business' operation and ongoing profitability. What would happen if suddenly parts of that office were to not function—especially due to uncontrollable circumstances (like theft, storm, power failures, etc.)? Protect your office with DLC's unique backup and disaster recovery solutions. For a very low monthly fee, DLC can protect your network from anything, from a complete loss of the building to a power failure to a water leak—and keep your systems running while you rebuild. In addition, their systems encryption solutions can ensure your data is secure—even if a device is stolen. Contact DLC Technology to learn more about their comprehensive IT solutions.
8001 Lincoln Drive W., Suite D
Marlton
(856) 983-2001
DLCTechnology.com
Office Basics
Office Basics is an independently owned distributor of office products, furniture, break room, technology and janitorial products. They have been in business since 1987 and have grown to be one of the largest independent office products and furniture dealers in the nation. Their main office and distribution center is located in Boothwyn, Pa. This 100,000-square-foot center serves as the hub for their distribution capabilities. They have four other facilities (Bethlehem, Philadelphia, and Lancaster, Pa., and Moorestown) to increase their efficiency and better serve customers. Office Basics Business Interiors sales consultants can help you decide what products to choose that will make your office the most productive, efficient and energized. Visit their 20,000-square-foot showroom at their corporate office. Office Basics defines success by providing customers with consistently low prices and high levels of service.
1 (800) 541-5855
OfficeBasics.com
Office Furniture Outlet
Office Furniture Outlet started in 1990 as a small local office supply business and now has the slogan "Greatest Office Furniture Showroom on Earth" thanks to being voted both Best New Office Furniture Showroom and Best Used Furniture Showroom by their customers and peers. Their exclusive Joe Desk line, built in Cherry Hill, is famous for its unbeatable value and is built to outlast everything else in its price range. You will also have an opportunity to "Spin the Wheel of Fortune" for additional discounts on your purchase or the chance that Office Furniture Outlet will donate to a local charity in your honor. Too busy to leave the office? Visit their website, where you will find a virtual 360 degree tour of both the new and used departments.
2080 Springdale Road
Cherry Hill
(856) 439-9500
JoeDesk.com
PostNet
PostNet, Sicklerville's neighborhood business center, can help with all of your important marketing, graphic design, printing and shipping projects so that you can focus on what's really important—growing your small business. Whether you need a short run of 100 business cards or a big idea for how to get new customers, they consult with you to find solutions that work for your business and your budget. PostNet now also offers website design and Web marketing services, as well as printing and mailing for the U.S. Postal Service's Every Door Direct Mail program. PostNet is locally owned and operated, so they understand the challenges South Jersey small businesses face. You'll always find the personal, consultative service you deserve at PostNet, where they're dedicated to being the business behind your small business.
521 Berlin-Cross Keys Road
Sicklerville
(856) 740-0445
PostNet.com/NJ121
RYEBREAD
Regan Young England Butera: Referendums, Engineering, Architecture, Design (aka RYEBREAD) is a professional services firm recognized for their knowledge of code, superior construction documents, and context-sensitive design. Located at the gateway of Mount Holly, the RYEBREAD staff consists of firm principals Regan Young, Scott England and Angelo Butera, project managers Roy Ruby and Patrick Farmer, and office manager Michelle Zoppina. The RYEBREAD mission is to utilize creativity, care and collaboration to make South Jersey a better place to live, work and learn.
456 High St.
Mount Holly
(609) 265-2652
RYEBREAD.com
Telecorp, Inc.
Founded by Tim Jennings in 1998, Telecorp, Inc., continues to follow its mission to provide and integrate communication systems for small- to mid-size companies. Offering managed IT services, carrier services, telephone systems and hosted services, it has always been Telecorp's goal to provide superior service in order to meet or exceed every customer's expectations. As an authorized dealer for some of the most technologically advanced manufacturers such as Vertical, Samsung, Avaya, HP and Dell, Telecorp also offers the best in carrier services, partnering with names such as LSI, Netcarrier, Windstream and Verizon. Located in Woodbury, Telecorp is proud to celebrate their 15th year in business and would like to thank all of their customers, clients and friends for their continued support over the years.
1535 Gateway Blvd.
Woodbury
(856) 384-6000
TelecorpInc.com
USAPhone.com
USAPhone.com and its affiliate, VoIP Systems USA, LLC, are communications installation, service and consulting firms headquartered in Cherry Hill. Founded by Gregory Gutos in 1981, they provide PBX and hosted VoIP phone systems to businesses in both SMB (3-499 users) and enterprise-level (500-plus users) markets. USA Phone begins its process with an ROI review to determine clients' current voice and data operating cost and configurations and a review of client requirements. The company then prepares a plan to reduce cost and improve service by removing old technology and upgrading to improved, cost-efficient technology.
1790 Route 70 E.
Cherry Hill
(856) 761-1000
USAPhone.com
Xact IT Solutions, Inc.
Technology that works properly is more essential than ever in running a business—but for small businesses, it's challenging (and expensive) to build, manage and support your IT in-house. At Xact IT Solutions, they recognize the challenges you face and can help you improve your IT with affordable, flat-rate IT support. They'll help your business be more efficient and save you money all while providing excellent service and tech support. They work with each of their clients individually to understand their needs and provide a customized strategy, implementation and ongoing support that improves their business' technology performance and ensures business continuity. If you're still paying by the hour, their managed IT services get your business better IT support at a predictable cost.
602 Little Gloucester Road, Suite 5
Blackwood
(888) 550-8598
XITX.com
Xtel Communications
From initial contact to signed contract, communication plays a vital role in attracting and retaining a solid customer base. Xtel, an established regional facilities-based telecommunications leader, has been providing custom communications solutions to New Jersey businesses of all sizes since 1994. Xtel's full array of telecom and Internet services gives you all the tools you need to keep the conversation up and overhead costs down. Their fully redundant data center, located in Philadelphia, Pa., uses the latest in digital switching and fiber optic technology, allowing them to provide 10MB to 1GB Ethernet, WAN, hosted IP PBX, SIP trunking, MPLS, and cloud-based services. Maintaining and constantly investing in their own facilities ensures that their customers enjoy reliable service at significant savings.
10 Lake Center Executive Park,
Suite 106
401 Route 73 N.
Marlton
(800) 438-9835
Xtel.net
Published (and copyrighted) in South Jersey Biz, Volume 3, Issue 5 (May, 2013).
For more info on South Jersey Biz, click here.
To subscribe to South Jersey Biz, click here.
To advertise in South Jersey Biz, click here.