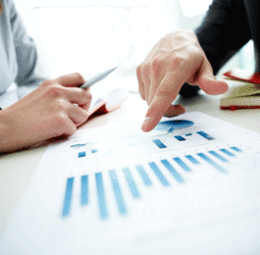 Retirement Planning Q&A
A Special Advertising Section
We all love to live in the moment, but planning for our futures is just as important. Making decisions today for what may happen years down the road is not always easy, but there are people who can help navigate that road. We asked a few local companies with experience planning for the long term to share their recommendations for ensuring you're prepared for your future.
What's one of the most important items to be aware of when creating your financial plan?
It's not only important to know your risk tolerance, your goals and objectives, and your marginal tax bracket, but you must also know who your advisor works for. Do they work for you or for their firm; are they independent or do they have a mandated product line from their firm? You also must know who the custodian is of your assets and how you are protected; and, of course, you should know how your advisor gets compensated.
One of the most important items any investor should be aware of is the fees connected to whatever they are acquiring. For the readers of this article, we will make available not only a complimentary "Financial Stress Test," but also a fee analysis for any mutual fund or annuity program that they own. Please refer to our ad for office locations and phone numbers.
Stanley H. Molotsky
SHM Financial
Locations in Collingswood, Lakehurst and Voorhees
1 (800) MONEY-SHM
SHMFinancial.com
Do you recommend that companies offer a 401(k) to their employees, and what is the advantage to the company?
Employers today understand that offering some sort of a company sponsored retirement plan is almost a prerequisite to attracting and retaining desirable employees. By offering an effective 401(k) plan, a company can enjoy a higher employee retention rate, which means less time and money spent on recruiting and training. It also enables employees an opportunity to save for their future and be in a financial position to actually retire, clearing a path for the next wave of workers to progress in their careers. This is the circle of life necessary for any thriving enterprise. Finally, a well-designed retirement plan allows the principals of the business to diversify their own retirement security independently, not solely depending upon a sale or buyout as an exit strategy.
John Torrence
Masso-Torrence Wealth Management
Marlton
(856) 988-6664
MassoTorrence.com
The average 65-year-old is very concerned about outliving their retirement income. How do you address these concerns?
One of the staples of our product platform has been the use of variable annuities. By utilizing an optional Guaranteed Withdrawal Benefit Rider, a variable annuity can allow for a predictable, sustainable and potentially increasing retirement income. During the accumulation phase of retirement, a variable annuity can allow an individual to participate in the upside potential of a diversified investment portfolio while also mitigating the downside risk by guaranteeing principal.
Daniel Boychuck
Benefit Concepts
Haddonfield
(856) 427-0020
BenefitConceptsOnline.com
Published (and copyrighted) in South Jersey Biz, Volume 3, Issue 5 (May, 2013).
For more info on South Jersey Biz, click here.
To subscribe to South Jersey Biz, click here.
To advertise in South Jersey Biz, click here.