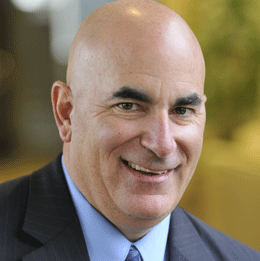 Take 5: How to Reduce Energy Costs in Your Workplace
It could be as simple as changing a light bulb, or it could be a matter of overhauling your power supply and making the switch to solar. No matter your budget or course of action, Joe Forline (pictured), vice president of customer relations for PSE&G, assures there are steps anyone can take to reduce the energy consumption—and carbon footprint—in their office all year long.
1. Start with your local utility. Utilities can be a great source for energy efficiency programs, expertise and advice on how to save on energy costs. PSE&G business customers can call our Business Solutions Center at 1-855-BIZ-PSEG and also learn how to save money and energy by visiting PSEG.com/Business and signing up for My Account.
2. Do the easy things first. There is a lot of low-hanging fruit when it comes to improving a business' energy efficiency. In fact, just changing light bulbs to high efficiency CFLs or LEDs can save money. Businesses can also do easy, practical things, like installing a programmable thermostat and sealing up drafts and air leaks.
3. Take on bigger challenges. There are more savings to be found in upgrading furnaces and boilers, replacing old single-pane windows, installing high-efficiency air conditioners, and investing in high-efficiency motors and sophisticated building control systems. Upgrades like these can result in significant energy savings, but getting a professional energy audit beforehand is a good idea. Having a pro come in and tell you exactly where your energy dollars are being wasted could prove helpful.
4. Leave no stone unturned when looking for money to help. Businesses should again check with their local gas and electric utilities. Other resources include New Jersey's Clean Energy Program, the federal government and equipment manufacturers, as there are often programs and rebates in place that can help pay for energy efficiency improvements. They should also check with their accountants at tax time to make sure they are getting the state and federal credits to which they may be entitled.
5. Go Solar. A solar system can greatly cut electric bills and, thanks to government incentives and financing options, they can be surprisingly affordable. PSE&G's Solar Loan program is currently fully subscribed—although we requested state approval to expand the program—but many solar developers can also help with financing.
Published (and copyrighted) in South Jersey Biz, Volume 2, Issue 4 (April, 2013).
For more info on South Jersey Biz, click here.
To subscribe to South Jersey Biz, click here.
To advertise in South Jersey Biz, click here.