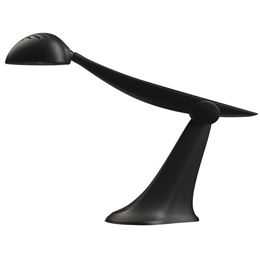 Office Space: April, 2013
Office Supplies: What's Old is New
Using recycled materials in the office space is an easy way to help the environment, and whether you're working for a startup with more constrained resources or you're the head of a business with an established bankroll, companies with any type of budget can get in on the sustainability trend.
Reduce
Not only does this 10-inch lamp use seven to 10 times less energy than a comparable one, but it is also made in America with recycled plastic and steel, so it's energy efficient, environmentally friendly and it promotes the local economy. LittleFootprint Lighting HeronLED Personal Task Light (pictured), $199
Reuse
Have you ever thought about how much makes its way in your wastebasket that could be avoided? Sometimes it's OK to think small. Every little bit helps, and while these 100 percent recycled paper clips may be little, they're still doing their part to help the environment in a big way. ACCO Recycled Paper Clips, $4.26 for 10, 100-clip boxes
Recycle
This cushy lounge chair looks like it was made for a waiting room, and with its 100 percent recycled polyester covering, you can feel good about not just making your office eco-friendly, but keeping your clients comfortable as well. National Office Furniture Reno 1 Seat Lounge Chair, $1,097.93
On the Books: A?Deeper Look
Here, we present our top picks for the latest business releases, books sure to not only keep you up to speed in the fast-paced business world, but also to get you thinking about the daily decisions you make—and their impact on the future.
Lean In: Women, Work, and the Will to Lead
Expanding on her famed talk, Sheryl Sandberg, the Facebook COO, discusses the lack of women in leadership positions, and ways to address the problem. (Knopf, March 2013, $24.95)
Big Data: A Revolution That Will Transform How We Live, Work, and Think
'Big data' refers to near-instantaneous analysis of large data. In this engaging study, Viktor Mayer-Schonberger and Kenneth Cukier evaluate big data and its implications for the future. (Eamon Dolan/Houghton Mifflin Harcourt, March 2013, $27)
Decisive: How to Make Better Decisions in Life and Work
Chip and Dan Heath have delved into the psychology of decision-making, and pared the process down to simple steps that will improve your life. (Crown Business, March 2013, $26)
Crunching Numbers
No. 1: Position real estate agents placed in a recent CareerBliss.com survey examining the jobs with the happiest workers
$5,200,000: Contributions to New Jersey nonprofits made by Wells Fargo & Company in 2012
73 percent: Amount of area CEOs and CFOs who perceive their company to be stable, according to a recent Alloy Silverstein Group survey, despite a turbulent year of health care and tax reform
37 percent: Number that indicated they are currently hiring, the highest percentage from all of last year's surveys
1,200: Number of patients treated during Delaware Valley Urology's Cancer Treatment Center in Cherry Hill's five years of operation
$2,673:Donation made by South Jersey Healthcare employees to the American Red Cross Southern Shore Chapter to aid in Hurricane Sandy relief efforts
Published (and copyrighted) in South Jersey Biz, Volume 2, Issue 4 (April, 2013).
For more info on South Jersey Biz, click here.
To subscribe to South Jersey Biz, click here.
To advertise in South Jersey Biz, click here.