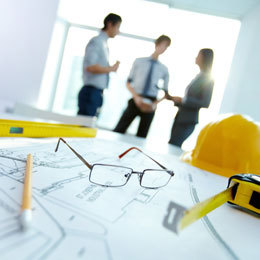 Who's Building South Jersey?
Between contractors, engineers, landscapers and property managers, there are several fields playing a part in smart growth across our region. Here we put the spotlight on those companies, the ones that are maintaining what South Jersey has already accomplished, as well as the ones planning and building for the future.
ABMC Janitorial Service
ABMC Janitorial Service is a full-service commercial janitorial and maintenance company. As a privately owned and family-operated company, they have been providing first-class quality service for more than 40 years in the southern New Jersey and Philadelphia areas. ABMC distinguishes itself from ordinary janitorial and maintenance services through the following innovative policies and programs: 24/7 services; customized service plans to fit customers' needs; and fully insured, bonded and uniformed employees. They also specialize in carpet and upholstery cleaning, complete floor care, move in/move out cleaning and construction cleanup. They do light maintenance work, power washing, window washing, and they offer discounted commercial cleaning and paper products. Whether you have a large or small building, they can clean your facility daily, weekly or monthly. Put your trust in them and let them do the cleaning for you.
16 Bank St.
Medford
(609) 654-1234
ABMC1234.com
Active Environmental Technologies, Inc.
Active Environmental Technologies is a full-service environmental contracting and consulting firm. For more than 20 years, Active has been a leader in residential, commercial and industrial environmental services. They forged their reputation pursuing challenging projects deemed too difficult or even impossible to complete by other firms. Because of their ability to succeed, Active has become a "go-to" contractor and consultant for several major insurance carriers. Whether the project is a basic underground storage tank removal, disaster response and restoration effort, or a complex remediation project, Active is committed to providing common sense, goal-oriented solutions to their clients. Let Active Environmental be your environmental partner in today's ever-changing regulatory climate.
203 Pine St.
Mount Holly
(609) 702-1500
Active-ENV.com
The Bloom Organization
The Bloom Organization recognizes tenants have a choice and not all landlords are the same. To be a good landlord, it begins with professional property management. The Bloom team is focused on property management full time with systems in place to ensure routine maintenance, building enhancements and timely responses. Their knowledge, resources and expertise are complemented by several other core firm attributes: financial stability, continuity of service, market expertise and quality construction. Founded in 1945, The Bloom Organization is a leader in the South Jersey office and industrial real estate market with 3.5 million square feet of commercial space in Burlington and Camden counties. The firm owns and manages a portfolio of office and industrial buildings ranging in size from 1,000 to 115,000 square feet, enabling the firm to assist with space as companies expand or downsize. As the needs of tenants change, being responsive and open communication are keys to success. Throughout the year, Bloom shares a variety of helpful tips, offers recommendations for regional service providers, and keeps tenants informed on occupancy-related issues.
1300 Route 73, Suite 106
Mount Laurel
(856) 778-0300
BloomOrganization.com
Delta Striping and Sealcoating, LLC
Delta Striping and Sealcoating handles all aspects of asphalt, concrete, sealcoating and striping. From commercial industrial parks and municipalities to concrete patios and driveways, their expert team ensures every project is completed right the first time. No matter when (or where) you may need asphalt repairs or maintenance done, Delta's skilled team of professionals works around your schedule to eliminate possible downtime. Servicing commercial and residential properties in the southern New Jersey area, Delta's focus is on providing quality concrete services at a competitive price. Also providing deck and fence staining and painting, Delta's commitment to improving the appearance of every property is their priority. Providing fast, free and no-hassle quotes are just the start of the customer satisfaction that Delta delivers to each job, every time.
Blackwood
(856) 287-9096
DeltaStripeAndSeal.com
Distinctive Wood Work, Inc.
Founded in 1995 by Jim Cherubino, Distinctive Wood Work, Inc. began as a small custom cabinetry business out of Jim's garage. After many years in the industry, the business has grown to a much larger operation out of Lumberton, although their philosophy on creating custom cabinetry has remained the same. They still build all their projects by hand with much thought, planning and pride. Distinctive Wood Work will be with you from start to finish. They design, manufacture, finish and install all of their own projects, and will work with designers and architects to create a beautiful, custom look in cabinetry or architectural wood work for your business or home. The capable and experienced staff at Distinctive Wood Work is available to assist you with any questions on creating your custom design. The only limits are in your imagination. Call today for all your woodworking needs.
70 Stacy Haines Road
Lumberton
(609) 714-8505
DistinctiveWoodWord.net
Dunn Company Landscape Contractor
Dunn Company Landscape Contractor, founded 12 years ago, is family-owned and operated by Patrick and Lauren Dunn of Harrisonville. They provide reliable services to property managers, builders and owners of multi-family, retail and commercial properties. They have built a reputation of always exceeding their client's expectations by going above and beyond in providing on-site supervision and by maintaining the highest standard of service. Specializing in both residential and commercial landscaping and hardscaping, Dunn Company's services include landscape construction, new construction landscape packages, lawn maintenance, seeding, pruning, irrigation, fertilization and snow removal. Other services include lighting, decks and fencing.
Serving South Jersey
(856) 769-2415
DunnLandscaping.com
KAVI Construction, LLC
KAVI Construction was formed on one basic principle: "A strong team with a common goal and prosperous leadership will always achieve the highest levels of excellence." This principle is the cornerstone of every KAVI project. KAVI Construction understands the uniqueness of every project and always puts the owner's needs first. They know that a construction project can be a stressful endeavor for an owner, but their approach fosters an enjoyable and exciting environment. The relationships formed are built on respect, commitment and solid performance, and they maintain their relationships long after a project is complete. Your upcoming project will be in good hands with more than 30 years of staff experience in South Jersey commercial building. KAVI Construction is where quality, experience, trust and reliability come together to provide outstanding results for their customers.
50 Egg Harbor Road, Suite 16
Berlin
(856) 767-2491
KAVIConstruction.com
Nexus Properties
For more than 35 years, Nexus has been at the vanguard of commercial real estate development in New Jersey with a proven track record of completion of difficult and complex construction projects partnering with the state of New Jersey, New Jersey Transit, Southern Ocean County Hospital, Thomas Edison State College, Rowan University and the borough of Glassboro. Its reputation has been built on innovation, integrity and service. Based in Law­renceville, they are committed to the development, design, construction, maintenance and management of a network of commercial and residential properties.
1333 Brunswick Ave., Suite 200
Lawrenceville
(609) 396-6800
NexusProperties.com
RYEBREAD
Regan Young England Butera: Referendums, Engineering, Architecture, Design (aka RYEBREAD) is a professional services firm recognized for their knowledge of code, superior construction documents, and context-sensitive design. Located at the gateway of Mount Holly, the RYEBREAD staff consists of firm principals Regan Young, Scott England and Angelo Butera, project managers Roy Ruby and Patrick Farmer, and office manager Michelle Zoppina. The RYEBREAD mission is to utilize creativity, care and collaboration to make South Jersey a better place to live, work and learn.
456 High St.
Mount Holly
(609) 265-2652


Surety Title Company, LLC
With 35 years of experience, Diane Ridgway of Surety Title began her career as a real estate agent, selling residential and commercial properties. She then worked in property management, mortgage lending and as a title clerk, enabling her to pursue a freelance career while raising her family. She made her full-time return to the industry 20 years ago as a title insurance sales executive and joined Surety in 2011 in her current position as a sales executive. Diane is an affiliate member of the Burlington Camden Board of Realtors and served as 2006 Sales & Marketing Council president for the Builders League of South Jersey. In 2010, Diane served on the Board of the National Association of Women Business Owners. Her diverse background serves her and her clients well in this ever-changing field.
1 E. Stow Road, Suite 100
Marlton
Headquartered in Marlton, with offices throughout South Jersey and Pennsylvania
(856) 988-8900
Surety-Title.com

Whitesell Construction Co., Inc.
Whitesell Construction Co., Inc. is southern New Jersey's largest privately owned real estate development company. The firm owns and manages nine million square feet of commercial office and industrial space, proudly provides real estate services to more than 250 companies, and has been active in the southern New Jersey commercial real estate market for more than a half-century. Whitesell's commitment and belief in southern New Jersey ultimately led to its master planning and development for some of the most desirable business parks and commercial buildings. As a third-generation family-owned and operated company, Whitesell is proud to call Burlington County its corporate home since the early 1950s. Whitesell's core philosophy of product quality, service to tenants, responsibility to the community and sound planning remains intact. Whitesell currently maintains its position as an innovative leader in the commercial market and looks forward to future success. Quality endures.
1 Underwood Court
Delran
(856) 764-2600
WhitesellCo.com

Winslow Township
Winslow Township is growing quickly. Some recent projects include: Carmax, which is changing the way Americans buy cars. It will soon be setting up shop on Cross Keys Road in Sicklerville. The sales, service and presentation area will be on a 19-acre site in Winslow Township. This Fortune 500 company is certain to attract numerous people to the area and create new jobs; Taylor Woods, which is a brand new apartment community located on Route 73 in Winslow Township. This complex, 264 apartments dispersed among 13 buildings, features tennis and basketball courts, an in-ground pool and community center; Four Maples Development, which will be located in the Sicklerville section of Winslow Township. This new community will add 621 residential units, strategically situated throughout 207 acres of farm and woodlands. This community will be appealing to all styles of living as it will be comprised of 300 luxury apartment units, 81 single-family dwellings, and 240 age-restricted single family dwellings. To learn more about business opportunities in Winslow Township, contact the development team at (609) 567-0700 or email Administration@WinslowTownship.com.
125 S. Route 73
Braddock
(609) 567-0700
WinslowTownship.com

Published (and copyrighted) in South Jersey Biz, Volume 2, Issue 4 (April, 2013).
For more info on South Jersey Biz, click here.
To subscribe to South Jersey Biz, click here.
To advertise in South Jersey Biz, click here.