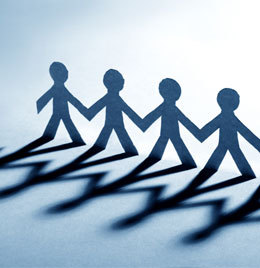 Guide to Nonprofits
The term nonprofit can cover a wide variety of organizations, but they're all the same in that—despite being nonprofit—they're big businesses that make real change happen in South Jersey. These are just some of the companies responsible for transforming our lives, finding their own unique way to make a difference.
Bancroft
Bancroft is a leading nonprofit provider of specialized services for individuals with autism, brain injuries and other intellectual or developmental disabilities. Through an innovative continuum of care, which serves all ages in a variety of environments, Bancroft offers a comprehensive range of services to maximize each person's full potential and meet his or her changing needs. These services include: brain injury rehabilitation, special education, vocational training and supported employment, structured day programs, community and campus living programs, and behavioral supports. For 130 years, Bancroft has been pioneering new ways of helping people with disabilities lead independent and fulfilling lives. The organization's vision is a community where every individual has a voice, a purpose and a rightful place in society. Based in Haddonfield, the organization serves more than 1,500 individuals annually in New Jersey, Pennsylvania and Delaware.
425 Kings Highway E.
P.O. Box 20
Haddonfield
1 (800) 774-5516
Bancroft.org
Crossroads Programs
Crossroads Programs, a local nonprofit serving homeless and at-risk youth since 1978, is approaching the future by turning challenges into opportunities. Providing a continuum of care for at-risk youth in the child welfare system, including residential group homes for "aging out" youth and pregnant and parenting teens, is their area of expertise. The programs Crossroads offers have evolved through the years based on societal needs and government guidelines. Greater government control of health care dollars will have an impact on future delivery of these services. In light of the rapidly changing health care delivery system, the organization is undergoing an assessment of its business model and core competencies. "Our ability to maintain and broaden services to our children lies in our ability to accurately forecast challenges and seize upon new opportunities," states José Sosa, Crossroads' new CEO. "This will require that we engage more aggressively in creating new and mutually beneficial opportunities with the public and private sectors."
610 Beverly-Rancocas Road
Willingboro
(609) 880-0210
CrossroadsPrograms.org
Lutheran Social Ministries of New Jersey
Through a broad scope of services, Lutheran Social Ministries of New Jersey (LSM/NJ) each year reaches out and assists more than 5,300 people—providing hospitality, healing and hope to New Jersey residents regardless of religious affiliation or background. A mission-driven, nonprofit organization, LSM/NJ administers diverse programs—such as grants for food pantries, senior living and health care, homeless day shelter, adoption, and affordable housing—to serve those in New Jersey who hurt, who are in need, or who have limited choices. Governed by a board of trustees including representatives from the clergy, churches, business and other sectors of the community, LSM/NJ consistently works to identify and create new services and facilities in response to the changing demographics and needs of individuals, families and neighborhoods across New Jersey.
3 Manhattan Drive
Burlington
(609) 386-7171
LSMNJ.org
Mainstage Center for the Arts
Mainstage Center for the Arts, a nonprofit regional performing arts center, is celebrating 25 years of providing creative, innovative entertainment and arts education throughout South Jersey. Through its Summer Stage program, year-round theatrical productions and concerts, show choirs, studio classes in dance, drama and voice, as well as management of the Blackwood Pumpkin Festival, Mainstage engages thousands of people annually, as audience members or participants. Headquartered in downtown Blackwood, most Mainstage productions are held at the fully accessible Dennis Flyer Theatre, Camden County College, Blackwood. Satellite studios in Washington Township and Glassboro extend their outreach to the community.
27 S. Black Horse Pike
Blackwood
(856) 227-3091
Mainstage.org
Twin Oaks Community Services
Twin Oaks Community Services, a merger of Family Service and Steininger, provides caring behavioral health services for vulnerable adults, children and families throughout New Jersey. The agency offers more than 100 programs designed to meet the needs of our community with compassion. Whether it be an individual learning to manage a mental illness, a family struggling to put food on the table, a teenager facing pregnancy alone, or a frightened foster child transitioning out of the system, Twin Oaks is there to face our community's greatest needs. Through each of life's challenges, Twin Oaks helps individuals make healthy choices and achieve personal goals. This ensures individuals in our community have the skills and basic needs necessary to live full, healthy and meaningful lives.
770 Woodlane Road
Mount Holly
(609) 267-5928
Twinoakscs.org
United Way of Greater Philadelphia and Southern New Jersey
United Way invests the collective power of donors, advocates and volunteers to improve education, income and health—the building blocks to a better quality of life, for all. In July 2012, seven local United Ways merged to form United Way of Greater Philadelphia and Southern New Jersey (UWGPSNJ)—one organization committed to community-level change in Pennsylvania's Chester, Delaware, Montgomery and Philadelphia counties, and New Jersey's Atlantic, Burlington, Camden, Cape May and Cumberland counties. Through a regionwide agenda focused on local strategies, UWGPSNJ is engaging hundreds of community partners to provide the tools, services and expertise needed to ensure more children enter kindergarten ready to learn, more individuals earn a family-sustaining wage, and more families have access to the resources they need for good health. UWGPSNJ is your local partner to drive measurable, lasting impact that none of us can achieve alone.
1709 Benjamin Franklin Parkway
Philadelphia
(215) 665-2500
UnitedForImpact.org
Published (and copyrighted) in South Jersey Biz, Volume 2, Issue 4 (April, 2013).
For more info on South Jersey Biz, click here.
To subscribe to South Jersey Biz, click here.
To advertise in South Jersey Biz, click here.