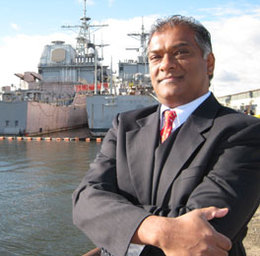 Parts Life Inc.
Supply Solutions: Parts Life, Inc., is a strategic partner in providing parts for the defense, aerospace and heavy-duty industries.
Starting a business can have many similarities to a military operation. Sometimes opportunities for advancement lie beyond the original target. New information discovered along the way may open up a new path for the business or mission, making your business or your unit more successful in the end. Such was the case with Sam Thevanayagam's company Parts Life, Inc., which he founded in 2007. Originally planning to target the auto aftermarket, Thevanayagam had to redirect his course just as some of America's major car manufacturers were seeking government bailouts. However, this course correction led him to the discovery that he could use his expertise to fulfill the supply chain needs of the military, and six years later, Parts Life plays an integral role in the defense, aerospace and heavy-duty industries.
Headquartered in Cinnaminson, Parts Life provides parts obsolescence and supply chain solutions to its customers. Its primary objective is to extend the life of its customers' expensive and mission-critical assets. For the military, these assets might include land vehicles, weapon systems and naval surface fleet. Thevanayagam's decades-long experience working in operations, supply chain management, manufacturing and procurement was an ideal fit to transition these skills into a strategic partnership with the military.
The military is faced with a problem called diminishing manufacturing sources and materials shortages (DMSMS), which is defined as "the loss or impending loss of manufacturers of items or suppliers of items or raw materials." This problem goes hand in hand with the issue of obsolescence, which comes about when the original manufacturer no longer supplies a given part or chooses not to manufacture it due to lack of profitability. Thevanayagam says, "The military was missing the execution proponent of planning for these issues, which is where Parts Life is the perfect fit to provide the solution."
Parts Life introduced a customized process for solving the obsolescence issues: ROPE or Rapid Obsolescence Planning & Execution. ROPE uses a variety of methods such as modification or redesign, new system design, alternate sourcing, strategic sourcing and teaming relationships to serve its clients. Products range from discontinued parts for sophisticated manufacturing and military equipment to components for trucks and construction vehicles.
"We created ROPE to be the Tylenol for the headache of obsolescence issues," Thevanayagam says. "We give our customers' assets new life, hence the name Parts Life, Inc."
Parts Life's prime location in South Jersey is especially beneficial to the markets it serves. Major areas like Washington, D.C., Baltimore, Philadelphia's Navy Yard, and the Joint Base McGuire-Dix-Lakehurst make it convenient for Parts Life to support its target customer segments on land, sea and air. No doubt this has contributed to its No. 7 ranking on the 2012 Philadelphia 100 fastest-growing, privately held companies in the Philadelphia region.
Thevanayagam says Parts Life's three major customers are the U.S. war fighters, their distribution support system—such as the Defense Logistics Agencies, which procure and supply parts to the military—and the U.S. taxpayer. "We are creating value by extending the life of the assets, stretching the taxpayer dollars during these economic times," he says.
Since founding Parts Life, Thevanayagam is most proud of the commitment he has made to bring manufacturing back to the U.S. His company is spearheading a Domestic Remanufacturing Initiative, which will allow them to work with the military on repurposing assets for new challenges and conflicts. The remanufacturing facility will be located in New Jersey and will offer quality training and jobs to returning veterans and members of the community. "One of the things I am most thankful for in my career is the opportunity to be mentored," he says. "I truly believe in empowering people and creating employment opportunities so people can put their God-given abilities to use." Thevanayagam's staff, family and neighbors know him to be one who takes seriously his faith in God and a responsibility to give back to the community. In addition to supporting various local causes and organizations, he is actively involved in a number of national associations and local chambers such as the National Defense Industry Association, Philadelphia, South Jersey and Burlington County chambers of commerce, where he serves on the Military Relations Council.
More noticeably, faith in God is a major motivator and source of strength for Thevanayagam, who eagerly declares that he has been blessed with an incredible wife and five vibrant children. He says, "I believe whatever gifts and talents we have are not ours to hold. I am committed to giving back to my community and church, having served on the board and in various ministries. Having a servant's heart is very important. I try to instill that in my organization, my children and others. I have been truly blessed but I find my greatest reward in the service of others."
Parts Life, Inc., supports defense, aerospace and heavy-duty industries by providing customized parts for lifecycle sustainment and extension through agility, efficiency and affordability. Parts Life, Inc. is one of the only companies focused on obsolescence solutions for providing modernization and lifetime sustainment support on expensive and mission-critical assets. Value is increased for the customer through short lead time, responsiveness, and quality that surpasses expectations. Parts Life understands that customers need more than a supplier; they need a strategic partner.
Parts Life, Inc.
101 Route 130 S., Suite 530
Cinnaminson
Phone: (856) 786-8675
Fax: (856) 786-8677
Web: PartsLifeInc.com
Published (and copyrighted) in South Jersey Biz, Volume 2, Issue 4 (April, 2013).
For more info on South Jersey Biz, click here.
To subscribe to South Jersey Biz, click here.
To advertise in South Jersey Biz, click here.