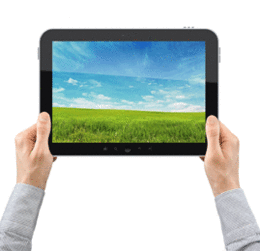 The Technology Landscape
South Jersey has played a large role in shaping current technology trends, and the impact shows no signs of slowing down.
in the workforce for more than a few years, you know the way people conduct business has changed. A nod and a handshake to seal a deal have been replaced with a quick email and a voicemail exchange or two. Leaving work meant you actually left the office, yet today more and more companies do not have an office to leave. While not all businesses have adopted these changes, this is slowly becoming the standard rather than the exception. These changes are due in part to the technology that has developed through the years, and South Jersey has held a unique position in this shift of paradigms. Not only has the region acknowledged that the face of business is changing, but it has also had a hand in the change itself.
Technology is a major facet of South Jersey's landscape, and there are a large number of tech-focused businesses in the area. According to the New Jersey Technology Council (NJTC), 667 technology companies in its database list either Burlington or Gloucester counties as their home. There are a number of theories as to why the region has been so enticing to technology companies, and one of the major ones is the area's prime location.
"We're at a crossroads of several major metropolitan areas," explains Bob Riesenbach, president of CMIT Solutions of Cherry Hill. "We're on the doorstep of Philly, an hour outside New York, an hour outside Washington, D.C. Because of our central location, we have a big confluence of technical people."
Riesenbach, whose company provides computer consulting services, also says he believes the presence of higher education facilities in the area with tech-related programs, such as Rowan, Rutgers and Drexel universities, has had a major influence as well.
Helping technology along
Location aside, the companies that call South Jersey home have made major contributions to changes in technology during the past couple of decades no matter the industry.
"Tech companies see New Jersey as a destination and establish their companies here, so what we see is a number of outcomes from [these companies] that have impacted all our lives," says Maxine Ballen, founder, president and CEO of NJTC, which is based in Mount Laurel.
One example Ballen cites is Ancero (also based in Mount Laurel), a leading provider of managed IT services, professional services, carrier services, hosted utility VoIP, and cloud solutions in the region. Another is the Coriell Institute in Camden, a facility known worldwide for its innovative medical research.
"[Ancero and Coriell] established their companies here, which has been great not only for South Jersey but the state as a whole," she says.
Ballen says other tech companies in the region are working on projects that will have a positive influence on the environment, which can only mean South Jersey's technological impact will continue to positively affect generations to come. Those projects include research with biofuels, solar power, wind and magnetic technologies.
"We have companies working on green solutions and environmental remediation for us and our children and our grandchildren that has implications and impact that we will, as a society, continue to take advantage of and benefit from forever," she says.
On a broader level, technology has allowed all companies to improve their communication and the way they do business, as well. Alex Kaplan, marketing manager for software consultant Neomind Labs of Philadelphia, says he believes changes in technology are going to bring an even playing ground to the business world.
"Technology is going to bring democratization to business and allow small businesses to compete with big businesses the way it wasn't possible 20 years ago," he says, adding technology is also allowing businesses to be more innovative.
Kaplan says it is also making it easier to start a business, and it is keeping the costs of such endeavors to a minimum.
"It's bringing the barriers to entry down," he says. "For a small business to start up, it used to take millions of dollars, and now that number is in the thousands."
Riesenbach echoes Kaplan's sentiments, and suggests companies like his help smaller companies to be the best they can be.
"We're making companies more productive, which enables and propels growth now and in the future," he says.
Despite these trends, there are still some smaller companies that are questioning whether they should get on board with the advances, according to Darren L. Crane, president of DLC Technology Solutions in Marlton, a company that specializes in technology consulting, sales, service and networking help.
"[They] are used to the very manual methods they have used for years," he says. "The focus for them immediately becomes the cost for the automation rather than the value it could bring. As such, the least expensive technology is implemented poorly—and they not only don't get the benefit, but they 'hate the system.'"
Major players
While every facet of business has been affected by the changes in technology in one way or another, the health care industry seems to have been, and continues to be, one of the sectors affected the most. Stephen Kozachyn, director of outreach at the South Jersey Technology Park, part of Rowan University's Rohrer College of Business in Glassboro, says the health care focus is understandable.
"You're always going to need medical care," he says. "As the population increases, so does the need for health care."
Kozachyn says while changes have already taken place, there are still many on the horizon. "When you go to the drug store, you don't even need your prescription anymore," he says. "Your doctor can already send it electronically right to the pharmacy."
Lawrence James, president and CEO of Connexus Technology in Philadelphia, a business focused on helping hospitals more efficiently manage and exchange health information in order to make them more profitable and to improve patient experience, says technology is influencing health care both directly and indirectly.
"One of the great trends that I see and my company is involved in is integration of care," he says. "Top providers are taking a serious look at how they can share patient or clinical information with one another … so they can provide better care for a specific patient."
James says the industry term for the integration is "health information exchange," and it is making it easier for patients to bring information from their primary care doctor to a specialist, for example.
"It's a mechanism, or protocol, that allows hospitals and providers to share information over the Internet," he says, noting while hospitals in South Jersey have signed letters of intent to connect to the exchange, it will be a few years before all institutions are truly online.
James adds another trend his company continues to watch grow is the ability for doctors to be more mobile in general.
"It means doctors having access via tablets, iPhones and other devices to patient information so that no matter where they are, they can receive information about their patients," he says. "They don't have to be bedside."
Tom Balcavage, chief information officer for Kennedy Health System, says a technology Kennedy has put into place is Bar Code Medication Administration. He explains the barcode on a medication contains all the information necessary for the provider to confirm it is going to the right patient, in the right dosage, at the right time.
The barcode system is part of what Balcavage calls the "KenGen2" project, which has taken place during the last three years and has brought Kennedy's hospitals—located in Cherry Hill, Stratford and Washington Township—onto a more automated level. He says another part of the project has been computerized physician or provider order entry, or CPOE, which allows users to sign in to one computer at the hospital and work securely from any computer in the hospital under that same session.
"Basically the computer session follows you around the hospital throughout the day," he says. "The system knows who you are and it's ready for you."
Balcavage adds Kennedy is looking to become integrated with the health information exchange James referenced, and the facility is working diligently to become a part of it.
But what some experts believe health care institutions and tech companies need to look out for is the affect regulations have on these positive advancements. Kaplan says he is concerned about the fast track that health care is taking on the technology route, and he is hopeful it does not get derailed by these regulations.
"Regulation is going to slow growth and confine the adaptability of companies that work in regulated areas like health care," he says, noting regulations can affect other areas, as well. "I'm afraid they're going to handcuff these companies … and there is going to be a serious lag on the floors of hospitals to update technology. They are going to have to conform to the regulations and wait for the regulations to update themselves."
On the horizon
As for the future of technology, Tim Chew, president of BC Processing and Technology, a company that specializes in electronic commerce and merchant services, says he still sees big changes coming. "We're about to see the largest transition of wealth and influence in the world," he says, noting the transition is going from people who do not know how to use a computer to people who have never known a world without a computer. "What we're dealing with is a Dad telling his son he needs to do business face to face and his son wants to implement technology."
With this transition, Chew says he thinks there will be less "brick and mortar" businesses as people try to lower operating expenses, and more opportunities for people to "meet virtually" through private networks and cloud computing.
"I think the biggest thing this all is going to impact is blurring the lines between workspace and home space and work storage and personal storage," he says, adding he believes people need to ease their anxiety with technology. "It's going to provide a lot of flexibility."
Chew says there is also a transition going on within the consumers themselves and the way they look at their daily lives. Future advancements in technology will revolve around these changing consumer habits and will drive how businesses adapt and grow.
Chew says one big innovation he sees taking hold within the next 18 to 36 months is payment by phone, which can be done through technologies such as QR codes and near field communication. He says instead of people reaching for their wallets, they're going to be reaching for their phones to make everyday purchases at places like the grocery store and gas station.
"We'll never kill certain things, but I believe there will be large implementation of this form of payment," he says.
Meanwhile, Kaplan says he believes we are still at the beginning of the change in advertising. He says while there has been a creative revolution in the industry, there is going to be more targeted advertising in the future.
"There's a saying that goes, 'I know 50 percent of my advertising works 50 percent of the time, I'm just not sure which half is working,'" he explains. "But people are finally able to track that and find out which ad is working when."
As a result, Kaplan says he sees more advertising going to "highly, highly targeted ads."
Further implementation and formalization of cloud computing is also on the horizon, says Crane.
"We are getting overloaded with multiple products that overlap in capabilities," he says. "In the upcoming years, that space will need to settle down and standardize. I would expect that a few vendors that can offer all the feature functions required in a single robust package will appear on the market and emerge as a clear leader."
However the trend goes, there is no denying that technology will continue to grow and evolve the face of business and society moving forward. It is an inevitable change that will hopefully make life easier for the masses, on the consumer and the business side of the equation. The challenge will be embracing the change, and taking advantage of the benefits it will offer, which Ballen says should really not be a challenge at all.
"The biggest benefit of technology? That it's there," she says. "Why not? Why wouldn't you? It's so exciting to take advantage of."
Published (and copyrighted) in South Jersey Biz, Volume 2, Issue 3 (March, 2013).
For more info on South Jersey Biz, click here.
To subscribe to South Jersey Biz, click here.
To advertise in South Jersey Biz, click here.