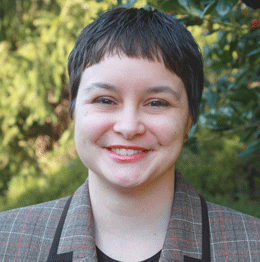 On the Move: February, 2013
Comings, goings, hirings, retirings and more in South Jersey.
Comings and Goings
Burlington County College announced that Dr. Nichole Bennett-Bealer (pictured) was selected as the college's new dean of liberal arts. Bennett-Bealer joins BCC with 14 years of higher education experience, most recently as director of the Learning Center at Northampton Community College, located in Bethlehem, Pa. She has a B.A. in literature from Rider University, an M.A. in English literature from Marquette University, M.S. in adult education from Buffalo State College, and both a Ph.D. and M.Phil. in modern history and literature from Drew University.
David V. Ardire was promoted to the position of president/CEO of Campbell Employees Federal Credit Union, headquartered in Cherry Hill. David succeeds former president, Martin Banecker, who recently retired after 30 years of service. The credit union also appointed Russell Turco, formerly of Cognizant Technology Solutions, as the new vice president of finance/CFO. Campbell EFCU is a SEG-based federal credit union, serving employees of various businesses throughout Camden County, including Campbell Soup Company.
Capital Bank has announced the retirement of Director Daniel S. Falasca. Falasca has been with Capital Bank since it's inception in 2007. It has also announced the appointment of two new directors to its board, Daniel Falasca Jr. and Patricia Pilone.
William Emerson, President/CEO of Emerson Group in Cherry Hill, announced the opening of a new branch office in Center City as of Jan. 2. Emerson also hired three new professionals to his team: Kathy Fitzpatrick, business development associate, brings a wealth of sales and service experience and will be responsible for identifying new client companies; Lynn Fraser, director of business development for Philadelphia, is a 12-year veteran and will be charged with enhancing Emerson's presence within the Greater Philadelphia market; and Missy McNamara Quinn, director of recruitment in Philadelphia, has 15 years of industry experience and will be pipelining, recruiting, interviewing and placing candidates for their client base.
The Bloom Organization, a commercial industrial real estate management firm in South Jersey, announced the promotion of Gregory H. Birnbohm to vice president of construction management. Birnbohm has been a member of the firm since 1999 and brings more than 30 years of management experience within the construction industry.
Friedman LLP appointed three practitioners to the partner level recently, adding specialized experience to the firm's audit, international tax and nonprofit practices. Michael A. Cohen, who works out of the firm's East Hanover and Marlton offices, along with Ryan Dudley and Amish Mehta assumed their new positions on Jan. 1.
Veteran business lender Laura L. Wallick is leaving the state Economic Development Authority, which last year provided $590 million in financing statewide, and moving to a Camden-based nonprofit lender—Cooperative Business Assistance Corp.—that is New Jersey's leading provider of microloans.
The Silver Diner announced that Maple Shade resident Jose Reyes is the new general manager of its Cherry Hill location. Reyes will manage operations of Silver Diner, including overseeing the fresh and local healthy menu, staffing, customer service and community outreach, including the company-wide Eat Well, Do Well! rewards program benefiting local schools and 'Run the Diner' fundraisers to benefit local nonprofits.
Apex IT Group announced the appointment of Ken Wolstenholme as senior technology consultant, providing chief information officer (CIO) services to Apex clients. Wolstenholme is a seasoned professional with more than 25 years of IT experience. His role at Apex is to provide customers with an experienced resource to gain strategic IT consulting and technology steering without the investment of a full-time CIO.
Adamus Media, a design and advertising firm based in Williamstown, hired Cassie Rinehart as a designer. In this position, she will work closely with the marketing strategy and creative departments on concept development and designs for both print and online media. Rinehart has worked in the marketing industry since 2010. Most recently, she served as a senior graphic designer for the Charleston, S.C.-based Threat Management Group, a global military and civilian defense and support company.
Conigent, Inc., a technology consulting firm based in Haddonfield and specializing in custom, cloud-based systems solutions, hired Stephanie Rhodes as financial business analyst. In her new role, Rhodes is responsible for providing analysis of current financial systems, designing new business and system processes, and the implementation of system changes at Conigent client sites.
Attorney Robert T. McNally was named chief operating officer and general counsel of Guardian Settlement Agents, one of New Jersey's leading title insurance agencies. In his new position, McNally will supervise operations in Guardian's office in Somerville and will work with company President Drew Whipple, who is based in Guardian's Marlton office, to meet the needs of residential and commercial real estate clients throughout the state's 21 counties.
Appel Farm Arts & Music Center's Board of Trustees appointed Dr. Loren Thomas as the organization's new executive director, effective April 1. Thomas is currently superintendent of schools for Salem County Special Services & Vocational Technical School Districts and a member of Appel Farm's Board of Trustees.
Duly Noted
South Jersey-based Advocare has been selected to run one of 106 national Accountable Care Organizations by Health and Human Services Secretary Kathleen Sebelius. Advocare will partner with Walgreens in the healthcare reform initiative.
Raymond J. Angelini has joined the Underwood-Memorial Hospital Board of Directors. Angelini is the president of electrical contracting and energy maintenance company Ray Angelini, Inc. of Sewell.
On Feb. 1, Cherry Hill CPA firm Alloy Silverstein joined companies across the nation in celebrating the 10th Annual National Wear Red Day for the American Heart Association's Go Red for Women movement. Alloy Silverstein is a Top 50 company contributor in the nation, the No. 1 participating New Jersey accounting firm, and continues to be one of the top Wear Red participants in South Jersey.
South Jersey Healthcare announced the opening of the Joseph Zeccardi, M.D. Pediatric Emergency Department at the SJH Regional Medical Center in Vineland. This brand new eight-bed unit provides a dedicated emergency department for pediatric patients.
Jacki Carr Strauss, manager of technical services for the Paulsboro Refining Company in Greenwich, and Terri Chocosky, the quality manager for Lamatek in West Deptford, were honored for their work by The Manufacturing Institute, the Society of Manufacturing Engineers, University of Phoenix and Deloitte. They were among 122 women recognized with Women in Manufacturing STEP (science, technology, engineering and production) awards in Washington, D.C.
Several local businesses and business leaders will be honored with this year's Voice of Business Awards by the Burlington County Chamber of Commerce for their contributions to the community: Brian Radwell, president/CEO of Radwell International; Champion Fasteners; Sensational Host Caterers; Roma Bank; Sandra Sciacca and Paul Costello of Sciacca's Upholstering & Design Center; the Law Offices of Lynda Hinkle, LLC; Burlington County Institute of Technology Foundation; Mayor Craig Wilkie and the Council of Florence Township; and Michael Pucciarelli, principal, Bartolomei Pucciarelli, LLC.
Our Lady of Lourdes Medical Center has received the Distinguished Hospital Award for Clinical Excellence by Healthgrades. This puts them in the top five percent in clinical performance out of Healthgrades' 4,500 national hospitals.
Haddonfield's Archer & Greiner shareholder and partner John C. Connell was named the 2013 Haddonfield Citizen of the Year. He was presented with an award on Jan. 19 at the Haddonfield Lion's Club's Mayor's Breakfast.
The Drenk Center announced Howard Whitworth was elected chair of The Drenk Center's Board of Trustees. The Drenk Center is a private, nonprofit organization that offers a full continuum of behavioral health services to more than 7,000 children, youth, adults, and families annually. Whitworth, a retired educator, spent his entire 35-year career in public education with the Pemberton Township School District.
CMIT Solutions of Cherry Hill signed on as Presenting Sponsor of Mitzvah Magic: Good Friends Doing Good Deeds … Paying It Forward on April 29 at the Katz Jewish Community Center in Cherry Hill. Hosted by the Jewish Business Network of Southern New Jersey, this distinctive networking event will provide local business people with the opportunity to give back to the community by bringing with them items to donate to charity.
Joseph S. Myers, MBA, financial advisor and branch manager of the Marlton office of Raymond James Financial Services, Inc., was named a "Five Star Wealth Manager" in 2013, reserved for those who provide exceptional service and overall satisfaction. Myers' selection is the result of a rigorous research process that included a regulatory and consumer complaint review, and an evaluation of objective criteria associated with wealth managers who provide quality services to their clients.
Sign-A-Rama of Cherry Hill and Cartridge World teamed up to collect donated food items through the end of March. The impromptu food bank will funnel donations to area food pantries, which are in replenishing mode after the holiday season. Donations can be dropped off at either Sign-A-Rama, 2110 Route 70 East in Cherry Hill, or the neighboring Cartridge World. Nonperishable food items can be dropped off between 9 a.m. and 5 p.m. Monday through Friday, through March 31.
Young's Landscape Management, Inc., a full-service residential and commercial landscaping company headquartered in South Jersey, received an Award of Excellence from the New Jersey Landscape Contractors Association (NJLCA). Honored at the organization's 2012 Achievement Awards and Holiday Gala in December, Young's was recognized in the category of Residential Landscape Design/Build ($50,000-$100,000) for its Fornia Residence project.
Markeim-Chalmers, Inc., a commercial real estate, appraisals and property management firm in the Philadelphia Metropolitan Area, secured three long-term medical lease transactions for the Rothman Institute building in Marlton. Located at 999 Route 73, the Rothman Institute occupies 35,000 of the 70,000 square foot building for its orthopedics and related practice areas. The new tenants who will be joining them include The Heart House cardiology practice (6,500 square feet), Able Imaging (5,500 square feet) and the Tao Institute (2,500 square feet).
Dr. John B. Tedeschi, from Advocare South Jersey Pediatrics, has been named state board chairman for the March of Dimes New Jersey Board of Directors. March of Dimes board members, who serve as volunteers, oversee the business of the chapter and implementation of the March of Dimes strategic plan for the success of its mission. They serve two-year terms. Tedeschi is part of a distinguished group of more than 15 directors for the organization that is celebrating its 75th anniversary this year.
Liz Thomas, co-founder and CEO of Thomas/Boyd Communications, was named chair of the Samaritan Healthcare & Hospice Board of Trustees. Thomas joined the all-volunteer board in 2008 as vice chair and has served as a member of the executive committee since 2011.
Published (and copyrighted) in South Jersey Biz, Volume 3, Issue 2 (February, 2013).
For more info on South Jersey Biz, click here.
To subscribe to South Jersey Biz, click here.
To advertise in South Jersey Biz, click here.