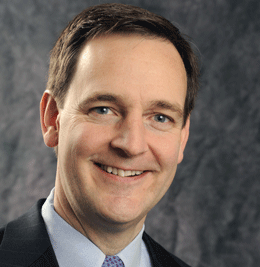 Eye on the Future
As we enter a new year, area executives take lessons from 2012 and make their own forecasts for 2013.
The past year saw slow growth throughout South Jersey and, as we look to what 2013 may hold, there are still many uncertain factors. The long-term effects of the "fiscal cliff" may not be entirely known yet, so while some companies see a strong year ahead, others remain hesitant to expect large gains. To delve deeper into what our area's top executives and CFOs are in fact predicting, we went straight to the source.
Thomas Burke (pictured)
CFO, Bancroft
"As CFO of one of the largest nonprofit organizations in New Jersey, I believe that 2013 will present a mixed bag of both economic challenges and opportunities. Despite the fact that the so-called 'fiscal cliff' was averted, there remains a very real possibility of funding cuts to vital programs for those with intellectual and developmental disabilities—the largest population that Bancroft serves. As if that were not daunting enough, I am also concerned that higher income tax rates and new limitations on itemized deductions recently imposed on higher-income earners will have an adverse effect on our fund-raising efforts.
I am similarly pessimistic that housing will not rebound as quickly in New Jersey as in other states. Four-plus years into the housing crisis, New Jersey's foreclosure rate is the fourth-highest in the country, after Nevada, Rhode Island and California. Nearly one in six homeowners with a mortgage is 30 days or more delinquent. However, because Bancroft is one of the largest group-home operators in the state, this continued softness in the housing market allows us to acquire or lease new homes more cost-effectively. A similar point can be made for the soft labor market in New Jersey. With statewide unemployment at 9.6 percent, we can afford to be even more selective in our hiring decisions.
As they say, 'Every dark cloud has a silver lining.' Did I mention that Matthew Quick, author of the The Silver Linings Playbook novel, is a former Bancroft employee?!!!"
John "Jack" Hamerski
CFO, Univers Workplace Solutions
"The impact of health care reform is top of mind for both employees and employers, and our 2013 priorities are on delivering employer solutions that help our customers stay in compliance, in conjunction with educational tools to help employees understand how they will be impacted. Therefore, we will focus on our mission to elevate the benefit knowledge of the nation's workforce, with a keen emphasis on new media trends and providing multiple access options for employees.
Finally, we will continue to evolve our services to help our clients focus on wellness and bending medical trends. From helping employees electing the right plans for their family up front, to providing resources that help employees be good health care consumers at the time of need, empowering employees through education every step of the way can help move the meter—with the ultimate goal of helping our clients control the cost of health care for their employees."
Bob Pantaliano
President, CFO 360
"Companies that have survived the economic downturn are entering 2013 with newfound knowledge. They have learned to live with less to remain profitable. The small to mid-sized businesses that have successfully stayed in the game are now entering a growth mode with deliberate planning. Smart companies are starting to monitor growth by benchmarking actual results against their own unique baseline. I'm working with my clients to not only budget expenses against the baseline, but to focus on revenue analysis, because it's just as important to understand trends in revenue streams, and react in concert with those trends, as it is to control expenses.
Traditional financial statements are still essential; however, customized, detailed reports can uncover areas of growth and profitability, which may not be apparent, as well as areas that are actually drains on the business. This type of analysis gives business owners added insight and leverage. Additionally, I see an escalation in real-time delivery through outsourcing, which allows the flexibility of meeting client demand without adding a permanent overhead burden. The new normal for the foreseeable future is carefully monitored, planned growth for steady success."
Carolyn J. Rutsky
Chief Financial Officer, Parker McCay P.A.
"Good things come to those who wait. Unfortunately, a lot of us have been waiting for the last four years for good things to happen—waiting for stabilization and growth in the economy, waiting for decreasing unemployment rates, waiting for increases in pricing and spending in the real estate markets, waiting for increases in interest rates. Overall, just waiting for a positive economic outlook for their businesses. [This year] looks to test our patience even further, given the impending debt ceiling debates, and the egregious tax increases taking effect this year. Businesses and individuals will continue to be risk adverse and take a more conservative approach. However, companies who have continued and have been able to stay the course, invest in and maintain their infrastructure, and position themselves for when positive changes arrive, will be successful. Any economic changes, whether good or bad, create growth opportunities. Identifying and taking advantage of those opportunities are what sets companies apart from their competitors and helps them to ultimately emerge as leaders in their industry. Let's not wait."
Robert Segin
Executive Vice President/CFO, Virtua
"It is my opinion that the hospital sector will continue to face operating and financial pressures associated with the current state of our economy at a critical time when hospitals are transitioning their operations in accordance with the health care reform act toward population health management. Macroeconomic issues such as the increase in the payroll tax, the looming debt ceiling, budget sequestration, potential future cuts to Medicare and continued high unemployment will place a heavy financial burden on all hospitals. Specific hospital sector issues such as the required infrastructure investment associated with the health care reform act; smaller rate reimbursement increases from commercial, federal and state payers; the continued pressure to reduce health care costs; and reduced patient volumes associated with increased out-of-pocket costs from high deductable health plans will add to the financial challenges of all hospitals.
Smaller stand-alone hospitals will face significant challenges in obtaining the necessary capital resources to reinvest in the full continuum of health care services to be successful under health care reform. Larger hospital systems such as Virtua that have expanded their physician base through partnership and employment; invested heavily in its facilities, equipment and ambulatory services; and through partnership or ownership, provide the full continuum of health care services to a large market at a low cost, will be challenged but will be able to withstand the financial headwinds of our current economy and health care reform throughout 2013."
Steven L. Shapiro, CPA, PFS
Founder, Alloy, Silverstein, Shapiro, Adams, Mulford, Cicalese, Wilson & Co.
"Looking ahead to 2013, there are many unknowns. I'm sure you recall the Bill Clinton campaign with the slogan 'It's the economy, stupid.' The country is still wrestling with a gargantuan deficit and albeit the fiscal cliff seems to have been avoided, clouds still permeate the sky. In particular, I am not optimistic about consumer spending given the 'non-extension' of the payroll tax holiday. As a result, the average household will see their take-home checks cut by almost $1,000 this year and that will dampen their ability to spend. Our economy is moving ahead ever so slowly and businesses are still cautious in their spending and their hiring. Thus unemployment will stay stubbornly in the current range. As we tell clients, there's no big secret in having more money—you either bring in more or spend less. Doing both is an unbeatable formula, a formula our legislators fail to grasp. In their negotiations to avoid the fiscal cliff, it seemed their primary goal was to get re-elected, not do what's right for the country. Unless they get their arms around the problem, we and future generations will pay the price. After all, 'It's the economy, stupid.'"
Dan Statile
Vice President/General Manager, NuStar Asphalt LLC, Paulsboro Refinery
"The New Year outlook for our business is trending more positive as we continue to lower our feedstock costs and compete on the global market. Our ability to rapidly invest to bring North American crude to the facility, coupled with reduced natural gas costs, is giving us a competitive edge around the globe. Domestically, Congress' recent approval of funding for federal roadway construction over the next several years strengthens and firms up the certainty of those projects. We anticipate a slight improvement in 2013 in the commercial market sector, as capital is deployed and construction projects begin, and flat spending in the residential sector, as disposable income shrinks. We will continue to invest in our people, plants and processes to ensure the safe, environmentally sound and reliable operations of our facility, the production of industry-leading, technologically advanced asphalt, and the pursuit of a business model that puts the right people in place to improve our agility, efficiency, and the competitiveness of our products."
Steven Suflas, Esq.
Partner, Ballard Spahr LLP
"In the legal sector, I see 2013 as another year of uncertainty. Although Ballard Spahr had an especially strong 2012, clients generally remain apprehensive about the overall economy. Uncertainty about politics and economic policy in Washington has resulted in lots of capital sitting on the sidelines. So clients are paying closer attention to their legal spending as they try to conserve cash. Clients will continue to seek out high-quality services for their more difficult business and legal issues, but will be more cost conscious about issues which they view as of lower importance or work that has been commoditized. That said, our firm expects to see continued client demand in areas such as: employment law counseling, in order to anticipate wage and hour claims, update company policies, prepare for increased governmental regulation, and address union avoidance; public finance, with an emphasis on public-private partnerships; litigation, especially involving intellectual property and product liability issues; and if the markets loosen, a return to commercial transactions."
Melissa C. Tagye
Vice President/Regional Manager of Wealth Management, Valley Forge Asset Management Corp.
"Our economic forecast in 2013 will be for sub-par economic growth, which was evident for most of the past year. We will likely post a 1.5 percent gain in 4Q12 which puts U.S. annualized GDP around 2.0 percent. We forecast 2013 to be much of the same. Historically, this does not lead to large stock market advances. In addition, there was nearly $300 billion in U.S. high yield issuance in 2012, the most in any calendar year. High yield rates are the lowest in 15 years as investors reach for yield. We are being mindful of market risk and volatility, especially at a time when investors are not focusing on it.
We have seen a drop in commodity prices and inflation that allowed other central banks to increase their focus on pro-growth policies. New political leaders in Japan and China have announced plans intended to boost domestic consumption. European recession concerns have led to an announcement by the ECB to effectively back government debt. [This year] may be a year of unprecedented money printing and stimulation. Has this positive news been already priced into the equity markets? Major stocks indices were up substantially in 2012.
Stock buybacks of nearly $500 billion and a continued rise in productivity have led to increases in corporate profit margins. Going forward though, it will be increasingly difficult for corporations to squeeze much more out of their top-line revenues, which we forecast to be flat, especially in the slow growth period we are currently in. Even if we get up to 2 percent growth in 2013, investors will have to deal with rising taxes, increased costs from ObamaCare, European uncertainty, increased regulatory uncertainty, and a continuation of political bickering at home. Any deterrent to the minimal growth we expect could wreak havoc on portfolio valuations."
Victor J. Valponi
Firm Administrator/CFO, Capehart Scatchard
"I have been a law firm administrator and CFO for over 20 years. The current recession has taken its toll on the economy in southern New Jersey, as it has lasted longer than most others. Our firm has managed to not only weather the storm, but to add quite a few lawyers from firms that have not fared as well. From the beginning of the downturn to the present, we have carefully monitored our expenses, sought competitive bidding from all of our vendors, and have spent many extra hours in managing the firm, with our five-attorney executive committee. And most importantly, our attorneys treat every client as if they are the most important client of the firm, which in truth they are.
This year, for the first time in many years, our clients have given us indications that the economy is gaining steam, as they have intentions of adding new employees and taking the leap of increasing their capital expenditures. We have in New Jersey a great location between the metropolitan areas of New York. Philadelphia and Wilmington, where we have our offices. Energy costs and interest rates have remained low. While the tax structure is not great, Congress has recently reached some compromises, which takes a bit of the uncertainty out of the future. One remaining issue that needs addressing is health care costs, which seem to be rising too quickly. All in all, I see a bright future for at least the next five years for our local economy."
Published (and copyrighted) in South Jersey Biz, Volume 2, Issue 1 (January, 2013).
For more info on South Jersey Biz, click here.
To subscribe to South Jersey Biz, click here.
To advertise in South Jersey Biz, click here.