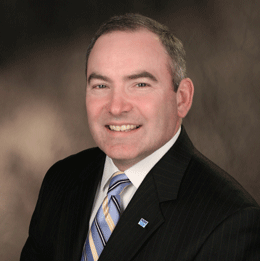 Corner Office: Bernie Flynn
Bernie Flynn President/CEO, New Jersey Manufacturers Insurance Group.
Celebrating 100 years of business, New Jersey Manufacturers Insurance Group is committed to their policyholders. What started as a company strictly providing workers' compensation has grown into the state's largest provider of personal automobile and workers' comp insurance along with carrying commercial automobile and homeowners insurance. President and CEO Bernie Flynn is proud of the great success of the business, especially as they were challenged by the damages and claims brought on by Superstorm Sandy. "Our employees quickly acknowledged the role we play as a major insurance carrier in New Jersey and, knowing the damage these storms would surely leave behind, rose to the occasion to aid our policyholders and turned these tough situations into some of our finest moments as an insurance company."
Flynn spoke with South Jersey Biz about NJM's success of the last 100 years thanks to their dedication to their policyholders.
What has NJM meant to the New Jersey economy and Garden State residents and businesses since 1913?
While the form has changed over time, the substance has not. In the early part of our existence, we afforded employers a choice in how they would respond to new legislation that required workers' compensation insurance. In doing so, it helped many of them through a difficult, costly time. During the Great Depression, we were a steady source of employment, and remained a low-cost option for statutory insurance. In the post-war era, when manufacturing was at its height in New Jersey, we had the capacity to insure thousands of businesses while helping them develop safety programs that made their operations more efficient and productive. During the personal auto insurance availability crisis in the early part of the last decade, when many insurers closed their doors to New Jersey consumers, NJM remained committed to the Garden State, serving as a new home to tens of thousands of drivers.
NJM will celebrate its 100th anniversary on June 7, 2013. What does that significant milestone mean?
It is a symbol of the company's endurance and it reinforces the soundness of NJM's mission to operate exclusively for the benefit of its policyholders.
How has NJM changed over the years? How has it remained the same?
NJM was established as a workers' compensation carrier, catering to a much different customer base than it does today. The heavy manufacturers of the early 20th century have largely given way to supermarket chains, high-tech firms and medical service entities. While NJM is still the largest provider of workers' compensation insurance in New Jersey, personal auto insurance is now the largest line of coverage written today. What has not changed is NJM's unwavering dedication to its customers.
What has been the secret to your company's longevity?
Because NJM is not a publicly traded stock company, we answer exclusively to policyholders and operate solely in their best interests. Our business model affords unique benefits that you might not see offered by other companies; consequently, we're able to generate a great sense of loyalty from our policyholders.
Historically, how do you feel about New Jersey as a place to do business?
There have been substantial regulatory improvements made in the property/casualty insurance marketplace in the past decade, particularly in auto insurance. As these enhancements have gradually taken effect, New Jersey transitioned from one of the most difficult places in the country for an insurer to operate to one of the best.
You've been quoted as saying that "NJM is all about policyholders" and that it takes a "service gene" to work at NJM. What did you mean?
Being there when our policyholders need us most is what NJM is all about. Our employees understand, and appreciate, that value. Without policyholders, there is no NJM, and that is something we never take for granted.
What are the major challenges in your industry? How do you approach them head on?
Regulations governing medical coverage in personal auto insurance require continuing attention. This coverage, known as Personal Injury Protection, or PIP, is applied on a "no-fault" basis to treat injuries suffered in car accidents. As a result, the costs are shared by all drivers. Approaching this issue head on involves close interaction with legislators, the Department of Banking and Insurance, and close scrutiny of claims payments to protect the interests of our policyholders, whose premium dollars ultimately cover these costs.
What is the best business advice you ever received, or could give to others?
Try new things, volunteer for assignments and be a problem solver. I think that advice helps with any kind of career and with life in general.
Proudest career moment?
NJM's response to tropical storms Sandy and Irene. Irene, at the time, was the largest claims event in NJM history, but the number of claims as the result of Sandy has shattered that record. During times like these, the president becomes one of the least important people at the company, while the hardworking, dedicated adjusters, appraisers and customer service representatives take center stage. Watching them rise to the challenge is inspiring. We strive to handle the needs of our policyholders efficiently and with the care and compassion they have come to expect, especially under such trying circumstances.
How do you unwind at the end of the day?
NJM promotes wellness, and I do my part to support that cause. At the end of long day, I like to exercise, watch a ballgame on TV or read a good book. If I can manage one of the three, it's a good day; if I can manage all three, it's a great day!
Published (and copyrighted) in South Jersey Biz, Volume 2, Issue 12 (December, 2012).
For more info on South Jersey Biz, click here.
To subscribe to South Jersey Biz, click here.
To advertise in South Jersey Biz, click here.