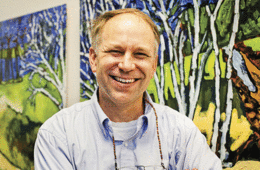 2012 Executives of the Year
20 of South Jersey's Top Leaders
We asked our readers to nominate business leaders who have been at the front of industry changes and economic growth, in order to discover influential names from across South Jersey. Your responses gave us a diverse look at the changing region, with nods to banking, insurance, construction, technology, education, health care and more. Whether they've risen quickly through the ranks or are celebrating milestone years, these execs are changing the way we do business.
Bruce Main
Founder/President
UrbanPromise
The founder and president of UrbanPromise, Dr. Main (pictured) seeks to create a better life for Camden's children and young adults, equipping them with necessary life skills for academic achievement, leadership, spiritual growth and adulthood. Main began by establishing an inaugural kids summer camp in 1988—at the age of 25—and has gone on to directly assist more than 600 children per year, with a team of hundreds of volunteers. He is also a published author, adjunct at Eastern University and frequently speaks around the globe at mission conferences, colleges, churches, and business seminars. From 2010 to 2011, revenue for UrbanPromise grew more than $658,000, funding numerous programs including a successful private Christian elementary through high school program; net assets for that year rose $39,288. But those aren't the only positive numbers: 93 percent of UrbanPromise graduates continue on to college, staff says. And the influence doesn't just stop in Camden County: UrbanPromise now has satellite locations in Trenton, Wilmington and Miami, and international locations in Canada, Honduras and Malawi.
Gerard J. Ferro
CEO
Free For All
Ferro's was a well-known name in the health care field long before he was named to CNBC's "10 Serial Entrepreneurs" last December—a list that put him alongside the likes of Oprah Winfrey and Sir Richard Branson. Before founding Free For All in 2007, a provider of health insurance savings for consumers across the country, Ferro started companies such as SIMCARE, later sold to a Blue Cross Blue Shield organization, and pharmacy benefits company SUNRx, which grew to $49 million in its first five years alone. The same success is evident in Free For All, driven by Ferro's desire to "cut the greed" out of the health care system and save Americans their hard-earned cash. The company, based in Mount Laurel, offers discounts through its free RxCut Plus cards program and, since 2008, has saved users more than $75 million. "FFA was established to assist all those suffering from unemployment, as well as the uninsured and even the insured. I believe it's time for consumers to take control of their health care," Ferro says.
Reynold Cicalese
Managing Partner
Alloy, Silverstein, Shapiro, Adams, Mulford, Cicalese, Wilson & Co.
Cicalese celebrates his 27th year with Cherry Hill's full-service accounting firm, financial services firm and payroll company. Since then, he says he's seen the firm almost quadruple in size while most other area firms have decided to sell or downgrade, thanks in part to his heavy investment in the future of his craft. Cicalese works closely with internship programs through South Jersey schools like Rutgers-Camden and Rowan University to help establish newcomers. He also initiated a new Leadership Series this year, providing staff members with less experience with one-on-one guidance and advice on public accounting. Meanwhile, he serves as a member of the American Institute of CPAs, the New Jersey Society of CPAs, and more, and was appointed to a two-year term as President of INPACT Americas, effective as of Jan. 2012. He's also active in promoting the firm's international outreach through athletics, as they are now sponsoring PGA golfer Cameron Percy. Cicalese personally meets with golfers and sponsors across the globe during Percy's competitive tournaments.
Pamela Cyr
Executive Vice President and Chief Retail Officer
Beneficial Bank
Cyr is no stranger to the financial services industry, with more than 20 years experience in the field and a proven track record of successful leadership in banking before she became the Executive Vice President and Chief Retail Officer of Beneficial Bank—­the largest bank headquartered in Philadelphia—this June. Previously, Cyr served as the president and CEO of SE Financial Corp. and led a successful growth initiative there. She's been known to develop a customer-focused business culture and has been lauded for "increasing core banking relationships." Beneficial recently reported its biggest quarterly profits in more than a year, earning $4 million, or 5 cents per share, in the third quarter that ended on September 30. Cyr's leadership, alongside President and CEO Gerard P. Cuddy is setting the 159-year-old company up for continued slow but steady growth. Beneficial is also undertaking several outreach initiatives to benefit the local community, including a charitable program to provide $13,000 in grants to schools in the greater Philadelphia region and presentations to Cherry Hill high school students about financial responsibility.
Ben Griffith
President
South Jersey Federal Credit Union
Griffith has served at the forefront of the South Jersey Federal Credit Union for almost 40 years, leading the financial institution in its growth from a membership of just 1,500 to its current 40,000-plus and $325 million in assets. With six South Jersey locations of the Deptford-based credit union and a satellite office in Woodbridge, the company serves public employees, schools, hospitals, casinos and more. But beyond SJFCU, Griffith is known for his community involvement—serving on the boards of the Gloucester County Chamber of Commerce, the United Way of Gloucester County and the Southern New Jersey Development Council, to name a few. He also strives to make SJFCU itself active in the community, offering free seminars, launching a recent corporate sponsorship to support Deptford High School's athletics program, and awarding thousands in scholarship funds to graduating high school seniors across South Jersey. In recognition of his involvement, Griffith was honored last year with the Distinguished Citizen of the Year award from the Southern New Jersey Council of Boy Scouts of America.
Martin Bieber
CEO
Kennedy Health System
Bieber served with Catholic Health Services of Long Island, N.Y., for 14 years before making the move to South Jersey in 2006, becoming senior vice president of Kennedy Health System—with hospital locations in Cherry Hill, Stratford and Washington Township—and then president/CEO in 2009. In that short time, he's made quite an impact. One of the things he is most proud of, as health care focuses more on preventive care and wellness, is the growth of their physician network—the Kennedy Health Alliance—which was formed in the spring of 2011. Under Bieber's leadership, Kennedy also joined the Penn Cancer Network, added a Rothman Institute location in Washington Township, and partnered with Jefferson's Neuroscience Network. In addition to several board positions within Kennedy, Bieber is a member of numerous health care organizations, including the American College of Healthcare Executives and the Healthcare Financial Management Association. A member of locally based Bancroft's board since 2008, Bieber became their chairman in 2011, helping to govern the nonprofit, which aids children and adults with intellectual and developmental disabilities.
Thomas J. Doll
EVP/COO/CFO
Subaru of America
Doll has many titles before his name at Subaru of America, the Cherry Hill-based subsidiary of the Japanese automaker, where, beginning in 1982, he has spent the majority of his climbing career. In 1991, following management positions in treasury and accounting, he was promoted to vice president of business and strategic planning and, from there, he was promoted to CFO, a position he still retains in which he is responsible for business and strategic planning, budgeting, accounting, and more. Since 2009, Doll has also served as chief operating officer, putting him at the helm of operations for the entire organization, one that's experiencing recession-defying records lately. Just recently, he announced that while there were two months remaining of 2012, the company had already exceeded its 266,989 vehicle sales amount from 2011—which was a record year to begin with. This achievement marks SOA's fifth straight year of sales growth along with its fourth straight sales record. Outside of Subaru, Doll is active in financial organizations including the American Institute of CPAs, and just last month he was appointed to the Economic Advisory Council of the Federal Reserve Bank of Philadelphia.
Ali Houshmand
President
Rowan University
Dr. Ali Houshmand has been many things: a professor, academic advisor, director, dean and provost, and now president of a thriving Rowan University. Dr. Houshmand joined Rowan in September 2006 and spent six years as provost/senior vice president of Academic Affairs before becoming the university's seventh president this June. "We are extremely proud to have opened Cooper Medical School of Rowan University, the first new medical school in New Jersey in more than 35 years. There is a physician shortage looming nationally, which will be particularly acute in New Jersey, and we are in a position to address that need before it becomes a crisis," Houshman says. His goal to make higher education "more accessible than ever" is clear, with new dual-enrollment partnerships with Gloucester and Camden community colleges, a recent designation as a public comprehensive research university and the new Cooper Medical School of Rowan University. More collaboration with Rutgers-Camden's College of Health Sciences can also be expected in the future, he says.
Before Rowan, Houshmand was associate provost for academic affairs at Drexel University and supervised a successful five-year strategic plan with first-year goals for research, budgeting, cooperative education, faculty development, undergraduate programs and student retention. He was also the director of graduate studies at University of Cincinnati's industrial engineering program where he "tripled the number of graduate students in industrial engineering…and developed a college-wide teaching effectiveness course."
Scott Mertz
Principal
NAI Mertz Corporation
He may be young, but don't let that fool you: Mertz is on top of his game. Mertz deals in all aspects of NAI Mertz, a constantly expanding company that deals in office and retail leasing, land and investment sales, and retail site selection across Greater Philadelphia. As a principal at one of the Delaware Valley's largest commercial brokerage firms Mertz handles multi-million dollar deals on a daily basis, leasing and selling more than 11 million square feet of space to businesses and industries across our area since his start. He's earned his company more than $255 million, along with a string of accolades to his name, including the Costar Group's Power Broker Award for Top Industrial Leader Brokers in 2009.
Marlene Z. Asselta
President
Southern New Jersey Development Council
The Southern New Jersey Development Council in Turnersville has seen tremendous growth under Asselta's direction, now providing a smoother, more efficient economic relationship for companies across Pennsylvania, Delaware, Maryland, as well as across the state. Her attention to public service has taken her from a start as the administrative aide to her hometown mayor in Vineland to overseeing a non-profit that assists hundreds of companies every day. She has also volunteered her time with NJ Industrial Developers Association; the Rowan University Friends of the Arts Board; Gloucester County Library Commission, and more. Asselta's involvement in the area brought about the South Jersey Open and the SJ Tennis Council. Started with her husband, tennis professional Sean Sloane, the Council provides tennis lessons and instruction to children across South Jersey. Her South Jersey Open has been in operation since 1990 and remains a United States Tennis Association sanctioned amateur tournament.
Joseph Giamboi
President
Forge Employment Resources Corporation
Giamboi founded Forge Employment Resources Corporation, a quality employment background screening company, in 2001 in Malvern, Pa., before moving the business to Audubon five years later. Despite a soft business climate, Giamboi has not only survived the recession, his company has gotten stronger. "Even though employment and hiring was substantially down, we still experienced consistent growth over the long term," he says. "Our clients recognized the quality of the work that we provided—sticking with research quality, as opposed to research expediency, and effectively adhering to that difference to benefit our customers and their candidates for employment." Giamboi is also the president of Tri-State HR Management Association, a local non-profit organization serving professionals in an ever-changing industry.
Ellen Kuiper
President, co-CEO
ABCO Federal Credit Union
Kuiper likes to say she's done every job there is at ABCO, and she's not exaggerating. Now in her 41st year with the company, she got her start when she was just 17, working out of CEO Milton Hershberger's garage. "I used to babysit Milt's kids and chase their hamsters around," she quips. "I had a partial scholarship to Rider, but couldn't afford to go. [Hershberger] said 'Just stick with me kid and someday you'll run this place,' and I guess that's what happened." Now, out of the garage, ABCO has nine branches located throughout South Jersey and has grown from $300,000 in assets to nearly $175 million. Kuiper went from being the first and only employee, to overseeing the 78 now working under the company's umbrella. "We work as a team and everyone deserves credit to what this has now become," she says. "I love every minute of it."
Kevin Kutcher
CEO and President
Liberty Bell Bank
A career banker since 1975, Kutcher's roots are firmly planted in the financial industry. Working with a community-based bank for the second time, he joined the team at Liberty Bell Bank a year prior to them opening their doors in August of 2003, working to raise capital during the organization phase. Since then, Kutcher has helped Liberty Bell grow to four offices during difficult economic times, and sees his customer base continue to flourish. "It's all about the relationships," he says. "We get very entrenched in our communities." It's that customer-based level of service that helps separate Liberty Bell from its larger counterparts, according to Kutcher. "It's easy to say the proudest moment [of my career] is becoming president of a bank, but to have that opportunity to grow organizations and provide employment and to help other businesses do better" is the real crowning achievement.
Harriet Weiss
Chairman and Chief Executive Officer
CRW Graphics
With clients like Saks Fifth Avenue and National Museum of American Jewish History, CRW Graphics offers flexibility, problem solving and ingenuity in a digital age. Weiss serves as Chairman and CEO at this women-owned commercial and digital printing company, which provides conventional printing, direct mail, book printing and binding, variable data printing, award-winning Web-to-print services and more, with a focus on eco-friendly practices. For 20 years, Weiss was president of private company Newtown/CPC, during which sales grew from $1.5 million to a thriving $29 million in revenue. She then brought that experience with her to Pennsauken. Weiss, a BS and MSW graduate of Temple University, also serves on the Board and Executive Committee of United Way and is a trustee of the University of the Arts, in addition to involvement in other civic associations in the community.
Craig Corelli
President/CEO
Car-Tel Communications
The recession has had no impact on the past two years for Corelli and his Haddon Heights-based AT&T retailer. In fact, Corelli, who has served as the President and CEO of Car-Tel Communications since 1992, has been there to open three of their 10 chains in that short time, and is already in talks to open an additional three stores by 2015. Corelli's wireless chains extend across the area into West Deptford, Cherry Hill, Glassboro, Delran and more, serving more than 500,000 customers with a 98.5 percent customer satisfaction rate, and bringing in about $10 million in projected sales for this year. And with such strong ties to South Jersey it's no wonder that Corelli prides himself on community outreach, working with Alex's Lemonade Stand, the Entrepreneurs' Organization's Philadelphia chapter, and Habitat for Humanity. Car-Tel participates in chambers across South Jersey, and has established one of the largest cell phone recycling programs in South Jersey.
Robert Curley, III
South Jersey Market President,
TD Bank
As South Jersey President of TD Bank, Curley is responsible for the leadership and growth of 67 stores in the local network. From the headquarters in Cherry Hill, he leads the way in retail lending, government banking, commercial and small business lending teams, and corporate giving across six counties. The Penn State graduate began his career 25 years ago as a part-time bank teller, rising to fill roles as regional vice president for Burlington and Camden counties, retail lending department head and regional team leader before his current position—earning him numerous awards as an up-and-coming leader and top banker in Philadelphia and South Jersey. The Marlton resident also betters the community though board memberships and affiliations with the United Way of Camden County, Boys & Girls Club of Camden County, Archway Programs Foundation, the Juvenile Diabetes Research Foundation South Jersey Chapter and more.
Dr. Michael Christman
President & CEO
Coriell Institute
In the past five years as president and CEO, this expert in genetics and genomics has facilitated enormous growth and innovation, culminating in Coriell's largest operating budget and highest number of employees in the company's 60 year history. "And, we continue to grow," Christman says. The institute is pioneering research in personalized medicine and understanding of human genetic variation, "specifically its role in disease and its use in medicine, which is becoming a big business," Christman explains. Research services include exploration in stem cells, genotyping, molecular biology and much more. Recently, the United States Air Force approached the center to enter a partnership for genomic medicine; another partnership with IBM seeks to revolutionize electronic medical records. "I try to cultivate innovation and creativity from the start by advising new hires not to assume their department is doing everything perfectly. You can do amazing things with a team of smart, dedicated people," he says.
Rick Cureton
President
Whitesell Construction
As head of South Jersey's largest privately owned real estate development firm, Cureton has plenty to look after: the company owns more than 9 million square feet of commercial, industrial, office and retail spaces and serves more than 200 tenants across the area. But Whitesell Construction is also a family-owned business, as it has been for more than 50 years. The firm designs, builds, and maintains its own commercial property portfolio, offering a wide range of tenant support services. "We believe in living in the communities, touching the communities, helping the nonprofits and being involved in the communities in which we do business," says Cureton. The company has actively participated in charitable activities and scholarship programs in the area, and last June, Whitesell was honored with the Lifetime Achievement Award from the Businesses Committed to Burlington County (BC2) association.
John Price
Vice President of Operations
A.A. Duckett, Inc.
Price is so committed to his clients, ranging from neighborhood residents to large institutions like Rowan University and South Jersey Health Care, that he wants them to be able to connect with him 24 hours a day, 365 days a year. "Frankly, people are surprised that my cell phone number is right on my business card," he says. "Relationships and trust are everything in this business and they know without fail, if they have a need, we will be there." In business since 1919, A.A. Duckett is a HVAC and refrigeration service company that does construction and installation and also offers plumbing services. Using union laborers, Price says he is able to offer his customers quality work with an emphasis on safety. During his four years with the company, Price has seen satisfaction levels continue to rise with his customers, even if it's all in a day's work. "When customers call me and send e-mails and thank us for the service, we take it for granted because that's the standard."
George Sowa
Executive Vice President
Brandywine Realty Trust
Brandywine Realty Trust has continued to outperform the market during the strenuous economic times, thanks in part of Executive Vice President Sowa. The Mount Laurel based leader attributes that success to owning, developing and managing many of the "biggest and best properties in our operating regions." As a publicly traded real estate investment trust with a total capitalization of nearly $5 billion, Brandywine also has excellent access to the capital markets, Sowa says. Brandywine Realty Trust is actually the largest owner of office properties in the tri-state region and one of the largest, publicly traded, full-service, integrated real estate companies in the United States – with a portfolio comprising 295 properties and 34.0 million square feet. "However, our success transcends our buildings and capitalization…each of our offices provides our (clients) with design, construction, development, property/asset management, engineering and leasing services," Sowa says. The executive V.P. is also the first president of the New Jersey chapter of the National Association of Industrial and Office Properties, and was recently appointed to the Executive Committee of the National Board of Directors of NAIOP.
Published (and copyrighted) in South Jersey Biz, Volume 2, Issue 11 (November, 2012).
For more info on South Jersey Biz, click here.
To subscribe to South Jersey Biz, click here.
To advertise in South Jersey Biz, click here.