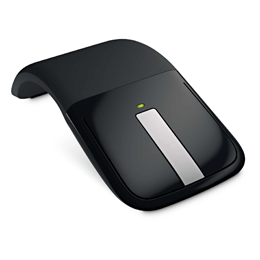 Office Space: October, 2012
Office Supplies: A Click Away
Did you know the average office worker spends 8.5 hours a day in front of a screen? Even if you have a top-of-the-line machine, a better experience is right at your fingertips. These high-tech, ergonomic mouses can help improve performance and keep you on track during all those hours.
Manhattan Stealth Touch Mouse
The absence of right- and left-click buttons gives this mouse a sleek and sophisticated look. The mouse takes on a touch screen feature with its touch-sensitive surface, so instead of clicking with your fingers, you simply tap and swipe. $56.99
Microsoft Arc Touch Mouse (pictured)
This mouse is unlike any other with a distinctive performance, look and feel. With features like auto scroll and the flexible ability to curve or flatten, this mouse is perfect for any of your preferences. $39.90
Apple Magic Mouse
Complement your Apple computer with the world's first Multi-Touch mouse, using gestures to control your interaction. This sleek buttonless mouse uses miniature sensors to detect the smallest movements of the hand, allowing you to scroll in any direction with ease. $65
Book It: The Path to Success
This month's selections are all about the secrets of getting ahead, whether following the success of tech startups, mastering the MBA, or giving presentations like a pro.
The Launch Pad: Inside Y Combinator, Silicon Vall­ey's Most Exclusive School for Startups
Randall Stross divulges his experience at exclusive Silicon Valley investment firm, Y Combinator. As part of an elite group, Stross witnessed a business world shift and rise of successful tech start-ups like Dropbox and Airbnb. (Penguin Group, Sept. 2012, $14.61)
The Personal MBA: Master the Art of Business
As the founder of PersonalMBA.com, Josh Kaufman talks read­­ers through business school basics with his alternative to the MBA, including lessons on core principles like value creation, marketing, sales and finance. (Penguin Group, August 2012, $17.12)
The Presentation Secrets of Steve Jobs: How to Be Insanely Great in Front of Any Audience
As communications coach for some of the world's leading companies, Car­mine Gallo shares the secrets that made Apple's Steve Jobs so captivating on stage. No black turtleneck required. (McGraw-Hill Com­panies, September 2009, $14.74)
Numbers
$3.2 million: Amount the state made in the past 10 months thanks to tolls and fines collected on the New Jersey Turnpike and Garden State Parkway. The fine for stiffing toll booths was raised to $50 per offense, which significantly contributed to revenue.
One year: Length of a new grant offered by the National Association of Women Business Owners South Jersey Chapter to assist a woman who has lost financial support "due to separation, divorce, death or disability of a spouse." The grant will provide an all-expenses paid membership to NAWBO, with resources to help return to the workforce or start a business.
19%: Percentage of people who said they would "probably/definitely take out a new loan or line of credit" in the next six months, according to an economic outlook survey of New Jersey's small to mid-sized business owners as conducted by PNC. This is up from 16 percent last spring.
39%: Percentage of people who plan to spend on capital investments in the next six months, down significantly from 50 percent last spring, according to the same survey.
$3,500: A donation by local car dealership Turnersville AutoMall to pay for the fireworks display at Washington Township High School's homecoming on Oct. 20.
108,000: Hours of physical activity recorded by area youth during the first year of Campbell Soup Company's Healthy Communities program. The 10-year plan includes a $10 million investment with the goal of cutting Camden's childhood obesity and hunger rates in half.
Published (and copyrighted) in South Jersey Biz, Volume 2, Issue 10 (October, 2012).
For more info on South Jersey Biz, click here.
To subscribe to South Jersey Biz, click here.
To advertise in South Jersey Biz, click here.