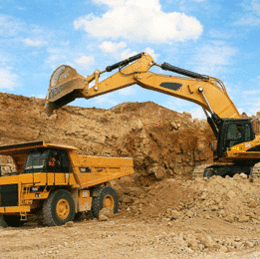 Green Jobs on Brownfields
The Department of Environmental Protection is working with South Jersey communities to turn distressed sites into a source for jobs and a cleaner environment.
Abandoned factories. Condemned buildings. Old landfills. Places like these can be found all across South Jersey, from the Camden Waterfront to Main Street in the suburbs. Not only are they environmental liabilities, they are gigantic wastes of often prime real estate.
By working closely with local officials and environmental consultants, the New Jersey Department of Environmental Protection is leading the way in cleaning these sites and opening opportunities for their development.
"The protection of our state's natural resources has always been our primary concern," says DEP spokesman Larry Ragonese. "However, we are not oblivious to the needs of the state."
Ragonese stresses that finding that balance between growth and preservation is rightfully among the DEP's priorities. "DEP Commissioner Bob Martin believes that things we can do to enhance our environment are also beneficial to the economy and creating new jobs in our state," Ragonese says.
Areas that often have the most potential for future use are what are known as brownfields, which, according to the DEP, are either vacant or underutilized commercial or industrial sites that are deemed to be environmental risks because of suspected contamination. If a brownfield located in an already developed area can be refurbished, it can become a prime target for business growth.
"If we can fix a brownfield, it means that's one more greenfield, or open space, that will remain free," says Ken Kloo, the DEP director for the Division of Remediation Management, the office that oversees the brownfields. "It's a win-win for the environment and for developers."
Particularly challenging sites are designated as Brownfields Development Areas. These BDAs are often more difficult than the routine sites and present the biggest hurdles in their path to redevelopment.
Kloo and his department try to identify areas that have been historically overlooked and often present problems for municipalities.
"Many of these sites have been vacant for many years," says brownfield project manager Bill Lindner. "Most of the time there's no owner who has to answer for the poor state of the site, so towns and cities are left to market these sites to developers, which can be very difficult without some kind of help."
One of the largest and most ambitious projects the DEP is taking part in in South Jersey is the Cramer Hill Brownfields Development Area in Camden. Over the course of eight years, the DEP has been working closely with the city to turn 200 acres of old landfills and industrial sites into a development opportunity for new restaurants, marinas and recreational areas.
"The environment is really our first priority," Cramer Hill BDA project manager Frank McLaughlin says. "But by working with the community, it makes it easier to come up with a plan for the future use of the site."
Along with relieving some environmental distress, the end result is hoped to bring new economic opportunities by getting people and businesses back to the Camden.
The Cramer Hill BDA got a huge boost when it was given $54 million in 2006 by the Ray and Joan Kroc Foundation to build a Salvation Army campus on the old Harrison Avenue landfill. This contribution, as a well as a yearly $5 million grant from the Hazardous Discharge Site Remediation Fund, has been invaluable in turning what was once a mile of land filled with decaying garbage into usable real estate. "The money has been critical to moving the whole process along," Kloo says.
"Developers would not take the time or money out of their own pockets to do an evaluation of these sites," adds Lidner. "The money allows us to find out how bad they are, what critical work needs to be done, and how we can make the sites marketable to developers."
The first step in remediating a hazardous site is finding out what the future plans are in order to figure out the best way to treat and rehabilitate it.
"We will talk to businesses and find out exactly what they plan on doing with the site," says Eric Peterson of SCS Engineers of Medford. "We do tests to determine the risks that might be posed to the occupants and make a plan based on what they want out of the site."
Building on a brownfield site also means cheaper costs for businesses. "Certain companies search out these distressed properties to save money on land," says Peterson. "We just have to find the best way to treat the site and make it useable."
When a developer acquires a distressed site, they often enlist the help of an environmental consultant to help them through the process—from assessing the site, to rehabilitating it, and finally making the site ready for new commercial opportunities.
"When we work with a developer, we are there to help with strategizing the whole project," says Sue Boyle, environmental practice leader for GEI Consultants in Mount Laurel. "We help by making sure that everything is up to code and all the regulations are followed."
Before they find businesses to occupy the brownfields, the DEP must work with municipalities and developers to decide what will be done with the land once it has been cleaned and is ready to be used again. The DEP is making sure decisions are made in accord with the leaders in the community and not solely by someone in the state capital.
"We assign a manager to each BDA who is in the community meeting with officials," McLaughlin says. "All the work is done there, and not Trenton, so we can really work through the issues."
This gives places like Camden, and other South Jersey municipalities that have brownfields like Gloucester Township and Bellmawr, the chance to really take part in what improvements are made to their communities.
In Gloucester Township, officials are using their brownfield areas as an opportunity to promote solar power. The township is looking to construct two major projects: one on the Owens Corning field, which is a shared service agreement with next-door Chews School; and another at the Gloucester Environmental Management Services landfill. Over in Bellmawr, work continues off Route 42, with plans to develop a new waterfront property of retail and open space.
In addition to remediation, these redevelopment projects have a far-reaching effect by creating jobs through the initial site analysis, construction and then full-time retail and commercial employment opportunities. Training grants are also available, leading to training in the jobs that are required to clean up brownfield sites.
"People are recognizing a lot of new job growth in areas where we are restoring the environment," says McLaughlin. "It's becoming impossible to separate the two."
Adds Ragonese, "Some critics ask why an environmental department is concerning themselves with the economy. But all we want to do is tailor the cleanup for a future use. If that means improving the social and economic outlook of a whole community, it just means it's a win-win."
Published (and copyrighted) in South Jersey Biz, Volume 2, Issue 8 (August, 2012).
For more info on South Jersey Biz, click here.
To subscribe to South Jersey Biz, click here.
To advertise in South Jersey Biz, click here.