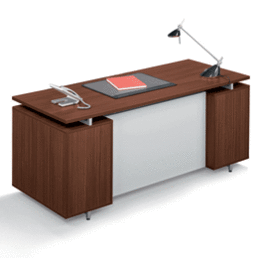 Office Space: July, 2012
Office Supplies: Office Overhaul
If your business is experiencing the kind of growth of the companies in this year's Fastest Growing list, you just might need a place to put all those new employees. Here's a little inspiration to design a workspace to fit any corporate culture.
Sleek Style. Center your office space around this desk of sophistication and function. With clean lines, nickel finished accents, and plenty of storage space, no excuse is needed for choosing this European-style desk for your new design. Executive Desk with Floating Top, NationalBusinessFurniture.com, $949
Traditional Take. This workstation allows you to play around with your space. With an array of available elements, this unit can be personalized for any layout and a range of functions, including storage, counter space, and room for all of your electronics. U Workstation with Peninsula, Hon.com, $6,353
Modern Makeover. Liven up the standard office with this L-shaped desk. This two-toned piece offers plenty of workspace and a movable storage component that adds some eye-catching detail and a little fun. #19434, StrongProject.com, $4,500
On the Books: Taking a Risk
Learning how to take chances in the business world can help your company avoid remaining stagnant. Luckily, these new releases are here to help you learn to keep your business growing despite times of loss.
The Pumpkin Plan: A Simple Strategy to Grow a Remarkable Business in Any Field With the help of pumpkin farmers, an unexpected inspiration source, author Mike Michalowicz reveals his business strategies to harvest growth: Focus on what you do best, find the best customers, and get rid of the worst. (Penguin Group, Inc., July 2012, $26.95)
The Aftershock Investor: A Crash Course in Staying Afloat in a Sinking Economy David Wiedemer offers advice on how to keep readers' businesses profitable and protected. Having predicted the financial crisis of 2008, Wiedemer tells readers what to expect next in terms of financial assets, the job market and more. (John Wiley & Sons, Inc., August 2012, $29.95)
The Hour Between Dog and Wolf: Risk Taking, Gut Feelings, and the Biology of Boom and Bust John Coates, a Wall Street trader and Cambridge neuroscientist, discloses how boom and bust dynamics, as well as risk-tasking, can transform the body's chemistry, providing extremes of happiness or depression. (Penguin Group, Inc., June 2012, $27.95)
Crunching the Numbers
$5 million+: Total of bids received, by two separate companies, for five of six liquor licenses available at the Moorestown Mall.
$41 million: Cost of new Burlington Coat Factory headquarters to be built in Florence.
120: Jobs that will be added with the new facility.
120,000 square feet: Size of empty office building in Camden recently purchased by Campbell Soup for $3.5 million. The building will be demolished as part of the Gateway Redevelopment Plan.
$1.55 billion: Amount Campbell Soup Co. will pay to acquire California-based Bolthouse Farms.
$175 million: Price paid by investment firm Lindsay Goldberg to own 50 percent of NuStar Energy's asphalt operations.
$250,000: Median sale price of New Jersey's small businesses, according to BizBuySell.com.
5.2%: Drop in winter residential natural gas rates residents can expect as of Oct. 1, according to the PSE&G, representing the ninth time rates have been cut in three years.
Baa3: Collingswood's bond rating once again thanks to a Moody's Investor Service upgrade, bringing the borough back up to investor-grade status.
Published (and copyrighted) in South Jersey Biz, Volume 2, Issue 7 (July, 2012).
For more info on South Jersey Biz, click here.
To subscribe to South Jersey Biz, click here.
To advertise in South Jersey Biz, click here.