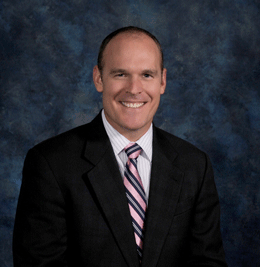 The Corner Office: Tim Kerrihard
Tim Kerrihard
CEO, YMCA of Burlington & Camden Counties
After the Camden County YMCA closed three years ago, the Y in Burlington County opened its doors to those residents, expanding their services to incorporate them. That was a challenge on top of the difficulties that already came with being a nonprofit in a hard economy, but in turn, Tim Kerrihard, CEO of what's now the YMCA of Burlington and Camden Counties, has been even more motivated to make the Y a presence in every neighborhood in the region.
That goal is being accomplished through implementing programs in communities where there is a need, such as the recent swim lesson program at the Camden County Technical Schools in Sicklerville and the new partnership with Medford to overhaul their recreation department. Kerrihard recently spoke with South Jersey Biz about the magnitude of responsibility the YMCA has in strengthening communities and creating positive opportunities despite hard circumstances.
Your career with the Y began as a camp program director and you have held many other positions. What kept you committed to the organization?
What keeps me moving forward is the cause of strengthening community through the special things the Y does; things like fighting childhood obesity and helping adults avoid diabetes, making sure that all kids have a positive place to go after school and during the summertime, bringing groups of community leaders together to address issues that affect us all. I believe I am truly meant to do this work.
Are there new programs you are implementing in Burlington or Camden County?
Our childhood obesity prevention programs are probably our biggest headline here. Our Y is addressing the issue from a policy and environmental perspective—raising awareness, building public will, and influencing decision-makers to make the healthy choice an easier choice. And on the program side, we are involving preschool and school-age children in 30 minutes of physical activity every day. We are fortunate to have the Robert Wood Johnson Foundation, The Horizon Foundation for New Jersey, Campbell Soup and JAWS Youth Playbook as investors in our work, helping our Y to attack the issue from all possible fronts.
As a YMCA World Fellow in Montevideo, Uruguay, you spearheaded leadership training for volunteers who work with children and teenagers. What did you learn from that experience?
In Uruguay, I worked with a team of social workers in the areas that surround the city of Montevideo. The people had very little resources, making life a struggle, but their resolve to find ways to make things better was what moved them. … Today, with the work our Y is doing in North Camden, I see similar situations. There are very committed people in neighborhoods everywhere who are creating opportunities, sometimes under extremely difficult circumstance, but it's their passion and optimism that makes it happen.
How do you personally integrate the three focuses of the YMCA: Healthy Living, Youth Development and Social Responsibility?
I stay active and healthy because, in my mind's eye, I see an older version of me that is full of energy and vigor, so I do what I need to today to enable that future to come true. In regard to youth development, I've worked with children for a good part of my career and now have two kids of my own. I see how important it is that kids have positive role models, caring adults who set boundaries and expectations while providing opportunities to explore new things. We can help a lot of children and parents to create the environment that we all want for our kids and families, to supplement what may or may not be present at home. And on social responsibility, I was brought up in an extremely community-conscious family. We were always giving back and participating in events, mostly around my church and schools. I want the same for my kids, as I think it helped me become a better person.
If you could sum up the organization in one word, what would it be?
Misunderstood. We are a charity that works to reduce barriers and increase supports for healthy living, helps kids achieve their potential, and brings the community together for the good of its people. Not many people understand the breadth of the Y.
How do you explain the benefits of making community service an active part of one's life?
Paul McCartney said it: "The love you take is equal to the love you make."
Published (and copyrighted) in South Jersey Biz, Volume 2, Issue 7 (July, 2012).
For more info on South Jersey Biz, click here.
To subscribe to South Jersey Biz, click here.
To advertise in South Jersey Biz, click here. —