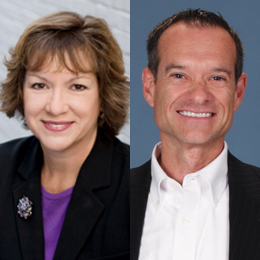 The Conference Room: Learning Curve
We are taught from a young age to own up to our errors, learn from them, and move on in a positive direction. In a society of high standards, that's not always easy, but mistakes can be unavoidable in business. So to establish a good reputation, this kind of trial-and-error learning process should be considered beneficial in order to build a sturdy foundation. We talked to some local professions who agreed that improvements based on real-life experience can be the best kind and can have the biggest impact on future success.
"Pointing the finger of blame at you and accepting responsibility for a business failure almost always diffuses any anger or frustration from the customer or client."
-Brenda Jorett, Public Relations Consultant (pictured, left)
-What's Next Productions, Cherry Hill
"Success often comes down to communicating with clients every step of the way during a project. ... I often tell clients, 'You are the expert; my job is to listen and interpret so others can understand your message.' If there is a failure or goals that are not met, it's vital to immediately work with the client to change course and sometimes start from scratch. It's often said, 'There's no such thing as a dumb question.' However, the question that is not asked could lead to a big mistake in business. My reputation as an honest, straightforward reporter followed me into the public relations world. Clients who trust and respect me have helped me grow my business."
-Hannah Frail
"Owning and learning from your mistakes is critical in today's business environment."
-John Angelastro, Certified Business Coach (pictured, right)
The Growth Coach, Mount Laurel
"Every business will experience issues from time to time—including my own business as a business coach. The reasons for these mistakes can vary, but the most common are poor planning, lack of focus, not seeking advice from others, and not listening to your customers. Most business owners and managers are willing to correct their mistakes if only they knew what was wrong. Sometimes, they are in denial or too busy to take the time to ask the right questions. It's the business owner's responsibility to ask the right questions to the right people. One you know where your mistakes are, then you can implement corrective actions. In your customer's eyes, it's not whether your business makes mistakes from time to time, it's how your business owns up to and learns from these mistakes that makes the difference."
Published (and copyrighted) in South Jersey Biz, Volume 2, Issue 7 (July, 2012).
For more info on South Jersey Biz, click here.
To subscribe to South Jersey Biz, click here.
To advertise in South Jersey Biz, click here.