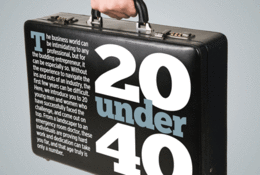 20 under 40: A Passion for Success
As college graduations come to a close and thousands of eager young adults embark on their career, they may be a little apprehensive when looking at the state of the economy. Sure, unemployment rates plastered daily across the media may be discouraging. But from technology companies started in a parent's spare bedroom to impressive former interns who seized the opportunity to grow within a company, there are plenty of success stories in South Jersey that are just as deserving of the attention. Here, we spotlight 20 of our young leaders who serve as an inspiration for those who follow.
Anthony Perno
CEO, Cooper's Ferry Partnership
Age: 35
Base: Camden
Anthony Perno has made it a point to keep his community close. So close, in fact, that he has turned it into his career. As the CEO of Cooper's Ferry Partnership, Perno, a Rutgers School of Law graduate, heads the Camden-based nonprofit community and economic development corporation.
He began his work as a project manager in 1999 under then-CEO Tom Corcoran. After attending and completing law school in 2005, he was promoted to vice president. When Corcoran left in 2010, Perno moved up once again. In 2011, he helped merge the corporation with the Greater Camden Partnership and remained CEO of the combined entity.
In his free time, Perno serves as a board member for the St. Joseph's Carpenter Society as well as the Battleship New Jersey. He has been a part of the Camden County Open Space Commission since 2005 and was appointed to the UMDNJ Advisory Committee in 2011.
When it comes to his career goals, Perno is primarily looking to change the face of the Camden waterfront.
"I think the biggest challenge we face is that the people in the city of Camden don't view the waterfront for them and people outside of the city don't necessarily feel that the waterfront is some place they would want to go," he says. "We are making significant strides in that; last year, we had 2.5 million visitors to the Camden waterfront, so we are by no means completely barren. The numbers we are thinking with the joint waterfront should reach nine or 10 million on an annual basis."
William "Tra" Thomas
Owner/Operator/Trainer, 7 Deuce Sports
Age: 37
Base: Medford
Right out of Florida State University in 1998, William "Tra" Thomas was a first-round draft pick for the Philadelphia Eagles. After 12 years in the NFL, he retired and began working with Comcast SportsNet for pre- and post-games shows. But Thomas' real passion for the technique of the game wasn't being satiated.
"After playing under Juan Castillo, who was my main offensive line coach in Philly, I felt like I learned so much that I wanted to help other people, even high school kids and up, learn the technique," he says.
Thus, 7 Deuce Sports (which recently celebrated its first anniversary), a gym with a focus on group training and sports excellence, was born. Thomas created this class-based gym to help his clients feed off of one another's strength and encouragement.
Thomas is especially interested in helping future pro-athletes, designing regimens that push them to know their physical limits, utilizing strength-building equipment, sand pits and even indoor turf training. Outside of the gym, he remains active in all aspects of his community. Thomas is heavily involved with the Ronald McDonald House, often hosting food drives and providing free classes to clients that bring in canned goods.
Trish Graber
Assistant Director of Communications, New Jersey Senate Democratic Office
Age: 31
Base: Trenton
Public policy has always been alluring for Trish Graber. She discovered her love of government as a journalist working for the Gloucester County Times where she covered county and municipal government, education and crime. Her writing career included coverage of the visits to New Jersey by President George W. Bush, President Barack Obama, Sen. John McCain and then-Sen. Hillary Rodham Clinton. Her last journalism venture was at the State House Bureau of The Star-Ledger, the flagship newspaper of the company where she began her career.
The Washington Township resident joined the New Jersey Senate Democratic Office in 2010, where she is responsible for conveying the views, legislative priorities and work of the senators to the public, as well as developing media strategies for senators and dealing with the press at large. She credits her years in journalism as a huge asset in helping her navigate the complicated political system and hopes to really explore the research side of legislation in the years to come.
Joseph Anton
Vice President, Emergency Department Operations; Administrator, Transplant Services, Thomas Jefferson University Hospital
Age: 35
Base: Philadelphia
Holding a master's in leadership and health system management from Drexel University, Joseph Anton makes an impact on someone's life every day as the vice president of Emergency Department Operations and administrator of Transplant Services at Thomas Jefferson University Hospital. Having supervision over two emergency departments means he and his 200-plus staff will see well over 100,000 patients a year.
On top of that, he is responsible for the complete oversight of the heart, kidney, liver and pancreas transplant program, which performs more than 160 transplants annually.
Anton, a Haddonfield resident, started in health care more than 12 years ago and has held a variety of different roles, starting with his six-year stint as an ER and trauma nurse. In 2005, he went into management at South Jersey Healthcare, and in 2007 became the director of Patient Logistics at Jefferson. Shortly after 2009, he took over the heart, kidney, liver and pancreas transplant program. Then at the start of 2012, while continuing his rise in the ranks, he was promoted to vice president of Emergency Department Operations, where he assumed responsibility of the ER at the Center City campus as well as the campus at Methodist Hospital in South Philadelphia.
"I didn't necessarily think at 22 that I'd be where I am today. I chose something that I knew I'd be passionate about, I knew I would love, and the rest is history," Anton says.
Dawn Kaplan
Partner, Weinberg, Kaplan & Smith
Age: 38
Base: Haddonfield
In February of 2012, Dawn Kaplan reached out to her like-minded attorney and colleague Amy Smith and experienced attorney Joe Weinberg in hopes to create a family law firm that would guide families through their most turbulent time. A married woman with two kids, Kaplan saw a need to help the families of South Jersey.
While Kaplan's firm is still relatively new, she and her partners have a significant amount of practice years between them. What makes Kaplan stand out, however, is her sincere, thorough compassion and love of service in a sensitive area.
"What I do makes a difference," she says. "Seeing a client evolving and coming out of a divorce litigation happy, that the right thing happened for their family, is so rewarding."
Kaplan serves on the Arbitration Statute and Children's Rights committees of the New Jersey State Bar Association, and is a master in the Thomas S. Forkin Family Law American Inn of Court. She is also a matrimonial early settlement panelist for Burlington and Camden counties.
Mital Chheda
Principal/CIO, Infinity Hotel Group
Age: 30
Base: Atco
The Infinity Hotel Group, which owns and manages five hotels—with four in development—in the region such as Comfort Inn and Best Western, was founded in 1981 by Mital Chheda's parents, just one year before he was born. He joined the business after graduating from Drexel University LeBow College of Business in 2004; he then earned an MBA from Drexel in 2006 in financial management and marketing. "Always involved at a young age, we've always been around it," he says. "When I got to a certain age, I knew I wanted this to be my future, too."
The company may have started out with a select few mom-and-pop-style motels throughout southern New Jersey but, due to Chheda's "hands-on management style," it has aspirations to operate AAA Diamond Properties throughout the region. "It is a family-owned business, so you can really make people feel like they are home in your hotel," he says.
Joshua Batushansky
Vice President of Operations and Marketing, Barclay Group
Age: 30
Base: Riverton
When then-15-year-old Joshua Batushansky from Palmyra heard from a friend that a local business was looking for a file clerk in neighboring Riverton, he applied in hopes of helping his family in their time of financial need. Fast-forward and the former intern is now sitting comfortably in his seat as vice president of Operations and Marketing at the Barclay Group.
"Quickly, I started to make changes and suggestions rationally, and the next summer I suggested to the president to hire another person or two and start to expand things and start to work on projects," he says, adding that another change he suggested, and oversaw, was the creation of a marketing department.
In 2010, he received his MBA from Drexel University LeBow College of Business, along with his most current vice president position. The small-town guy is constantly trying to give back to his community, participating on the board of directors of New Jersey's Young Insurance Professionals, coordinating a golf committee for the Ronald McDonald House, and volunteering with the Juvenile Diabetes Research Foundation.
Amy Sonstein
Owner, Founder, Sonstein Financial Group, Sonstein Consulting Services
Age: 34
Base: Marlton
Amy Sonstein's career began after graduating from The George Washington University in 1999 with a degree in accountancy. She started in public accounting and then moved to forensic accounting where she worked in a regional firm for four years, specializing in fraud, business valuations and interruption claims. In 2005, she made the transition to financial planning with the C&A Financial Group in Manasquan. Shortly after, Sonstein and a partner created their own firm, but she branched off and created Sonstein Financial Group, a financial advisory firm, in 2007. Sonstein Consulting Services, a consulting and public accounting firm specializing in divorce consulting, followed in 2010.
Sonstein volunteers her time with the Jewish Federation of Southern New Jersey, where she holds a position on the Young Adult Division Committee as the UpSTART chair (corporate sponsorships) and the finance committee of the nonprofit.
"The bottom line why I get up and do what I do every day is because my passion and my unique ability can be aligned in order to help people," she says.
Chris Lukach
Senior Vice President, Chief Operating Officer, Co-Owner, Anne Klein Communications Group, LLC
Age: 29
Base: Mount Laurel
For Chris Lukach, the transition into owning one of the most prominent communications groups in the South Jersey area was quick. After graduating from Rowan University in 2004, he almost immediately joined Anne Klein Communications Group, a consulting company with 30 years under its belt. The founders of the firm invited him to join the ownership team in 2007, with the goal of transitioning ownership solely to him over the course of 10 years.
While the group deals with crisis communications, a substantial part of their business is something Lukach personally spearheaded—helping clients create and refine social media strategies. He did so by taking the principles Anne Klein had established and adapting them for the social media world.
"I'd like to see us grow," he says. "I think that what I would like to be known for is hiring the right people and bringing in the right talent, and we are doing that because we have a really exceptional staff."
Richard Heritage
Director of Sales and Marketing, Heritage Vineyards
Age: 25
Base: Mullica Hill
When the 150-acre Heritage family farm, owned since 1853, was in danger of going out of business, Penni and Bill Heritage realized they had to act quickly. They decided to switch from peaches and apples to grapes, with the hopes of just selling them before they realized it would be smarter to invest in a winery. They put up the land as collateral and started buying all of the necessary equipment, and they didn't do any of it without consulting their then 15-year-old son, Richard Heritage.
"For me, that was a turning point in my life," he says. "I was very young, but I went with my gut instinct and told them I was 100 percent on board. I thought, 'Let's do what we can to really honor our ancestors.'"
Richard earned a Rutgers degree in business and spent time working in Napa and Sonoma Valley to learn wine marketing while gaining hands-on experience. He aggressively sought to brand his family business through labeling and social media marketing. Since 2009, with his help, the winery has increased annual production from 36,000 bottles to 240,000 bottles; it now distributes to more than 70 liquor stores and restaurants in the Camden and Gloucester County area, and it was rated Winery of the Year in 2011 by the Garden State Wine Growers Association.
Adam Taliaferro
Attorney, Duane Morris Gloucester County Freeholder
Age: 30
Base: Cherry Hill
It was the fifth game of the season against Ohio State in 2000 when Adam Taliaferro, a freshman cornerback at Penn State University, went in to execute a routine tackle. The standard hit went horribly wrong, crushing five vertebrae and breaking his neck. When he woke up, he was told he was paralyzed from the neck down, with only a three percent chance of ever walking again.
With those odds, and the unwavering support of his family, friends and teammates, Taliaferro took charge and regained full use of his limbs, along with the ability to walk. But still the accident was a serious setback. "I had to reevaluate what to do with my life because the whole goal was to play football," he says.
His coach, the late Joe Paterno, suggested being an NFL agent, and Taliaferro thought law school would be the best way to get to that goal. He got an internship with the NFL Players Association in Washington, D.C., assisting players with their retirement benefits, and earned a degree from the Rutgers School of Law in Camden. He became interested in corporate law, and, after working for a couple of firms, he was offered the job at Duane Morris in 2010, where he focuses on employment law and litigation.
The national support he received through his recovery inspired him to help start The Adam Taliaferro Foundation in 2001 to provide emotional, physical and financial support to help student athletes suffering from spinal cord and head injuries.
"The foundation was created by my high school coach and has been around for almost 11 years now," Taliaferro, of Woolwich, says. "We've raised almost $800,000 for people who've had similar injuries like myself, so we try to provide a better life for them, whether they need a wheelchair or need their property to become wheel chair accessible. It really does my heart good."
Professionally, Taliaferro is now exploring the world of South Jersey politics, as he was elected Gloucester County freeholder last fall. He has also recently been elected to the Penn State University Board of Trustees. "I really enjoy having the time to serve and I really want to have the time to continue to grow ... and I just want to be able to give back."
Matthew Green
Attorney, Obermayer Rebmann Maxwell & Hippel LLP
Age: 33
Base: Cherry Hill and Philadelphia
Matthew Green's venture into law began at the firm Levy Angstreich in Philadelphia, now called Levy Baldante, right out of Temple University's School of Law, where he happened to fall in love with and marry the lead partner Levy's daughter. While he could have joined in the success of his loved ones, Green says he decided he needed to make it on his own.
After working with many New Jersey cases, Green was interested in continuing with a New Jersey-based practice. When he found Obermayer in Cherry Hill, he discovered a bigger firm with a smaller office and family-type atmosphere. Green has quickly made a name for himself in the areas of commercial litigation, employment law, consumer fraud, and real estate litigation, and he has been named several times to the "Rising Stars" list of New Jersey Super Lawyers. Rising Stars are chosen by their peers as the top up-and-coming attorneys, and only 2.5 percent of the state's attorneys receive the honor each year.
"I've had a case where the judge commended me for being advanced in years with my argument and what flattered me more was my client told me that I was one of the best attorneys he ever worked with, when he was an accomplished attorney himself," Green recalls.
Tricia Mueller
Political Director, Northeast Regional Council of Carpenters
Age: 37
Base: Edison
For Tricia Mueller, the determination to succeed at a young age has been with her since birth.
"I grew up in Oakland, and my father was the mayor of Oakland by the time he was 27 or 28. At the time, he was probably the youngest mayor in the state. … And it's my dad, so of course whatever my dad did was pretty cool," she says.
Mueller, who earned a master's of public administration from Rutgers, began her career with the AFL-CIO, where she focused on the voter contacts program, community and political education work for the union organization. "I grew up in a household where civic involvement was just something that we did," she says.
From there, she went on to work for the late Sen. John Adler. A job as a freeholder aide in Camden County for Frank Spencer followed, and she also spent time in Central America, focusing on third-world women's issues.
In 2000, she returned to union work, this time at the Northeast Regional Council of Carpenters. As the political director, she oversees the political and governmental involvement of about 30,000 union carpenters across New Jersey and New York. Aside from her brief leave in 2008 to act as the state director for now-President Barack Obama's presidential campaign, Mueller has remained instrumental in the union organization.
Mueller, who still resides in Camden County, serves as a board member of the New Jersey Housing and Mortgage Finance Authority—a state board that focuses on affordable housing in New Jersey—and was a former board member of The College of New Jersey.
Sarah E. Piddington
Director of Technology Transfer, South Jersey Technology Park at Rowan University
Age: 30
Base: Mullica Hill
The South Jersey Technology Park at Rowan University, which includes the Rohrer College of Business Incubator, works with small startup companies and provides them with a variety of different services to help them grow and be successful. Sarah Piddington, a Rowan graduate, has also grown into her position, and quickly. She began her journey with an assistantship at the Center for Innovation and Entrepreneurship eight years ago, and has been a driving force behind the incubator ever since.
In 2008, she became the interim director of the center and became the interim director for the entire technology park in 2010, and for the next few years her role transitioned as the projects grew larger. She managed the incubator and worked with small and startup businesses, helping provide educational programming, seminars and networking events. A new executive director was recently brought on, and she has since transitioned to the role of director of technology transfer.
"The job has always been a great experience because I love to learn, and that's something I've done so much of," she says. "When I first found out that I was going to be taking it over, I went out and met with people who were doing it successfully. I tried to implement the best practices for our incubator. That was a challenge, but I always like a challenge."
Dr. Satwik Seshasai
Vice President of Product Development, NextDocs
Age: 32
Base: King of Prussia
After graduating from MIT, Dr. Satwik Seshasai swiftly found a job at IBM, a company he credits for many of his successes. While working there full time, he was given the opportunity to go back to MIT for a second master's degree in technology and policy along with a Ph.D. in technology management and policy. But upon graduation, Seshasai and his family soon made their way back to his native South Jersey.
After nine years as IBM's program director of Software Development, Cloud Computing, he took the position of vice president of product development with NextDocs, a compliance and quality management software company, this past February. The company uses innovative technology to provide document and quality management solutions for highly regulated industries, including life sciences.
"The area is really all about the life science arena; it is the hot industry around here that really is going to allow for it to be the 'Silicon Valley' of the East Coast," Seshasai says. "NextDocs was by far the most compelling company to join because the approach that NextDocs has aligned perfectly with my background."
Anthony Mongeluzo
President/CEO, Pro Computer Service
Age: 31
Base: Marlton
After the dot-com industry crashed, Anthony Mongeluzo found himself with a degree from Rowan University in management information systems and nowhere to turn. So in 2002, with his parents' spare bedroom and all of $300 to his name, he started Pro Computer Service (PCS), a business that aims to provide relatable IT services to companies. And he's made quite a name for himself in the process, with locations now spread across four states. You can even spot him regularly on Fox 29 during his Tech Talk news segment.
Since his startup a decade ago, Mongeluzo has been going non-stop. He formed Monge Realty LLC in 2005 and pilotLight Studios, a Web application development company, in 2009, and still serves as president of all three companies. In 2011, he was named to CNBC's Top 10 Serial Entrepreneurs list, a group that also included Oprah Winfrey and Richard Branson.
Mongeluzo believes in creating a good business system that involves giving back. He sits on the board of governors and the main board for the YMCA of Burlington and Camden Counties. He also sits on the board for Starting Point, an organization for victims of sexual and domestic abuse, and the alumni board for Rowan University.
Dr. Marla Deibler
Founder/Owner, Center for Emotional Health of
Greater Philadelphia
Age: 35
Base: Cherry Hill
While completing her doctoral training at the American School for Professional Psychology in the Washington, D.C., area, Marla Deibler had the fortune of getting some very specialized experience early on. She did an abundance of clinical and research training in psychiatric disorders which included OCD, trichotillomania and Tourette syndrome.
After coming back to her native South Jersey, she founded her own practice in 2008 at age 32, which now has seven specialized clinicians to service the needs of a community of patients she says lacked a proper resource. And if the soft-spoken doctor looks familiar, it may be because you've seen her on popular shows like Hoarders, as she has worked with both A&E and TLC to bring visibility to these issues.
The center is innovative in their methods, using Facebook, Twitter and a YouTube channel to connect with current and potential patients. Deibler also hosts a blog for people to talk about their emotions and manages an e-newsletter that goes out to the patient community, keeping people up to date on developments. The practice also records relaxation methods on iPhones for patients to use at home.
"I really wanted to help people and not just teach people. I found that there were no clinicians who provide specialized services or evidence-based treatment in the area, so I thought that this is something this community really needs," she says. "It is great to represent people who for years have suffered in silence."
Meredith Lorrilliere
Director, Special Events, Marketing & Communications, Chamber of Commerce Southern New Jersey
Age: 33
Base: Voorhees
Meredith Lorrilliere caught the eye of chamber President Debra DiLorenzo and Kathleen Davis, executive vice president, as a Rowan University intern before being brought in as a communications specialist. She oversaw external communications, spearheaded the newsletter, produced the annual report and the membership directory, and was responsible for media relations, advertising and the website, all while marketing the chamber's many yearly events.
About four years ago, Lorrilliere was offered the position of director of special events. She now oversees 140 events in a year's time, which serve as opportunities for their 1,700 members to come out, meet other business people in the community, and network.
"I never thought of events as being a job when I was younger, but it's so much fun because we get to do so many types of events," Lorrilliere says.
"I love to be busy; I love the chaos of planning the event, getting the details all together, and seeing the plan come to fruition."
Sean Kennedy
Business Development, CME Associates
Age: 37
Base: Marlton
Sean Kennedy, who started his career in campaign politics after earning a law degree from Rutgers, now manages all of the South Jersey marketing and government affairs as he oversees business development for Consulting and Municipal Engineers Associates (CME), a multi-disciplined engineering, surveying and planning firm.
When he was hired, CME, based in Central Jersey, had little presence in this region, but after much success further north, the company eyed an expansion into South Jersey. During Kennedy's last four years there, CME has become a reputable, well-known firm, with locations in Marlton and Atlantic City.
"I keep coming back to the experience and skills I developed in my previous background in politics—how to assess a problem, how to come up with the best solution and how to relate to and work with people," he says.
Kennedy is also an adjunct professor at Rowan University and Gloucester and Burlington county colleges and serves on the board of advisors of the Alicia Rose Victorious Foundation, which provides comfort and hope to teenagers receiving in-patient treatment at local hospitals.
Kevin Zepp
President and Owner, Liberty Healthcare Services
Age: 32
Base: Mount Laurel
In his early 20s, Kevin Zepp was diagnosed with cancer and quickly discovered what it was like to be the patient in a scary and trying situation. Fast forward 12 years, and Zepp is now cancer-free and the owner of Liberty Healthcare Services, an organization that strives to assist the elderly with the care they need while having the independence of staying in their own homes.
In 2001, Zepp graduated with an accounting degree from the University of Richmond and began working as an auditor for a health care financing company in Mount Laurel. Shortly after, he completed managerial training programs and became CFO of a hospital in Texas. In June 2007, he returned to New Jersey, acquired Liberty Healthcare Services, and oversaw its growth. Following the acquisition, Zepp expanded Liberty's geographic footprint and opened up four additional satellite offices throughout the state. In 2010, he moved their headquarters from Hamilton to Mount Laurel, creating hundreds of jobs in the South Jersey area.
Liberty now covers the majority of the state and Zepp plans to make it a leading regional provider that brings quality, stay-at-home-care to the residents of South Jersey. "Traditionally, the home is where people want to be. It sounds hokey but home is where the heart is," Zepp says.
For photos, click here.
Published (and copyrighted) in South Jersey Biz, Volume 2, Issue 5 (May, 2012).
For more info on South Jersey Biz, click here.
To subscribe to South Jersey Biz, click here.
To advertise in South Jersey Biz, click here.