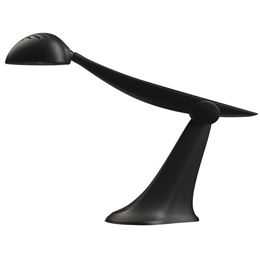 Office Space: February, 2012
On The Books: Discover Success
This month's new releases offer a slew of helpful tips and guidelines to follow that will steer you straight toward success. Build a new business strategy with the help of some of the newest non-fiction to hit the shelves.
Sharpen Your Heels: Mrs. Moneypenny's Career Advice for Women
Heather McGregor, or Mrs. Money-penny, uses her experiences as a financial columnist and business woman to offer simple and beneficial insight to other women in the corporate world. (Penguin Publishing, Feb. 2012, $27.95)
The Start-up of You: Adapt to the Future, Invest in Yourself, and Transform Your Career
Reid Hoffman, co-founder of LinkedIn, along with author Ben Casnocha explain how to treat your career as a new business. Find out how to manage your own professional growth like that of a start-up company. (Crown Business, Feb. 2012, $26)
What Matters Now: How to Win in a World of Relentless Change, Ferocious Competition, and Unstoppable Innovation
Author Gary Hamel asks you: Is your business modernized? While answering a simple question with a whole world of complex answers, Hamel helps guide readers through the possibilities of newer, more-modern business strategies. (Jossey-Bass Publishers, Feb. 2012, $26.95)
Office Supplies: The Multi-Tasker
In the business world, multitasking is a necessity. When the cards are on the table and the pressure is on, it doesn't hurt to have a helping hand. These multi-functional tools will transform your workplace and make the task—or, in most cases, tasks—at hand fly out the door.
Great Marks. This is far from your ordinary writing tool. The Ruler 4FP 4-Function Pen acts as a black ballpoint pen, orange highlighter, mechanical pencil, ruler, and a touchscreen-friendly stylus. You'll never be short of the right tool if you keep this in your briefcase. $39
Fine Print. The HP Officejet Pro 8500A Premium Wireless e-All-in-One printer (pictured) is the ultimate tool for those who work on-the-go. This full-service and wireless printer works with AirPrint and ePrint, allowing users to print anywhere from an e-mail address, smart phone, iPad or iPod. $499.99
Noteworthy. Never miss a meeting with the Quartet 3-in-1 board. Perfect for the organized multi-tasker, this handy tool comes with a full month dry erase calendar, foam bulletin board, and additional dry erase board for extra note-taking space. $179.85
Crunching the Numbers
$8.1 million: Cost of an environmental impact study to be done on the proposed 18-mile light-rail line between Glassboro and Camden, a discussion back on track after a two-year delay. The contract would be paid for by NJ Transit.
2013: Year Fishermen's Energy hopes to get its offshore wind turbine project up and running, producing 25 megawatts of energy. It would be the first offshore wind farm in the country.
$10,000: Investment by Flaster/Greenberg law firm in Cherry Hill to install a charging station for electric cars in their parking lot.
$38,000: Donation made by Atlantic City Electric to Special Olympics New Jersey.
4: Number of South Jersey nursing homes that are among 564 nationwide given a one-star government rating, the lowest possible, for three years in a row. They are Gloucester Manor in Sewell, ManorCare Health Services in West Deptford, Lakewood of Voorhees, and The Palace Rehabilitation and Care Center in Maple Shade.
$150,000: Capacity Enhancement Award from Robert Wood Johnson Foundation given to the Hispanic Family Center of Southern New Jersey, one of the area's largest bilingual Hispanic human services agencies.
100,000 +: Pennies collected (more than $1,000 worth) by students at Our Lady of Mt. Carmel Regional School in Berlin to help repair the 30-foot, 15-ton statue atop Our Lady of Lourdes Medical Center in Camden damaged during last summer's earthquake.
6 million: Decrease in annual bridge traffic on the DRPA's four bridges connecting South Jersey to Philadelphia between 2007 and last year, with rising toll costs to blame.
10.5 million: Riders last year on PATCO, the highest amount in 10 years.
Published (and copyrighted) in South Jersey Biz, Volume 2, Issue 2 (February, 2012).
For more info on South Jersey Biz, click here.
To subscribe to South Jersey Biz, click here.
To advertise in South Jersey Biz, click here.