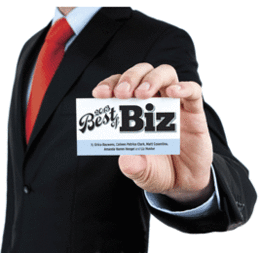 Best of Biz
We asked our readers who's tops in South Jersey's business community, and there was no shortage of opinions. After counting hundreds of votes in dozens of categories, we bring you 75 winners. Read on to find out what makes them the best.
ACCOUNTING
ALLOY, SILVERSTEIN, SHAPIRO, ADAMS, MULFORD, CICALESE, WILSON & CO.
The 50-year-old firm offers full-service accounting, auditing, tax services, personal finance, litigation support business valuation and business advisory services.
900 Kings Highway N.,
Cherry Hill, (856) 667-4100
AlloySilverstein.com
ACTUARIAL SERVICES
STEPHEN H. ROSEN AND ASSOCIATES
Founded in 1982, the company is a specialist in creating tax-advantaged retirement plans for businesses and organizations.
89 N. Haddon Ave., Haddonfield, (856) 795-5514
SHRosen.com
ADVERTISING: FULL SERVICE
THE STAR GROUP
Co-founders Linda Rosanio and Jan Talamo use the word "synegration" to describe an approach to integrated marketing communications across brand planning, digital social media, PR, crisis management, broadcast production and event marketing.
Voorhees Town Center, 220 Laurel Road, Voorhees, (856) 782-7000
Star-Group1.com
ADVERTISING
THE STAR GROUP
Linda Rosanio, co-founder and chief executive of The Star Group, uses the word "incubate" to describe what the full-service marketing agency does for its clients. "That's what sets us apart," says Rosanio. "We get more involved and actually help companies get from one stage to another."
That's exactly what the company did for WishUponAHero.com, a social networking charity based in South Jersey that allows individuals to make wishes or fulfill wishes logged by others. In one case, the site helped find a man a new kidney, literally saving his life. "It's peer-to-peer giving," explains Rosanio. "To date, 80,000 wishes have been granted."
The Star Group has done more than traditional marketing to help grow WishUponAHero.com; efforts include web development, business planning, public relations and the creation of strategic partnerships. "We've helped [founder Dave Girgenti] in structuring future plans, positioning the brand, handling the social media and public relations roles and attracting some growth capital," explains Rosanio. "We're even working on developing a television series that would feature a different story of each wish granted. We go way beyond the traditional relationship with clients."
ADVERTISING: DESTINATION MARKETING
PANZANO & PARTNERS
The 35-year-old firm helps realestate developers worldwide brand their projects as destinations.
304 Harper Drive, Moorestown, (856) 866-5500
P2Site.com
ADVERTISING: BRANDING
THE MARATHON GROUP
Brand development, design, PR, event and direct marketing, research, advertising and interactive offer 360-degree promotional opportunities to clients.
307 Fellowship Road, Suite 317, Mount Laurel, (856) 914-0240
TheMarathonGroup.com
ADVERTISING: DIRECT MARKETING
PARKER & PARTNERS
Email blasts and direct mail are among Parker & Partners' specialties, along with advertising, branding, graphic design and other marketing services.
134 New Jersey Ave., Absecon, (609) 484-1859
ParkerAndPartners.com
ARCHITECTURE: COMMERCIAL
JOSEPH F. MCKERNAN ARCHITECTS & ASSOCIATES
A new engineering building for Rowan University and work on Verizon retail stores are just some of the projects completed by this architectural, master planning construction management and design firm.
100 Dobbs Lane, Suite 204, Cherry Hill, (856) 616-2960
McKernanArchitects.com
ARCHITECT
JOSEPH F. MCKERNAN JR. ARCHITECTS & ASSOCIATES
When Joseph McKernan founded his own architectural firm in 1996, he was looking for fresh challenges and a chance to create a true customer-service culture.
He certainly found such a challenge, in the form of a recent renovation and new construction project for American Water Works' Voorhees headquarters—an assignment complicated by the fact that it was to be completed on site without disrupting the company's day-to-day business. Overall, the project included a 29,000-square-foot addition that would add a new wing to the building, as well as a renovation of the entire 40,000-plus-square-foot original site.
A three-story atrium would connect the new South wing to the existing East and West wings. Ensuring that the whole-building renovation and new addition wouldn't disrupt the company's workflow meant some strategic maneuvering. The departments that were being moved into the new addition were temporarily relocated to a Mount Laurel site. Meanwhile, existing departments were shuffled between the three wings as work was completed.
McKernan accomplished it all without any major headaches. In fact, there was only a single employee that was majorly inconvenienced. "There was just one person I had to displace three times, and that happened to be the vice president of operations," says McKernan. "And 'til this day, he hasn't let me forget it," he adds, laughing.
McKernan says he always aims to offer this level of attention and care. "The building was undergoing a complete renovation, but was still occupied and operated for the entire three-and-a-half years of the construction process," he says. "We pride ourselves on being able to give customers that kind of attention."
ARCHITEC TURE: MUNICIPAL
RYEBREAD
Elementary schools, municipal complexes and green homes and businesses are all on the agenda at this 20-year-old architecture, engineering and design firm.
456 High St., Mount Holly, (609) 265-2652
RYEBREAD.com
AUDITING
HAEFELE FLANAGAN
This certified public accounting firm and consultancy offers financial forensics, business valuations, litigation support, pension plan administration and tax consultations.
Tall Oaks Corporate Center, 1000 S. Lenola Road, Building 2, Suite 200, Maple Shade, (856) 722-5300
HFCO.com
BANKING: CUSTOMER SERVICE
FRANKLIN BANK
Commercial checking and lending, plus merchant services, remote deposit, wire transfers, MasterCard debiting and online banking have made this 150-year-old, six-branch bank a staple for local businesses.
1179 Route 40, Woodstown, (856) 769-4400
FranklinBnk.com
BANKING: FULL SERVICE
SUN NATIONAL BANK
Offerings include lending, merchant and credit processing, remote deposit, financial services, free business checking, solar financing and health care financing for business, commercial and government clients.
226 Landis Ave., Vineland, (800) 786-9066
SunNBNJ.com
BANKING: LENDING
ROMA BANK
This bank, with community and personal banking roots, has expanded to offer commercial real estate loans, lines of credit, term loans and business vehicle financing.
2300 Route 33, Robbinsville, (888) 440-7662
RomaBank.com
BANKING: MERCHANT SERVICES
LIBERTY BELL BANK In addition to credit card processing with free online reporting, Liberty Bell offers online remote deposit capture, ACH payments, online banking and bill payments.
145 N. Maple Ave., Evesham, (856) 830-1111
LibertyBellBank.com
BANKING: REAL ESTATE
THE BANK
The Bank's dedicated real estate group focuses on financing for land development, investment, commercial properties and construction. They also specialize in areas including agricultural banking, business checking, lending and merchant services.
533 Fellowship Road, Mount Laurel, (866) 248-2265
TheBankOnline.com
BENEFITS CONSULTANT
KATZ/PIERZ
The company offers cost-effective employee benefits strategies and designs pension, profit-sharing and retirement plans for employers large and small.
413 Marlton Pike E., Suite 100, Cherry Hill, (856)761-1833
KatzPierz.com
BOOKKEEPING
CORDASCO FINANCIAL GROUP, INC.
Their services include bookkeeping on location or remotely, paperless bookkeeping, payroll or a full CFO package with tax projections and profitability analyses.
One Echelon Plaza, 227 Laurel Road, Suite 104, Voorhees, (856) 772-4905
CordascoFinancial.com
BUSINESS VALUATIONS
ABO & COMPANY, LLC
This accounting firm offers services including business valuations, litigation support and forensic accounting.
37 Fellowship Road, Suite 202, Mount Laurel, (856) 222-4723
AboAndCompany.com
COLLECTIONS
LEIB SOLUTIONS, LLC
Leib's collection specialists offer letter-writing, litigation management, training, and collections for health, financial and professional services industry clients.
20 E. Clementon Road, Suite 100 S., Gibbsboro, (856) 439-1179
LeibSolutions.com
COMPENSATION PROGRAMS
CEM HR
In addition to employee relations, benefits and compliance services, CEM HR offers job analysis, design and evaluation, and compensation development programs.
Maple Shade, (856) 665-5770
21stCenturyHR.com
COMPUTER REPAIR
DEBUGIT
DeBugit offers computer repair, virus and spyware removal, data backup, performance increase, and valet computer service.
922 W. Route 70, Marlton, (888) 752-4429
DeBug-it.com
CONSTRUCTION MANAGEMENT
GREYHAWK
The employee-owned company provides clients with a complete range of construction management and consulting services, tailored on a project-by-project basis.
224 Strawbridge Drive, Suite 100, Moorestown, (856) 772-1800
Greyhawk.com
COURIER
A-1 COURIER SERVICE OF SOUTH JERSEY, INC.
A-1 offers legal deliveries, medical lab messengers, same-day deliveries, subpoena services and courier services, as well as document destruction.
2 Split Rock Drive, Cherry Hill, (856) 424-8393
A1SJ.com
EDUCATION: CORPORATE TRAINING
CAMDEN COUNTY COLLEGE CORPORATE TRAINING INSTITUTE
CCC's Corporate Training Institute provides customized training solutions for businesses and even connects them to potential grant funding sources.
1889 Route 70 E., Cherry Hill, (856) 874-6000
CamdenCC.edu
EDUCATION: EMBA
DREXEL
The Drexel LeBow Executive MBA program includes individual executive coaching, speaker series, workshops and international residencies.
207 Matheson Hall, Philadelphia, (215) 895-6804
LeBow.Drexel.edu
EDUCATION: ONLINE MBA
ROWAN UNIVERSITY
The online program is accelerated to allow students to complete 12 courses in as little as 24 months, preparing them for managerial positions in a range of fields.
(856) 256-4747
RowanOnline.com
EDUCATION: PMBA
RUTGERS-CAMDEN
Highlights of this program include a weeklong international residency, convenient class times, locations off-campus, and immediate applications for the workplace.
227Penn St., Camden, (856) 225-2700
Rutgers.edu
EDUCATION: PROFESSIONAL DEVELOPMENT
GLOUCESTER COUNTY COLLEGE
The college offers professional development programs in computerized office administration, network management, accounting, web development and information technology.
1400 Tanyard Road, Sewell, (856) 468-5000
GCCNJ.edu
ENERGY CONSULTANT
RAY ANGELINI, INC.
This full-service engineering and electrical contracting firm works on commercial and industrial electric, solar and general construction projects.
105 Blackwood-Barnsboro Road, Sewell, (856) 228-5566
RAIServices.com
ENGINEERING
LIPPINCOTT JACOBS CONSULTING ENGINEERS
This civil engineering firm works in project management, land development, surveying, environmental engineering and other services.
1 N. Pavilion Ave., Riverside, (856) 461-1100
Lippincott-Jacobs.com
FINANCIAL ADVISER
THE SHM FINANCIAL GROUP
SHM works with clients on investment analysis, asset protection, tax reduction strategies and other financial issues.
1000 Main St., Suite 305, Voorhees, (866) 665-6875
SHMFinancial.com
FORENSIC INVESTIGATIONS
INTELYSIS
Arson investigations, competitive intelligence, forensic accounting, computer forensics and fraud reviews are among the company's services.
15 Mechanic St., Haddonfield, (856) 429-0325
Intelysis.com
FORENSIC INVESTIGATIONS
INTELYSIS
When it comes to criminal investigations, widespread adoption of technology has shifted the trail of evidence away from physical clues and toward computers. Things like deleted emails and stolen electronic documents are now the proverbial fingerprints that can solve a case. It was these changing legal needs that led to the founding of Intelysis, a boutique investigation and forensic accounting firm, in 1997. Since then, the need for these types of services has only grown.
Take for instance a recent case involving a local health club. The owner suspected the club's customer list, emails and mailing addresses had been stolen and given to a competitor. But there was no easy way to prove foul play. That's where Intelysis came in.
"The client was concerned someone had hacked the system or that it may even be an inside job," recalls Jeffrey Brenner, principal at Intelysis. "We were tasked with trying to figure out who did it."
Through the use of some high tech computer skills, the forensic experts at Intelysis were able to trace the evidence back to a former employee. "When a lawyer presented the evidence we'd found, the culprit confessed right then and there," says Brenner. "Our client was correct to follow that gut feeling—and we were able to prove it was more than just a coincidence."
Today employees have access to a great deal of electronic data. In some cases, it's just a matter of emailing files to a personal account. Brenner says that makes the type of services that Intelysis offers quite valuable. "Our primary business activity these days focuses on when employees leave a company," he adds. "Forensic imaging of their computer can show whether they may have taken sensitive information with them."
GOLF COURSE FOR BUSINESS
LAUREL CREEK COUNTRY CLUB
A 7,000-yard, links-style course with conference facilities, steam, sauna and formal dining room offers an upscale setting for driving and deal-making.
701 CentertonRoad, Mount Laurel, (856) 234-7663
LaurelCreek.org
HUMAN RESOURCES OUTSOURCING
NATIONAL EMPLOYEE MANAGEMENT RESOURCES
An outsourced HR department, NEMR offers management, benefits administration, payroll, staffing and risk management.
105 Evesboro-Medford Road, Marlton, (866) 562-7468
SimplifyingHR.com
INSURANCE: AUTOMOTIVE
AJM INSURANCE
AJM insures commercial fleets and offers workers' compensation insurance and general liability policies, as well as bonds and umbrella insurance.
2 Coleman Ave., Cherry Hill, (856) 795-4020
AJMInsurance.com
INSURANCE: RISK MANAGEMENT
CONNER STRONG & BUCKELEW
The insurance and risk management brokerage also offers employee benefits and consulting services for clients across the country.
401 Route 73 N., Marlton, (877) 861-3220
ConnerStrong.com
INSURANCE: HEALTH INSURANCE ADMINISTRATION
EVESHAM CAPITAL MANAGEMENT
Evesham Capital Management offers employee benefits planning, investment advisory services and cost containment across an array of insurance options.
1317 Route 73, Mount Laurel, (800) 769-5771
EveshamCapital.com
INSURANCE: WORKERS' COMPENSATION
NEW JERSEY MANUFACTURERS INSURANCE CO.
NJM offers workers' comp insurance for members of the New Jersey Business and Industry Association.
840 12th St., Hammonton, (888) 656-4467
NJM.com
IT: CLOUD STRATEGY
ANCERO
Ancero's expertise includes network monitoring, vendor management, virtualization, managed services and hosted services.
1001 Briggs Road, Suite 220, Mount Laurel, (856) 210-5800
Ancero.com
IT: MANAGED SERVICES
APEX IT GROUP
IT managed services, cloud hosting, network design and security, web hosting and IT support are among Apex's many services.
7905 Browning Road, Suite 118, Pennsauken, (877) 799-2739
ApexITGroup.com
IT: SECURITY
PRAXIS DATA SYSTEMS
Praxis offers server plans, back-up and recovery solutions, network security and specialized medical IT support.
4 Foster Ave., Gibbsboro, (856) 679-2256
PraxisNet.com
IT: SUPPORT
SOUTH JERSEY TECHIES
Back-up systems, antivirus and email protection, network design, hardware, software, trouble shooting and support plans are all on the menu here.
8004-B Lincoln Drive W., Marlton, (856) 745-9990
SouthJerseyTechies.net
JANITORIAL SERVICES
JIDAN CLEANING
Jidan offers a full range of custodial services for clients of all sizes.
617 Stokes Road, Medford, (609) 714-0426
LEGAL: ARBITRATION & MEDIATION
BROWN & CONNERY
This law firm offers legal alternatives such as arbitration and mediation, and also serves its clients in areas like estate planning, administration and labor and employment matters.
129 N. Broadway, Camden, (856) 365-5100
BrownConnery.com
LEGAL: BANKING/FINANCE
ARCHER & GREINER
Archer & Greiner's 200 attorneys represent banks, mortgage companies and other lenders in a broad range of cases. Other practice areas include creditors' rights, high-tech, entertainment, sports, renewable energy, insurance and litigation.
33 E. Euclid Ave., Haddonfield, (856) 795-2121
ArcherLaw.com
LEGAL: EMPLOYMENT AND LABOR LAW
CAPEHART SCATCHARD
With 62 practicing attorneys, Capehart Scatchard offers legal expertise in banking, commercial litigation, labor and employment issues, intellectual property and franchising.
8000 Midlantic Drive, Mount Laurel, (856) 234-6800
Capehart.com
LEGAL: ENVIRONMENTAL
LAVAN LAW
In addition to an environmental practice experienced in remediation, water management and land use issues, LaVan offers specialties in transactions, litigation and labor law.
11 E. Main St., Moorestown, (856) 235-4079
JLavanLaw.com
LEGAL: REAL ESTATE LAW
HYLAND LEVIN LLP
This law firm offers expertise in real estate development and financing, real property taxation, leasing, land acquisition, eminent domain, zoning and environmental issues.
6000 Sagemore Drive, Suite 6301, Marlton, (856) 355-2900
HylandLevin.com
REAL ESTATE LAW
HYLAND LEVIN LLP
Establishing their new firm in 2009—at a time when the economy was shaky and the real estate market appeared to be shrinking—Benjamin A. Levin, managing partner, and William F. Hyland, partner, will admit people thought they were crazy for taking the plunge. After all, the majority of the lawyers in Hyland Levin LLP, a multi-practice firm, focused on real estate. "But here we are two years later with 14 lawyers in our firm and we're still going strong," says Levin. "Our expertise and reputation in the community has carried us through."
Their expertise and reputation also landed them a deal with Virtua, one of South Jersey's largest employers and the largest healthcare system in the region. Virtua turned to Hyland Levin for the land use approvals and development of their new Voorhees healthcare campus, as well as several smaller ongoing projects.
"We worked closely with Virtua to assist in obtaining a myriad of development approvals and permits from local planning boards, county boards and various state agencies, which would permit construction and keep things moving forward," recalls Hyland. Such proposals require endless traffic, water management, environmental and community studies and plans, meaning the firm had its work cut out for it.
When fully completed, says Hyland, the campus will be a million-square-foot, state-of-the-art medical care facility. "The tasks of getting approvals on any project are structurally similar, but given the magnitude of this one, the scope and breadth of the project certainly increases," adds Hyland. "You don't build a million-square-foot facility every day of the week, so we were honored to be part of this development."
MEETINGS: HIGH-TECH
THE ENTERPRISE CENTER AT BURLINGTON COUNTY COLLEGE
A networked auditorium for 575 guests, a 40-PC U-shaped computer lab and numerous small and large wired conference areas make this the ideal setting for off-site trainings and as well as conferences and meetings of all types.
3331 New Jersey 38, Mount Laurel, (856) 222-2500
ECenterNJ.com
MEETINGS
THE ENTERPRISE CENTER AT BURLINGTON COUNTY COLLEGE
The Philadelphia area chapter of Meeting Professionals International could easily host their educational day in Philly. After all, it's where they're based. But for the last couple of years, they've chosen to do it at The Enterprise Center at Burlington County College in South Jersey.
Debbie Murray, director of sales and marketing for the Enterprise Center says that's a huge compliment, considering the group is made up of meeting planners whose job it is to know what to look for in event facilities.
"Their educational day is really important to them, and includes quite a bit of classes and credit opportunities with break-outs, classrooms and even an expo where different vendors set up to target meeting planners with their services," says Murray. "They may have just stayed in the city in the past. But because of our reputation, our meeting excellence with updated audio and visual, and our select food service, they like to bring their event to us."
Wired auditoriums and computer labs, versatile meeting spaces and a location convenient to visitors from both Philly and New York have made the Mount Laurel location an unlikely hub for conferences that require spaces for multiple workshops and trainings.
MEETINGS: SPECIAL EVENTS
THE MANSION
The Mansion offers elegant rooms for up to 800 guests.
3000 Main St., Voorhees, (856) 751-1717
MansionOnMainStreet.com
MEETINGS: GOLF OUTINGS
TRUMP NATIONAL GOLF CLUB PHILADELPHIA
The Tom Fazio-designed course and 43,000-square-foot clubhouse pack a powerful one-two punch when it comes to impressing clients, staff and colleagues.
500 W. Branch Ave., Pine Hill, (877) 450-8866
TrumpNationalPhiladelphia.com
MEETINGS: RESTAURANT
CAFFE ALDO LAMBERTI
Rooms of various sizes, valet parking and an award-winning wine list complement the high-end Italian fare.
2011 Route 70 W., Cherry Hill, (856) 663-1747
CaffeLamberti.com
OFFICE FURNITURE
OFFICE FURNITURE OUTLET
The new 25,000-square-foot showroom houses an array of new and used furniture.
2080 Springdale Road, Cherry Hill, (856) 439-9500
OFONJ.com
PAYROLL
PRIMEPOINT, LLC
Primepoint offers payroll, time-tracking software, Quickbooks integration and human resources management services.
2 Springside Road, Mount Holly, (609) 298-7373
Primepoint.com
PRINTER
FRONTEND GRAPHICS
Frontend Graphics offers graphic design, typesetting, direct mail, banners and promotional items.
1951 Old Cuthbert Road, Suite 414, Cherry Hill, (856) 547-1600
FrontEndGraphics.com
PUBLIC RELATIONS
THOMAS/BOYD COMMUNICATIONS
Co-founders Liz Thomas and Pam Boyd specialize in PR, crisis communications, media training, event planning and public affairs counseling.
117 N. Church St., Moorestown, (856) 642-6226
ThomasBoyd.com
REAL ESTATE APPRAISER
MARKHEIM-CHALMERS, INC.
Specialties include acquisitions, property management, leasing and appraisals.
Suite 500, 1415 Route 70 E., Cherry Hill, (856) 354-9700
Markheim-Chalmers.com
REAL ESTATE APPRAISAL
MARKEIM-CHALMERS, INC.
A long history combined with local expertise has been a winning combination for Markeim-Chalmers, Inc., a commercial real estate firm. Recently, that local touch has helped lead to a number of health care deals with everyone from the Rothman Institute, which is opening a South Jersey location in Marlton, to Fox Rehabilitation which established its headquarters in Cherry Hill. Fred S. Berlinsky, president of the company, says that working with health care organizations can pose unique difficulties—and requires plenty of vision.
"It's always a bit challenging to find a building for a health care company, because nothing is ever built out perfectly when you're talking about medicine," says Berlinsky. "So we have to be very creative. Sometimes, we look at office buildings, and sometimes even retail centers or industrial sites. You're never going to walk into a building that has everything just right, so it's important that we can help our clients visualize the possibilities."
But, Berlinsky says, there's always a solution. "For example, in a perfect world we would have found a one-story site for the Rothman Institute, but we ended up with one that was four stories," he says. "But that building can still meet their needs by making things ADA compliant. It comes down to knowledge, expertise, and a little bit of creativity."
REAL ESTATE BROKER
NAI MERTZ
Office and retail leasing, land and investment sales and retail site selection are among Mertz' areas of expertise.
21 Roland Ave., Mount Laurel, (856) 234-9600
NAIMertz.com
REAL ESTATE DEVELOPER: COMMERCIAL
PREIT
Pennsylvania Real Estate Investment Trust manages properties like Cherry Hill Mall and Voorhees Town Center, and specializes in development, redevelopment and leasing.
200 S. Broad St., Philadelphia, (866) 875-0700
PREIT.com
REAL ESTATE DEVELOPER: INDUSTRIAL
WHITESELL
Design/build, property management and leasing are areas of expertise for Whitesell, which works with industrial properties like Pureland and Haines, as well as office and commercial spaces.
One Underwood Court, Delran, (856) 764-2600
WhitesellCo.com
REAL ESTATE LEASING
THE BLOOM ORGANIZATION
Commercial and industrial real estate leasing, maintenance and management are among services on offer.
1300 Route 73, Mount Laurel, (856) 778-0300
BloomOrganization.com
SECURITY
GREENLEE SECURITY
Greenlee offers mobile patrols, executive protection and a broad range of security tools and services.
3322 River Road, Camden, (856) 541-8900
GreenleeSecurity.com
STAFFING: ADMINISTRATIVE
EMERSON PERSONNEL
Emerson offers recruiting, staffing and consulting.
1040 Kings Highway N., Cherry Hill, (856) 667-9180
STAFFING: TECHNICAL
ACCU STAFFING
Specialties include high-tech, legal, banking, accounting and office support personnel.
911 Kings Highway N., Cherry Hill, (856) 482-2222
ACCUStaffing.com
TAX PLANNING
MURACCO & LIUZZI PC
Muracco & Liuzzi's business and tax consultants offer tax preparation and planning, audit services and other IRS interactions.
344 Egg Harbor Road, Sewell, (856) 589-3100
ML-CPA.net
TEAM BUILDING
TEAM BUILDERS PLUS
The company offers a range of management training, team development, organizational studies, sales training and team building events.
112A Centre Blvd., Marlton, (856) 596-4196
TeamBuildersPlus.com
TEAM BUILDING
TEAM BUILDERS PLUS
Team Builders Plus offers 360-degree feedback, career development, management training and organizational mission creation—but the most fun things they do are straightforward team-building programs, which range from get-to-know-each other sessions to team bonding activities. These activities can help a team overcome issues relating to trust, communication, morale or lack of teamwork.
Among the most popular programs is a bicycle-building project called Wheels for the World, explains Merrick Rosenberg, the company's president and chief learning officer. "The participants have to earn the bicycle parts through a variety of fun team challenges, such as building the largest freestanding balloon tower," he says. "As they go through the session, they're adding parts to the bicycle until they've eventually built an entire bike."
Team Builders Plus has done this activity with big-name clients like Johnson & Johnson, the Philadelphia Eagles and GE. Every time, at least a few participants get teary-eyed. That's because when the teams are done building their bikes, Rosenberg has the recipients waiting outside. "I like to tell participants to close their eyes and imagine getting to see the kids receive these bikes," he says. "When they open their eyes, the kids come rushing in. Many of them have never had a new bike before."
The company has given away more than 1,500 bikes since they started this program, and typically works with groups like the Boys & Girls Clubs of America or Big Brothers/Big Sisters. Rosenberg adds: "It's a session that's not only guaranteed to bring tears, but guaranteed to bring the group together."
TELECOM
MAGELLAN HILL
Services include long-distance and local phone, DSL, conferencing and toll-free lines.
1020 Laurel Oak Road, Voorhees, (856) 795-7440
MagellanHill.com
TRUCKING
CAMPBELL'S EXPRESS
This century-old company offers warehousing and overnight transportation to destinations from New York to Virginia.
134 Laurel Drive, Pitman, (856) 589-8300
CampbellsExpress.com
PHONE SYSTEMS
USAPHONE.COM
Among their services are voice-over-IP, business phone systems and Internet consulting.
1790 Route 70 E., Cherry Hill, (856) 761-1000
USAPhone.com
WEB DEVELOPMENT
WORLD WIDE WEB COMMUNICATIONS
The company offers web design, custom software, search engine optimization and Internet hosting.
1060 Kings Highway N., Cherry Hill, (856) 482-2424
3WCommunications.com
Published (and copyrighted) in South Jersey Biz, Volume 1, Issue 8 (August, 2011).
For more info on South Jersey Biz, click here.
To subscribe to South Jersey Biz, click here.
To advertise in South Jersey Biz, click here.