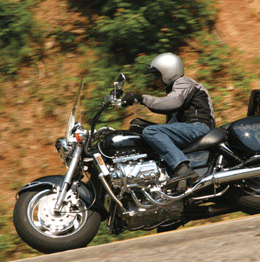 Going to Extremes
From amateur circus performers to drag-racing speed demons, these work-hard-play-hard types take their after-hours pursuits very seriously.
Hours before the sun comes up and the morning newspaper lands in the driveway, Joe Wisniewski is alone on the road, listening only to the sounds of his running shoes hitting the pavement, his heart pounding in his chest and his thoughts rattling through his mind.
Four days a week for the past few decades, running up to 10 miles in the pre-dawn hours has been Wisniewski's routine—and his saving grace. Especially during the busy tax season, the Glassboro resident and partner at Premier Accounting in Pitman says he relies on his solitary morning runs to clear his head for the day.
"It's a euphoric feeling," Wisniewski adds. "When you're done, you feel like you're relieved of any kind of problems. I don't know the medical phenomenon that goes along with it, but it's a relaxing feeling, a feeling of accomplishment every day."
Whether it's running alone on the quiet country roads, zipping along the coastline on a motorcycle, or going from zero to 120 on a racetrack, South Jersey business professionals all have their own ways to unwind from the stress of work. And some say, the more extreme the activity, the greater the opportunity to shake off those workaday worries.
Take Richard Schwartz, for example. In the 12 seconds it takes to rev his 1965 Buick Skylark Coupe from a standstill to a 120-mile-per-hour speed, his thoughts are focused on the track in front of him—not on lingering worries from the office.
The certified public accountant based in Washington Township has been fixing up cars in his Elk Township garage since high school. His pet project for the past 20 years has been rebuilding and redesigning the coupe to become a so-called street-strip car that can go from the road to the racetrack. For the past two decades, he and a group of car-loving friends have been renting space at tracks in Atco or Englishtown for racing—or, as he calls it, "therapy."
"The best part is jumping in it and putting the gas pedal to the carpet, and feeling the power," says Schwartz. "I'm certainly focused on that moment. It's a passion, something that will never go away. I'll be 80 years old and I'll want to go drag racing."
Nor has age affected Gayle Porter, a business professor at Rutgers-Camden. When she's not in the classroom, the Haddonfield resident is hanging upside down as an amateur aerialist. What started out as a one-time experiment—a class at the Philadelphia School of Circus Arts that she won at a charity auction—has turned into a passion, not to mention a great workout, Porter says.
Wrapping her body around rope and ribbons of fabric, Porter says, she's forced to take her mind off school and focus on her movements. "I do it because it's a stress reliever," she adds. "I'm always prompting the students to stretch a bit, try something new, don't get into a rut. It's a reminder of what the other side of it is like."
Barry Graf, vice president of operations of Virtua Voorhees, can relate—after all, he's still pushing himself. His goal: to ride his motorcycle in all 50 U.S. states. "I'm a goal-oriented person," shrugs Graf, who recently visited Hawaii and the West Coast, and then returned to his Mount Laurel home and put a few more pushpins into a map in his garage. "So far, I've ridden in 26 states, D.C. and Bermuda," Graf says.
While work on the opening of Virtua's new hospital has kept Graf too busy to get on his Honda Valkyrie in the past nine months, that will change this summer. Graf plans to drive out toward western Pennsylvania, then on to Ohio, Indiana and West Virginia. His big, cruiser bike—fitted with a six-cylinder motor for climbing mountain passes, plus satellite radio, GPS and cruise control—is ready for the trip. And so is he.
"I love doing things outdoors. When you're riding the bike, it's a phenomenal way to enjoy nature.… You get to see the sights, the sounds, the smells that you can't capture when you do it in the car. And," Graf adds, "the last thing I'm thinking about when I'm riding my motorcycle is work."
Published (and copyrighted) in South Jersey Biz, Volume 1, Issue 6 (June, 2011).
For more info on South Jersey Biz, click here.
To subscribe to South Jersey Biz, click here.
To advertise in South Jersey Biz, click here.