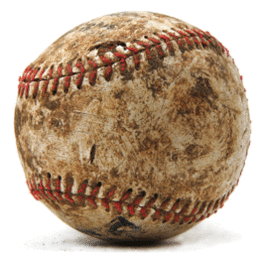 Close of Business: Thinking outside the cube.
His Name Is Mud
Meet the Delran man monopolizing the (miniscule) baseball rubbing mud industry.
Baseball has seen its share of changes over the years, from stats-obsessed managers to $1,000 luxury seats. But one thing has stayed the same: for nearly 75 years, every single ball to cross the plate in a major league game has been rubbed with New Jersey mud. Cornering that market is Lena Blackburne Baseball Rubbing Mud—a one-man, part-time business that harvests and refines the product in Burlington County.
Think it's merely dirt? The fact that Lena Blackburne's brown gold still finds its way into every Major League, Minor League and even some college and high school games says otherwise.
The precious slime was discovered in a tributary of the Delaware River in 1938, by Lena Blackburne, a third base coach for the Philadelphia Athletics. He found that the soil did a far better job of taking the sheen off baseballs than previous scuffing agents, like tobacco juice or a mix of spit and mud, ever had.
Blackburne passed the company on to his childhood friend John Haas, whose grandson, James Bintliff, is the current mud-master.
The harvesting process hasn't changed much since the old days. About four times a year, Bintliff heads out to the river and shovels mud into tall buckets, collecting about 1,100 pounds per year all told. He brings it to his home in Delran. "It goes through a cleaning process and an aging process, I call it. It's kind of like wine: it has to age," Bintliff says.
"And we add our secret ingredient."
Bintliff claims no property rights to the magical mud source. "It's below the high tide line, so nobody owns the property," he says. But he avoids going to the secret location during times when people might be there.
As to what makes the mud so special, much of it can be attributed to the minerals it contains. Perhaps the most important mineral is feldspar, which, under a microscope, resembles tiny shards of glass—perfect for counteracting the slipperiness of a new leather baseball.
"There's a slickness to a brand new baseball that makes it sometimes awkward to throw," says Jeff Scott, pitching coach for the Camden Riversharks. Scott says the slickness most affects a breaking ball, making it difficult for pitchers to produce proper movement. "[If] you want to throw a curveball or a slider or even certain types of changeups, the better it's rubbed up, the better it is," he says.
And that, of course, is where scuffing mud comes in.
Despite the company's monopoly, no competitors have stepped in, perhaps because this niche, while high profile, is also quite small. After all, a little bit of mud goes a very long way.
Still, Bintliff has occasionally gotten emergency calls from teams, like the Trenton Thunder and the Lakewood Blue Claws, desperately seeking mud.
Even Major League teams have found themselves in a pinch now and then.
"I've been on vacation and gotten calls from Major League Baseball telling me the Yankees are screaming because they're out of mud, or somebody took their mud, and they need it overnight," he says. "I've had to interrupt my vacation to ship a container of mud. So, now, anytime I'm going to be away from the house for any length of time, I make sure I pack up a couple of containers of mud to take with me, so if there's an emergency I can ship them out."
As it turns out, the Yankees are one of Bintliff's better customers. When you have a $200 million payroll, what's an extra $65 for some mud? "I guess they work their pitchers pretty hard and they keep their farm teams supplied well," Bintliff says.
Bintliff, who works fulltime in the printing industry and merely moonlights in mud, says he enjoys the job but that he isn't getting rich from Delaware River clay. When it's suggested that his product is too good, he says, "That's what my wife keeps telling me, it's too good. She thinks we should put an expiration date on it."
Published (and copyrighted) in South Jersey Biz, Volume 1, Issue 6 (June, 2011).
For more info on South Jersey Biz, click here.
To subscribe to South Jersey Biz, click here.
To advertise in South Jersey Biz, click here.