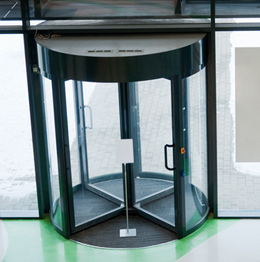 Revolving Door
Comings, goings, hirings and retirings in South Jersey.
Health care. Virtua held a ribbon cutting in April ahead of the official May 22 opening of its high-tech new Voorhees hospital. Meanwhile, the local health care community was abuzz over reports that South Jersey Healthcare is discussing a merger with Woodbury's Underwood-Memorial Hospital, a move that would expand the growing Bridgeton-based health system's Gloucester County presence significantly. In Browns Mills, Dr. David Hsi joins Deborah Heart and Lung Center as chairman of the Department of Cardiology. Elsewhere, Anthony J. Perno III, chief executive officer of the Cooper's Ferry Development Association, was named to the University of Medicine and Dentistry of New Jersey Advisory Committee by Gov. Chris Christie. And, at Samaritan Hospice, Carl Buehler, partner and vice president at LRP&P Graphics in Cherry Hill, has been named chairman of the board of trustees, which has added several new members: the chief operating officer of Virtua Berlin and Virtua Camden hospitals, Christopher Chekouras; Lourdes Health System chief executive and president Alexander Hatala; and Protocall executive vice president and partner Roy Fazio.
Duly noted. Rascal Scooters manufacturer Electric Mobility Inc., crippled by a long legal battle over alleged violations of federal telemarketing regulations, will cease production in Sewell, where its plant once employed 500 people. The factory will start manufacturing scooter parts under a different corporate name: Active Controls. In the legal field, Haddonfield-based Archer & Greiner P.C. has acquired Herten Burstein, a 31-attorney firm in Hackensack, to become the fourth-largest law firm in the state and expand its practice in North Jersey. Meanwhile, Sun Bancorp Inc., based in Vineland, lost $67.1 million in first-quarter 2011, compared with $762,000 a year earlier. The company sold $174.3 million in problem loans at a loss.
As government cutbacks continue, Camden County has shuttered two "county stores" in Cherry Hill and Winslow Township; the Echelon Mall location in Voorhees will continue to offer services such as passport renewals. Closing the Cherry Hill Mall location will save an estimated $230,000 annually.
Dynamic Defense Materials, LLC, in Marlton has better news, having landed a contract with the U.S. Marine Corps for modular, fortified guard posts to be used in the field. The company has already been contracted to provide up to 1,780 guard post kits, called McCurdy's Armor, to the U.S. Army. And, Marlton-based Hill International has won a contract to manage construction of the $140 million, 27-story Beirut Terraces tower in Lebanon. In the realm of start-ups, AV Square Chem Inc., helmed by Ashok Rao Tunoori, has joined the Life Sciences Incubator at Burlington County College in Mount Laurel. The company will provide chemical compounds for research and development purposes.
Comings and goings. Virginia Rowan Smith, chairman of Rancocas-based Inductotherm Corp. and group vice president at Inductotherm Group, has been named to the board of trustees at Rowan University. Also at Rowan, current trustees Barbara Armand, chief executive officer of Armand Corp., and Dennis DiFlorio have been named co-chairs of the presidential search committee, which will work in concert with search firm Storbeck/Pimentel & Associates to identify a replacement for the university's out-going president, Donald Farish.
Elsewhere, Archer & Greiner's Medical & Personal Injury Practice Group chairman Frank D. Allen was named vice chairman of the New Jersey Committee of the American College of Trial Lawyers. Commercial real estate and appraisal firm Markeim-Chalmers has promoted Seth Hersh, Scott Martin and Matthew Neisser each to vice president. All three have been with the company since 2007. Paula Stoskopf has joined Mount Laurel's GrayHair Software as Director of Solution Strategies. She was previously at BCC Software, Inc. And, Evesham Mortgage LLC has added Robert Kelley as partner and co-owner. Kelley had been a branch manager at Oak Mortgage Co. in Medford. Gene Eubanks, CEO and president of Marlton-based Acsis, has been named a "Pro to Know" by Supply & Demand Chain Executive, a trade publication. RE/MAX Connection Realtors, which has offices in Mantua and Marlton, has added an office in Turnersville led by broker-manager Kevin Burbage, who had held that post in Mantua. He'll be replaced by Brian Ziegenfuss in his prior position. Haddonfield's Bancroft has named Regina Gentlesk senior director of nursing. And, Eli Saline is now a registered representative at Saline Financial Solutions in Cherry Hill.
Share your company news: Email updates and photos to samantha@SouthJersey.com
Published (and copyrighted) in South Jersey Biz, Volume 1, Issue 5 (May, 2011).
For more info on South Jersey Biz, click here.
To subscribe to South Jersey Biz, click here.
To advertise in South Jersey Biz, click here.