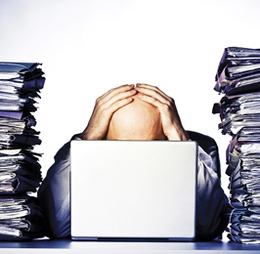 Going Viral
Should you send sniffling employees home or urge them to push through to prevent work from piling up? Local business experts share their insights into handling sick days.
It starts with the occasional sneeze, or a persistent rasping cough coming from somewhere in accounting. Before you know it, half your office staff is out with the flu. Should you have sent your key staffer home at the first sniffle for fear of spreading germs? Or is encouraging workers to push through ultimately the better plan?
To call in, or not to call in? This has become an increasingly difficult question for employees as cutbacks have made many workforces leaner than ever. But when it comes to sick day policies, experts agree that there isn't a one-size-fits-all approach that maximizes the health and productivity of a workforce. As a result, businesses must weigh the benefits of having a worker show up to complete his or her job against the risk of illness spreading through a workplace.
"I don't think any organization—big or small—is going to tell its employees to come to work if they're really ill," says Kathleen Pereles, associate professor at Rowan University's Rohrer College of Business. "But I also don't think there are many organizations that are going to condone you staying home if you're in the first day of a cold or last day of a cold—neither of which is contagious or particularly uncomfortable."
However, she adds, "In today's world, when there's very little back-up coverage, that line has moved further away from 'stay home' and closer to 'come to work.'"
As founder and president of Marlton's National Employee Management Resources, Janis Sweeney helps businesses along the East Coast with their human resources needs, including establishing sick day policies. She says there are several ways a company can create a sick day policy that encourages people to return to work.
About 80 percent of Sweeney's business clients offer employees one lump sum of paid time off, instead of designating specific days for vacation, sickness and personal time. It works as a kind of built-in reward system, wherein if an employee doesn't use any time off because they are sick, they will have that day as a potential extra vacation day or a cash bonus at the end of the year.
"The only downside to that is, in these days, when an individual is sick and they don't stay home, they can cause others in the office to become ill and cause more downtime for the entire organization," Sweeney says. "It's very important for the person to understand that if it's their choice, they should stay home and take their sick time."
Another scenario Sweeney offers is what's called a "well day" policy, which offers employees an additional day of time off for each month that they take no unscheduled days out of the office.
Such a well day policy has been in place for 40 years at The Jet Pulverizer Co. in Moorestown. "The employees have all been satisfied with it," says owner Christine Henry. "In some cases they get an extra 12 days of pay during the year."
Both Pereles and Sweeney agree that there is no one best practice when it comes to sick day policies. "There's all kinds of different kind of criteria that makes a company choose one way over another, such as whether employees are hourly or salaried," Sweeney says. "All of them work, but it depends on your corporate culture and what you've instilled in the individuals as far as service needs and business concerns."
Oftentimes, the industry will determine whether an employee works even if he or she is ill.
According to Pereles, people who work in the health care field tend to have a sick day policy that values health and safety over productivity. "You're not going to come into work and spread your germs around where there are already sick people," Pereles says. "Sometimes when health care people report to work, they're sent home if they're ill, because nobody wants them there."
In an office setting, especially at the professional level, many employees are expected to remain productive even if they're sick, and can often work from home to protect the rest of the office.
"When you're dealing with a professional like an attorney or an accountant, they're expected to get the job done," Pereles says. "If you're an attorney and you have a case coming up, you may go to court vaguely ill but you also can work at home and keep your germs at home with you."
In the middle ground are professions like food service workers, civil servants and teachers, whose usage of sick days must be carefully balanced with the need for productivity and workflow.
"They don't have that same kind of liberal sick leave policy; they are expected to come in," Pereles says, "but if they're working in a school cafeteria or a McDonald's, they really shouldn't be there if they're ill. Then you have people like schoolteachers. Nobody wants a schoolteacher to come in sick, but nobody wants them to take off either, because everybody knows that productivity drops so severely when there's a substitute in the classroom."
But, for when flu season comes around again next fall, one thing is not up for debate. "If someone has the flu, they really should stay home from work," says Dr. David Condoluci, chief of infectious diseases for Kennedy University Hospital.
"It usually starts with headache, fever, severe muscle aches and joint pain. Then you might get the chills or the sweats," Condoluci says. "Usually you know when influenza hits, because it hits you fairly hard. That's the point you should go home and stay there until the fever breaks—at least 24 hours."
Published (and copyrighted) in South Jersey Biz, Volume 1, Issue 5 (May, 2011).
For more info on South Jersey Biz, click here.
To subscribe to South Jersey Biz, click here.
To advertise in South Jersey Biz, click here.