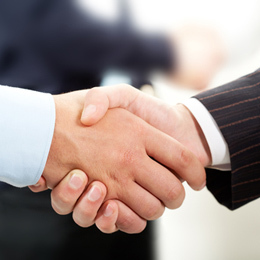 Take 5: Five steps to a strong team
Merrick Rosenberg and Jeff Backal were still in business school at Drexel University when they created the business plan for Team Builders Plus. Since launching in 1991, the Marlton company has created training and team-building programs for 61 of the current Fortune 100 companies, tackling everything from fun bonding activities (think GPS scavenger hunts, martial arts and movie making) to intensive rehabilitation for dysfunctional organizations. Now, Rosenberg has a new book, Taking Flight: Master the Four Behavioral Styles to Transform your Career, Your Relationships … Your Life, based on the DISC behavioral model. Here, Rosenberg shares his advice on making your team click.
1. Invest in your team.
"More companies are recognizing that it's the relationships that help to get things done," Rosenberg says. Social, cooperative activities can help strengthen relationships and break down barriers, while taking the time to work out organizational issues can prevent clashes. "The stronger relationships teams have, the more effective that team is going to be.... The better defined the roles are, the less conflict they will have."
2. Evaluate your status.
Is your group facing deep-rooted cultural issues, or could they just use a little downtime outside the office? Team Builders Plus uses an anonymous online survey to gauge morale, trust, communication, collaboration, stress and drama in the workplace. "You're taking the pulse of where your team is at," he says. This enables you to identify problems and plot potential solutions.
3. Identify personality differences.
Personality profiling can be helpful, allowing workers "not only to understand themselves but to understand each other," Rosenberg says. He notes that the most successful collaborators and managers adapt their behavior to each colleague's personal style. Once workers are aware of their own and others' behavioral tendencies—forceful or passive, logical or intuitive—they can learn to modulate accordingly.
4. Target your group's specific needs.
"If a group is really not working toward a common mission and vision, then we can help to focus them," Rosenberg says. "If it's really about how they're treating each other, then we can help them to create a set of team ground rules for how they're going to treat each other." Focusing on your team's most pressing issues yields maximal results.
5. Follow through.
Any team-building initiative will result in a two-part action plan: office ground rules, and shared business strategies. "You have to keep that alive. You can't write a set of team ground rules and then file it away and never look at it again," Rosenberg says. Instead, post them in the office, and review the ground rules—and your progress—at every staff meeting. "Team development is not an event," he says, "it's a process."
Published (and copyrighted) in South Jersey Biz, Volume 1, Issue 4 (April, 2011).
For more info on South Jersey Biz, click here.
To subscribe to South Jersey Biz, click here.
To advertise in South Jersey Biz, click here.