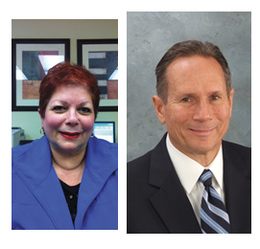 The Conference Room: Summer Hours?
Should you institute summer hours?
Nothing beats skipping out of work at 1 p.m. on a Friday afternoon to beat Shore traffic—but are summer hours a smart business practice? Some local employers say this perk boosts morale and productivity, while others argue that it's most important to be there for clients all week long. In anticipation of beach season, two area execs share their takes.
Janis Sweeney, (left), owner of National Employee Management Resources, Marlton
"For years, we've been allowing individuals, from Memorial Day through the month of September, to leave at one [o'clock] on Friday afternoons—except for one person. That one person stays until 4 p.m., which is still abbreviated. They rotate, so every week somebody has the job of staying until 4 p.m. It's a morale-builder and an incentive to keep them encouraged and energetic during the work week. If they get their work done, they know they have a little bit of a longer weekend. It's very pro-employee, and they are very grateful for that. Whether they're hourly or salaried employees, we'll pay them for the entire day. Generally speaking, clients are winding down themselves on a Friday by lunchtime. We're not as busy, so it's a perfect time to do it. We haven't had any problems whatsoever. The employees look forward to having an extended few hours to their weekend enjoying the summer days. We have 12 employees, so we're really losing 48 hours' worth of work each week, which is hundreds of hours [each summer]. Even so, nothing detrimental happens to my business or to the workload. Everything still gets done. They make sure they're taking care of me while I take care of them."
Stan Hadam, (right), senior vice president and branch manager at Wells Fargo Advisors, Marlton
"Giving employees reduced hours isn't practical, because if a client calls on Friday at 2 p.m. about a potential transaction, we need to be there. We advise clients on their investment portfolios. Our hours are set by the needs of the client and by the stock market, which is open from 9:30 a.m. to 4 p.m. The market dictates that we're here in case clients call in to do a transaction. Clients also want us to provide advice, so when a client wants to come in Saturday morning or Monday evening, we need to make ourselves available. My relationship is with the client, so that person wants to talk to me, especially in light of the last two years when we're coming out of the worst market since the '30s. Things have been volatile, so my clients want to hear from me regarding what I think about a situation in the market, or the situation in Libya or Japan. Sometimes, if there's an event happening during the trading day, the client may want to move—and if I'm not around, it's a concern. Our employees do have a very robust vacation schedule and our family leave and personal time is very generous."
Published (and copyrighted) in South Jersey Biz, Volume 1, Issue 4 (April, 2011).
For more info on South Jersey Biz, click here.
To subscribe to South Jersey Biz, click here.
To advertise in South Jersey Biz, click here.