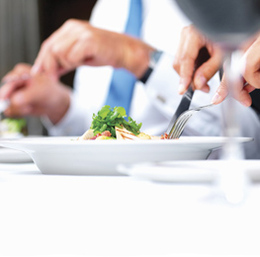 Let's Do Lunch
The power lunch is a complicated art. Master it, and who knows what you can accomplish.
Companies may be cutting back, but don't be fooled: the "power lunch" is still alive and well in South Jersey. And those who know how to make the most of a working meal are reaping the business benefits.
"I think that type of more intimate atmosphere is really important," says Sara Rosenberg, founder of The Power Lunch Project, a business networking organization for leaders in South Jersey and Philadelphia. "You're making more of a connection as opposed to going to events and passing out business cards and never hearing from anyone again."
Rosenberg formed The Power Lunch Project last summer. The idea took off almost immediately: today, Rosenberg is organizing about 300 lunches per month for more than 100 people. She says it's a testament to the fact that networking lunches work.
"We stress building that business relationship," Rosenberg says. "Nobody is selling anything. You're more likely to form that business relationship this way. You've made a connection, and that's a resource you can use in the future."
Local businesspeople say speaking over a good meal in a casual environment can often yield better business results, allowing participants to open up and share their insights in an unhurried atmosphere.
To maximize productivity, though, it's vital to select the right spot, a location that's comfortable but affordable, Rosenberg says. Fast food obviously won't do—but neither, typically, will a five-star restaurant. "In this economy, people are very conscious of what they are spending," she says. "To be honest, I stay away from higher-end establishments. When you're meeting someone for networking, everyone is there for the same reason. So any place that will let you either bring a laptop or just work and talk quietly is great."
Does where you sit in the restaurant affect the conversation? Does a certain reserved table convey status? And most important, who pays for the meal?
Rosenberg says good business networkers don't necessarily follow any strict rules, but instead get a feel for their lunch companion and go with the flow.
"I think you can feel out the person you're dining with," Rosenberg says. "Obviously you don't want to be sitting near the bathroom, or the main entrance, where you're constantly distracted. We always tell everyone to pay for your own meal, but of course that depends on the situation."
NO RESERVATIONS
Local leaders share their favorite power lunch spots.
Kenneth M. Annarelli, Certified Public Accountant, Gold Gocial Gerstein, Voorhees
"P.J. Whelihan's in Cherry Hill works great. It has a little more of a relaxed atmosphere and easy access to Routes 295 and 70, so it's centrally located and easy for anyone to get to."
Kori Underwood, regional sales specialist, TD Insurance, Mount Laurel
"I would have to say Kuzina in Cherry Hill for sure. The food and service there are fantastic."
Steven Zelinger, attorney, Rabil, Kingett & Stewart, Washington Township
"I'm a big fan of Ponzio's. More networking goes on there than one could imagine, given that it is easy to find, nice enough for business and casual enough that you can have the waitresses call you 'babe.'"
Jody Campbell, owner, Rapid Refill Ink, Voorhees
"Any of the Panera Bread locations are always a good spot."
Kristi Howell-Ikeda, president and chief executive, Burlington County Chamber of Commerce
"My favorite working lunch spot is the Robin's Nest in Mount Holly in the summer. You can sit outside, get work done and be seen—and best of all, relax to the sound of the stream trickling by.
Roger Butler, personal lines sales manager, The Barclay Group, Riverton
"TGI Fridays in Mount Laurel has a lot of room, and the noise usually isn't too overpowering."
Dr. Anu Momi, owner, Anu Medical Spa, Voorhees
"I would say for a one-on-one meeting, Redstone Grill in Marlton. It's a little loud usually, so it's not the best location for large groups, but the menu has a lot of variety, so there is something for everyone."
Adam D. Greenberg, attorney, Honig and Greenberg, Cherry Hill
"The Kibitz Room in Cherry Hill. It may a little noisy inside, but for networking purposes, the food there is just great. Also, I like West Side Gravy in Collingswood. The cheesesteak egg rolls will make you want to forget about keeping Kosher."
Les Vail, executive director, Gloucester County Chamber of Commerce
"I like to have breakfast and lunch meetings at Angelo's Diner in Glassboro. It's right next to our office, the food and service are great, very affordable, and it's an environment in which anyone can feel comfortable talking business while having a good meal."
Published (and copyrighted) in South Jersey Biz, Volume 1, Issue 4 (April, 2011).
For more info on South Jersey Biz, click here.
To subscribe to South Jersey Biz, click here.
To advertise in South Jersey Biz, click here.