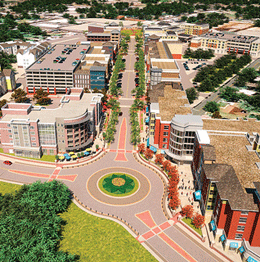 Development Watch: Rowan Boulevard
Small but mighty, Sora Holdings staff is just 23 workers strong. Yet, the impact of this development company will be felt for years to come, thanks to innovative projects like Rowan Boulevard. This project is not only changing the face of Glassboro, but it's also generating national interest as a new blueprint for the revitalization of college towns across America. Washington Township-based Gregory Filipek, one of two principals at Sora, shares insight into the $300 million revitalization initiative, which is projected to bring more than $48 million into the regional economy annually. We checked in with Filipek about what makes this project stand out.
Why it's unique: It's basically rebuilding a downtown. It's not a shopping mall. It's not a power center. It's not a strip mall. It's literally taking and re-creating a vibrant downtown. It's not just putting in retail stores or offices; it's incorporating residential life and mixed-use buildings. We have plans for arts and entertainment districts and neighborhood service districts, all the elements that we used to find in a lot of downtowns.… Even from a retail standpoint we're looking to have a nice mix of national regional and local mom-and-pop type things, so you're not going to feel like you're taking a strip mall and putting it downtown. So that it becomes a long-term sustainable destination point.
Planning strategy: The only way you have a successful project is you have a plan that is flexible. When we started this project with the borough officials and consultants, we drew up the master plan for the downtown, but we made sure that plan was 100 percent flexible. Everything is a moving part. For example, about five years ago, borough officials expressed a concern that they didn't want it to appear that Rowan was taking over the entire downtown, so we worked very closely to keep that from happening. [But the next year, they agreed to locate Rowan's honors college on the first mixed-use building in town.] So the attitude from the public's perspective and the college perspective has changed. They realized that it's beneficial to the town, in terms of bringing people downtown and in terms of real estate taxes.... You understand that this is all moving pieces. Our master plan has been revised 30 or 40 times.
National blueprint: We've gotten a lot of attention not just in New Jersey, but throughout the country, from developers at other cities and universities that want to know what we're doing, how we're doing it, and what makes it successful. So we like to think we're creating a new model for how we're doing this. We've gotten interest from throughout New Jersey and also throughout the country.
Project philosophy: We like to consider ourselves realists. We don't look at prospective clients as just potential revenue sources. We have to be able to have a successful project and a successful development or redevelopment deal. A lot of developers may take a client and say, 'Here's my plan, I'm going to expect to make 'x' amount of dollars, and if I can do that I'll build it.' What we do is, before we throw out any ideas, we go in and we look at: What makes your university, your city or your town unique? What do you have to offer? In one case, we looked at a town and we didn't do the job, because they said, 'We'd like to do a smaller version of what you're doing in Glassboro.' We said, 'If that's the way you want to go, we can't be involved, because that's not something we think will be successful and sustainable long-term. Four or five years down the road you'll have vacancies like you do now, because you're not solving the problem; you're just putting a Band-Aid on it.' We like to come up with real long-term solutions. Every town has unique situations, and you just have to find out what they have that's unique, that's the driver that sets the demand.
Published (and copyrighted) in South Jersey Biz, Volume 1, Issue 3 (March, 2011).
For more info on South Jersey Biz, click here.
To subscribe to South Jersey Biz, click here.
To advertise in South Jersey Biz, click here.