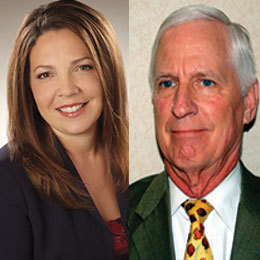 The Conference Room
To meet or not to meet?
A weekly staff meeting may seem like a logical practice for your company—or it might feel more like a time-sucking proposition that could be easily replaced by the occasional memo. Essential team-building boost or productivity drain? Two local executives face off.
"Regular meetings unite a team."
Phillip K. Brewer, regional director of operations, Holiday Inn Philadelphia-Cherry Hill (pictured, right)
"As a hotel, we are a 24-hour-a-day, seven-day-a-week, 365- days-a-year business, so our managers work widely varied hours and days. It is extremely important to get the majority of those managers together on a regular basis, to communicate to everyone what is going on, as well as what has happened over the past few days. In addition, we feel it is vitally important to bring everyone together as a team, making all feel they are part of something bigger than just their area of responsibility. We also take this opportunity to continue to drive customer satisfaction, stressing the importance of maintaining our place as the top customer satisfier in the Philadelphia-South Jersey area among all Holi­day Inns. By use of a structured agenda, we also keep on point and focused while we cover a lot of items. The meeting shouldn't last more than an hour, thus efficiently making use of our time while keeping everyone's attention and interest."
"Weekly meetings sap productivity."
Cheryl A. Betten, firm administrator and certified legal manager, Adinolfi and Goldstein, Haddonfield (pictured, left)
"Weekly staff meetings are a drain on productivity. I think this process also desensitizes employees because of the monotony and lack of a substantive message every week. The meetings turn into more of a social event than the real exchange of information and feedback up and down the organization. The last thing I want is for my employees to start dreading the 'weekly' staff meeting. After all, aren't I supposed to be in tune with how busy they are? If that is the case, and it is, then as a manager I have to be respectful of that. This way, when I do hold a staff meeting, the expectation is that I have something important to say, which hopefully breeds an audience of staff members that are prepared to listen. I would say on average we meet formally every quarter. What is important is that we have an agenda. Staff meetings need to be about the organization goals, strategies, tactics and vision, with the ultimate goal of inspiring everyone to punch a ticket and get on board."
Published (and copyrighted) in South Jersey Biz, Volume 1, Issue 3 (March, 2011).
For more info on South Jersey Biz, click here.
To subscribe to South Jersey Biz, click here.
To advertise in South Jersey Biz, click here.