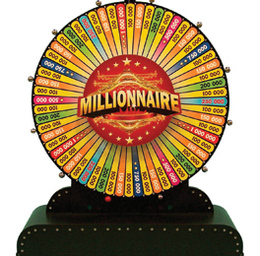 Playing to Win
The first name in games of chance, Edgewater park's smartplay is feeling lucky indeed.
Have you EVER stared intently at a Mega Millions drawing, willing the shining, boldly numbered, white and gold balls to spiral out of the drum and match the very numbers printed on the thin $1 ticket clutched in your sweaty palm? Ever watched the NBA lottery, ardently hoping your team would land the first draft pick?
Then you've probably unknowingly praised (or perhaps cursed) Smartplay International Inc., the Edgewater Park-based company that designs and makes the machines that draw the numbers used to call the winners of these lotteries and many more.
Everyone knows you have to play to win the lottery, but no one puts more of those balls in motion than the team at Smartplay. The company supplies gaming machines for the New Jersey, Pennsylvania and Delaware lotteries, as well as nearly 200 more lottery associations around the world.
For Smartplay, the numbers on those little balls add up to a successful niche business with a surprisingly vast global reach. The privately held company counts clients in more than 75 countries, including China, India, Russia, Mexico and the United Kingdom. Like the NBA, the NHL is a regular; both leagues rent the company's machines for their annual drafts.
"We pretty much set the standard for drawing machines for the industry," says Smartplay President David Michaud, who co-founded the company in 1993.
The business brings in some $3 million per year—and, unlike lotto winners, they didn't get there by mere luck. It turns out that success in the industry of chance is quite an exact science.
Smartplay's business stemmed from Michaud's love of construction and figuring out how things work. He launched the company with Thomas Markert, who holds a degree in mechanical engineering and a background as a theater stagehand, and two other partners.
"I never played the lottery," Michaud admits, but the intricate drawing systems captured his imagination. "It's right up with what I'm interesting in doing—building machines. I'm very mechanically inclined. It seemed to fit right in with my talents. I don't have an engineering degree; I learned it over the years, and it served us well."
Well enough that, four years ago, the company was able to move to Edgewater Park from its previous headquarters in Vincentown, using a $200,000 interest-free small business loan from Burlington County to in­crease its workspace to 15,000 square feet and its workforce to 23.
Now, inside a nondescript, warehouse-like building just off Route 130, the company has crafted a gambler's paradise, with more models being designed each day. The firm's standard three-ball and four-ball models— the preferred machines for many U.S. state lotteries—are on display in a small showroom. The real action, however, takes place in a series of workshop-like spaces, where machines are custom-built to each client's specifications.
Those vary greatly; what's standard among American lottery games doesn't hold true around the world. For Mauritius, Smartplay developed "Millionnaire," a game centered around an oversize carnival-style wheel with 60 particolored wedges. Israel's lottery commissioned travel-sized machines to allow for remote drawings at sites around the country. And Estonia requested versatile equipment that could handle keno as well as bingo. While the U.S. lottery business revolves mainly around pick-three and pick-four games—as they call them in the biz—contests in other countries often resemble full-fledged game shows, and they can take up to 30 minutes to reveal the winner. The prizes may also be smaller than the big jackpots associated with Powerball and Mega Millions. But Michaud points out that the bigger the prizes for these popular games, the worse the odds of winning.
To create these custom masterpieces, Smartplay workers spend eight to 12 weeks constructing the cabinets, wiring them and installing the mechanicals, and finishing each machine with graphics to suit the client's stylistic preferences. The firm also provides 24-hour telephone support to help clients address any technical issues.
Although the equipment must offer TV-friendly bells and whistles, good looks alone don't cut it in the serious world of lottery drawing.
"The main challenge in providing drawing equipment is to be absolutely, totally reliable and random, and yet answer the marketing and aesthetic desires of the creative direction that the lottery is trying to sell," says Markert, the company's vice president. "We have a duality in what we produce: It has to be above reproach and yet still meet aesthetic needs."
To ensure a random drawing, Smartplay must use balls that adhere to industry standards for weight and size variations. As well, each machine undergoes "a strict battery of tests to ensure everything is perfect," according to Michaud. Smartplay puts each device through its paces at least 100 times to make sure the drawings are unpredictable. Clients also conduct their own trials before deploying the machines
Unlike many industries, in which mechanical parts have given way to digitally driven designs, the lottery industry is still mostly an analog world. Only 10 of Smartplay's clients use computerized machines, although Michaud sees change coming.
"The way things are going, computers are becoming more and more trusted, especially with the younger generation," Michaud says. "They naturally gravitate toward computer-generated numbers."
However, some lotteries, especially those in Asia and South America, remain resolute in resisting such change. "Some cultures are very superstitious. They'll never accept the computer," he says. Learning the nuances of foreign lotteries is a priority, since 75 percent of the company's business now comes from outside the U.S.
And that business is good. The company has few rivals in the space, and claims to be the world's largest manufacturer of lottery drawing machines, controlling more than half of the market. It has managed to weather the slow economic times, too. "We've held our own pretty well over the last couple of years," Michaud says. "When the economy gets sluggish, lotteries try to introduce new games to keep the momentum going."
Michaud may know how to make a flawless lotto machine—but ask him for tips on how hit the jackpot and he's not much help. Even though Smartplay does everything it can to ensure random lottery results, it must take a more concrete step to back its commitment to honesty—neither Michaud nor other employees can play any of the lotteries with which they do business.
Published (and copyrighted) in South Jersey Biz, Volume 1, Issue 2 (February, 2011).
For more info on South Jersey Biz, click here.
To subscribe to South Jersey Biz, click here.
To advertise in South Jersey Biz, click here.