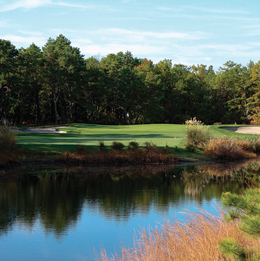 Join the Club
The economy is on the upswing—but great golf deals still abound. The links are a great place to network—and with courses (and prices) like these, there's never been a better time to golf in Burlington County.
Burlington County is lush with the greens and FAIR- ways of quality golf courses. And if you're looking to take the step of joining a private club, now just might be the perfect opportunity to explore your options.
That's because the economic downturn has resulted in openings at many clubs, so prospective members can avoid waiting lists. Even better are the steps some clubs are taking to attract new members. "As big as golf is right now, the economy affects what goes on here," says George Frake II, director of golf at the 27-hole Little Mill Country Club. "This is recreation and leisure."
In response to that, Frake says, Little Mill is waiving its initiation fee. "That's a great opportunity for people to come in and get the club experience and figure out if it's for them—without having to put up a $5,000 or $10,000 initiation fee, only to find out they don't have the time to play, or they don't want to play that much, or they're going to move," Frake says.
Across South Jersey, some of the most coveted clubs are taking substantial steps to make membership more attractive, from postponing payment of initiation fees to adding weekday memberships geared toward businesspeople who mostly use the greens as a quiet place to talk shop.
Take, for another example, the Burlington Country Club in Mount Holly, which boasts a course designed by Alexander Findlay, a famed Scottish golf course architect. There, new members can defer the $4,000 initiation fee indefinitely.
Those who do so, says golf pro Mike Mack, are treated to a course that was completely overhauled in 2002. "We purchased some land, we re-did, basically, the whole back nine, and we re-did every tee and every bunker on the front nine. So it was a complete renovation,"?Mack says. The most notable change was expanding the course's back nine holes by about 18 acres. Still, manicured greens aren't always enough to woo new blood.
So, while sponsorship from a member in good standing is still required to join most clubs, many have abandoned the one-price-fits-all strategy they once relied on.
"A lot of it is member references," says Terry Mulligan, general manager of Deerwood Country Club in Westampton. "But what we continuously have is membership availability. We have several different categories of memberships. Occasionally we will do promotions."
Deerwood allows new members to pay their $10,000 initiation fees in five installments, or to sign up for annual memberships that feature higher dues but no initiation fees. Also convenient for business types are week­day memberships, priced at two-thirds the cost of a standard membership.
The Links in Marlton is also now offering several membership levels, including week­day memberships that don't require any initiation fee. Another option is the $600 associate membership, which operates on a pay-as-you-play model for golfers.
When joining a golf club, John DiMarco of Laurel Creek Country Club in Mount Laurel says, the amenities each club offers are something to consider. Laurel Creek has a pool and tennis courts along with golf, making it a family-friendly destination; currently, Laurel Creek is waiving the $1,500 initiation fee for "house" members, who do not have access to the golf course. For those who do plan to play the challenging Arnold Palmer-designed course, the $4,000 initiation fee is being deferred until 2012, or can be paid in four $1,000 installments. In some cases, such deals are putting courses that might have seemed far too expensive suddenly well within reach.
In Chesterfield, the Olde York Country Club is waiving its $17,500 initiation fee through May 1, according to director of membership Liz Gregory. And for occasional golfers, they're offering Tuesday-through-Friday sports memberships, in­clud­ing 12 tee times per year, for $1,100. They'll hold an open house on March 25 for those looking to check out the course and amenities.
Back in Medford, Medford Village still considers itself among South Jersey's elite clubs. The course was designed by William F. Gordon as envisioned by James "Dutch" Hemmelein and was originally called Sunny Jim Golf Club when it opened in 1964. "Jim wanted to create a golf course that would rival Pine Valley," says Leo De Gisi, head golf professional and general manager. Yet, the course has also waived the initiation fee for golf memberships for 2011. And for just $250 extra, singles and couples can add swim and tennis memberships for the year.
Private clubs make up the bulk of Burlington County's golf courses, but there are some well-regarded public courses as well, such as the 27-hole Ramblewood Country Club in Mount Laurel. Ramblewood offers memberships that bring discounts on tee times, a good option for golfers who plan on playing often. But as a public course, Ramblewood makes golfing affordable for just about anyone. Winter weekend tee times cost $40 (in­clud­ing a cart), and weekday times go as low as $10 after 3 p.m.
Crash Course
Local execs and avid golfers share their tips for doing business on the links.
Ever tried to get four to six uninterrupted hours with a sales prospect or an important client? Under normal circumstances, it's nearly impossible. But throw in fair weather, a local golf course and an amiable foursome—and suddenly, you've got their attention.
"I actually pay for my staff to take golf lessons," says Reynold Cicalese, managing shareholder at the accounting firm Alloy Silverstein in Cherry Hill. "It allows your staff and employees to build business relationships…. You're spending time with bankers, referral sources, potential clients and existing clients. If you're spending time with people, you get to know them—and people like doing business with people that they know."
Still, there's a right way and a wrong way to approach business on the golf course. The first step is to put together a foursome that makes sense—both socially and from a business perspective.
"If I have a wholesale carpet person and retail carpet person, I might bring them together," Cicalese says. "You put bankers with people who need loans, attorneys with people who need attorneys. You're connecting the dots."
Then, says Amy Webb, president of Saratoga Benefit Services in Moorestown, there's the issue of how to broach business topics on the course. She says she prefers to focus on building rapport on the course, avoiding an overly aggressive tack.
"I'll try to discuss business briefly in the course of the golf outing, just enough for me to be able to follow up after golf in a professional setting. But I try to keep it fun so that people don't feel that they're under pressure," she says. On the other hand, she adds, "It does come down to asking for the sale. You can golf all you want with people, but if you don't at some point ask them for their business, you won't get it."
Just as important is observing your clients and prospects on the links—and being aware that they are also observing you. It's important to understand the rules of golf etiquette and adhere to them; nothing kills a deal faster than speaking in a client's upswing.
"Golf kind of bares your soul," says Paul Blackstock, a Franklinville insurance broker. "It's also a reflection of the way you may handle yourself in business."
Likewise, you can learn rather quickly whether your partners are honest, whether they have anger management problems, whether they're adaptable. "When I start a round of golf I don't know a lot about the person that I'm with, but when I'm finished I could probably write their biography. You just have to ask the right questions," Cicalese adds. "There's a lot of things you can learn on a golf course that you won't find out at lunch."
You don't need to be a scratch golfer, local execs insist, but you should avoid holding up the group—and be able to laugh at yourself when you drive one straight into a trap. Especially if skill sets are uneven, playing in a "better ball" or "scramble" format encourages camaraderie rather than competition, according to Webb.
And most important of all, says Chris Eastlack, parts and service director at Ace Ford in Woodbury, have fun. "Whether you are trying to start a relationship with a new customer or grow with an existing customer, [golf] is a great way to get out of the office, relax and get to know the other person on a more personal level."
Burlington County Courses
Burlington Country Club
Mount Holly
(609) 267-1887
BurlingtonCCNJ.org
Deerwood Country Club
Westampton
(609) 265-1800
DeerwoodCC.com
Golden Pheasant Country Club*
Lumberton
(609) 267-4276
GolfGoldenPheasant.com
Hanover Country Club*
North Hanover
(609) 758-8301
Indian Spring Country Club*
Evesham
(856) 983-0222
IndianSpringGolf.com
Laurel Creek Country Club
Mount Laurel
(856) 234-7663
LaurelCreek.org
Little Mill Country Club
Marlton
(856) 767-0559
LittleMill.com
Medford Lakes Country Club
Medford Lakes
(609) 654-5108
MedfordLakesCountryClub.com
Medford Village Country Club
Medford
(609) 654-7541
MedfordVillage.com
Moorestown Field Club
Moorestown
(856) 235-1464
MoorestownFC.com
Olde York Country Club
Chesterfield
(609) 298-3322
OldeYork.com
Ramblewood Country Club*
Mount Laurel
(856) 235-2119
Ramblewoodcc.com
Rancocas Golf Club
Willingboro
(609) 877-5344
Riverton Country Club
Riverton
(856) 829-5500
TheRivertonCountryClub.com
Springfield Golf Center*
Mount Holly
(609) 267-8440
SpringfieldGC.com
Links Golf Club
Marlton
(856) 983-2000
TheLinksGC.com
Willowbrook Country Club*
Moorestown
(856) 461-0131
WillowBrookCountryClub.com
*Public Golf Courses
Photo caption: Scenic Little Mill is among area courses waiving initiation fees to encourage new members.
Published (and copyrighted) in South Jersey Biz, Volume 1, Issue 2 (February, 2011).
For more info on South Jersey Biz, click here.
To subscribe to South Jersey Biz, click here.
To advertise in South Jersey Biz, click here.