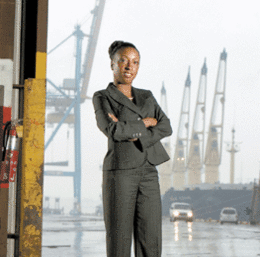 These Women Mean Business
Was there a glass ceiling? These South Jersey power players hadn't noticed. Across our business community, smart, savvy women have attained unprecedented levels of success. Here, meet 25 women who are making their mark in our region and beyond.
It took 15 years of hard work before Debra DiLorenzo climbed her way to the post of president and chief executive of the Chamber of Commerce Southern New Jersey. "I worked my way up scratching and clawing, and always having a tad of a chip on my shoulder, to be the best that I could, because I did feel that women had to work harder," she says. Now, 17 years into her presidency—having grown the chamber's annual budget from $800,000 to $1.7 million—she can finally take a breath.
Like DiLorenzo, women have made an impact across all sectors of South Jersey business, helming companies in industries as diverse as steel, shipping, marketing and medicine. However, many say there's still more to be done. In some areas of business, women have crashed through the glass ceiling. Nationally, 51.4 percent of management, professional and related jobs are held by women, according to a 2010 Catalyst research study. (The statistics are slightly less promising in New Jersey, where women occupy just 41.7 percent of management and professional posts.) Yet, the very top tier of business has proven harder to crack: only 2.5 percent of chief executive posts at Fortune 500 companies are held by women. Yet, South Jersey's only Fortune 500 corporation, Campbell Soup Co., is set to buck that trend. Denise Morrison, currently the company's chief operating officer, will join that elite club when she takes over the CEO role at the start of fiscal 2012.
Women in South Jersey have gained status as decision makers on everything from products and services to expansions, and personnel and financial matters. DiLorenzo says she sees the generation of women currently entering the workforce having a greater expectation for quicker success than their predecessors.
The proof is in increasing salary parity across genders. Though women in general still earn less than men, younger women have jumped ahead of their male counterparts. In fact, young single women are earning more than their male peers in metropolitan areas around the United States, according to an analysis of 2010 Census data by Reach Advisors.
Women are also taking advantage of opportunities as the economic climate improves. "Sometimes obstacles, such as the current economic downturn, are stepping stones toward opportunities," says Wanda P. Hardy, managing principal of WP Hardy Consultants and an economics lecturer at Saint Joseph's University.
Hardy believes that women today have an advantage over men, in that they tend to be more in tune with themselves and are more used to multi-tasking. "Women are tapping into our strengths to be successful," she says.
While local businesswomen have all worked hard to reach their goals, they have gotten there with varied approaches. Some, like DiLorenzo, have opted for a slow, steady climb through the ranks. Others, like Tina Wells, a Voorhees entrepreneur and founder of Buzz Marketing Group, made their way by risking everything to launch their own businesses. And some, like Mindy Holman, president and chief executive of Holman Automotive Group, took their family companies and, through hard work and innovative thinking, helped them thrive.
Holman, for one, says it was hardly easy being the boss' daughter in a male-dominated industry.
But, she played to her strengths, and worked to change the automotive industry's macho culture.
"Because it's so much more of a relationship business than it was 25 years ago, it's even a better fit for women," she explains.
Judith Roman, president and chief executive of AmeriHealth New Jersey, adds, "In the end, I think the challenges facing businesswomen in New Jersey are largely the same as those facing all businesspeople, especially CEOs. Finding ways to accomplish more with fewer resources, and keeping employees focused, are just two examples. In overcoming challenges I always come back to some deceptively simple lessons I learned early in my career: Don't make snap judgments. Evaluate the facts. And set a clear strategic direction for the organization."
While women in business may face some unique obstacles, in South Jersey they also have an advantage: a tight local network that DiLorenzo says helps many of these leaders stay at the top of their game. "We bounce ideas off each other and get advice from each other. I don't know if women in other areas have such a strong network," she says.
Hardy says the future for women is bright. "I see huge opportunities for women because we are very creative, we have a lot of talent, and the ability to see the larger picture. The economic recession has presented us with opportunities to tap into that entrepreneurial spirit and achieve whatever our hearts desire."
25 Women on the Go
Beverlyn Grissom
Grissom (pictured) knows all about breaking into male-dominated industries, as the co-founder, in 2004, of the Camden Shipping Corporation, the first all-female and African-American shipping company of its kind in U.S. history. Grissom and her business partner, Michelle Bunting, were the first certified female dredge operators in the country. Grissom also serves as vice president of Horizon Pediatric Systems Inc., which she co-founded in 2002.
Joan Carter
Back in 1973, Joan Carter co-founded UM Holdings, a private equity investment firm. Now, Carter serves as the president of the Haddonfield-based company, which went public as United Medical Corporation in 1981. During the last 30 years, Carter has owned or operated 40 businesses through start-up, acquisition or merger. One of the first female members of the Union League of Philadelphia, she's also now the first-ever female Union League president.
Liz Thomas
As chief executive and co-found­er of 12-year-old Thomas/Boyd Communications, Thomas has helmed campaigns for every­thing from the launch of Cooper University Hospital's new Pavilion to the opening of the Ferry Building on Ellis Island. Among her largest events were the grand openings of the Battleship New Jersey and the New Jersey Vietnam Veterans' Memorial.
Tina Wells
The founder and chief executive of Buzz Marketing Group in Voorhees started her business at age 16. Today, 15 years later, she employs 10 staffers and 9,000 Buzz Spotters: teens and young adults who weigh in on the latest trends. The firm brings in revenue of $3 million to $4 million per year. In her downtime, Wells pens the Mackenzie Blue series of books for tween girls.
Linda Rosanio
Rosanio founded The Star Group in 1985 at her kitchen table and has grown the "Synegrated" marketing communications agency to include nearly 300 employees and more than $200 million in annual revenues. Under Rosanio's leadership, the group has handled everything from publicity and marketing for launch of The National Museum of American Jewish History to advertising for Virtua. Her accolades include the Greater Philadelphia Chamber of Commerce Paradigm Award.
Aldonna R. Ambler
As president of AMBLER Growth Strategy Consultants, Ambler's mission is to help midsized companies continue to grow. Ambler says her firm has generated more than $1 billion for other woman-owned businesses.
Mindy Holman
As the president and chief executive of Holman Automotive Group, Holman oversees the company's seven dealerships in South Jersey and 10 in South Florida, as well as Automotive Resources International (ARI) and RMP, a Ford-authorized parts distributorship headquartered in Pennsauken. ARI grew its employee base by about 7 percent, to 1,035 workers at the end of last year.
Barbara Borowiec
The owner of Barb's Harley Davidson in Mount Ephraim bought her first Harley when she was 20 years old. She loved it so much that she bought the company. During her 24-year tenure, she has guided the com­pany from five employees to 45, and expanded from 5,000 square feet to 40,000 square feet.
Ruth Dietz Eni
At 86 years old, Moorestown's "Mama Dietz" is chairwoman of Dietz and Watson, and continues to take an active role in day-to-day operations of the company. Today, the company matriarch oversees the family business, including her children and some 1,000 other employees. The deli meat and cheese purveyor brings in more than $400 million annually, and Mama Dietz' recent star turn in a company ad campaign has made her a local celebrity.
Debra P. DiLorenzo
As president and chief executive of the Chamber of Commerce Southern New Jersey, DiLorenzo has grown the chamber into the largest in our region. Under her direction, the chamber achieved ISO 9001:2008 certification, an international best practices designation that DiLorenzo feels has enabled the organization to excel. "Our chamber is the only chamber in the United States to have this designation," she says.
Judith Roman
As president and chief executive of AmeriHealth New Jersey, Roman has spearheaded the health insurance company's expansion throughout the state, including contracting with more than 14,000 physicians and 90 rehabilitation hospitals. She also serves as chairwoman of the Cham­ber of Commerce Southern New Jersey.
Michele Estep
As executive vice president and chief administrative officer for Sun National Bank, Estep oversaw the infrastructure that helped the bank to achieve a 71 percent increase in the income of the revamped Sun Home Loans division, and a 12 percent boost in core deposits. She also oversaw construction of the bank's first LEED-certified branch and the establishment of a regional corporate office in Mount Laurel.
Mary Ann Boccolini
As the president and chief executive of Samaritan Hospice since 2001, Boccolini has been on the cutting edge of hospice and end-of-life care. Boccolini has been the driving force behind efforts to establish a comprehensive palliative care program at Samaritan, focusing on the physical, psychological, social and spiritual needs of patients and their families.
Angela Snyder
As president and chief executive of The Bank, Snyder is responsible for the daily operations and strategic direction of a business with assets of $2 billion and 48 branches in nine counties throughout southern and central New Jersey. Snyder also founded the Women's Leadership Council to build a network for women in business.
Denise Viola Monahan
As PNC Bank's senior vice president and corporate bank­ing market executive for South­ern New Jersey, Monahan has increased PNC's corporate client base in South Jersey by 70 percent, generating revenues in excess of $10 million. She is also an inaugural member of the PNC Employee Resource Group, dedicated to helping other women advance within the company.
Judith Charny
Charny launched Charny & Charny in 1999 with her husband, and expanded to the Law Offices of Charny, Charny & Karpousis in 2003. Today, she manages the entire firm and leads seven women attorneys in the practice's Divorce & Family Law Group. She also recently resumed her role as a municipal prosecutor in Camden County.
Denise Morrison
Morrison, a longtime consumer packaged goods pro, is about to take the reins as the head of one of the largest companies in our region, Campbell Soup Co. Morrison will move on from her role as executive vice president and chief operating officer, to take over as chief executive at the beginning of fiscal 2012. "I look forward to accelerating the growth of our great brands, capitalizing on our global opportunities and building on our people's engagement to reach their potential for high performance," Morrison says.
Terriann Procida
Procida started her employee benefits firm Innovative Benefit Planning 20 years ago and has grown it to include 10 employees and revenues of $1.6 million. The active healthcare reform lobbyist has made multiple trips to Washington to speak with legislators on the topic. She is also chairman of the board for Archway Programs.
Toni Pergolin
Bancroft was founded in 1883 to provide support for people with intellectual disabilities and brain injuries. But since Pergolin took over as president and chief executive in 2006, she has helped expand the $90 million organization into Pennsylvania and central Jersey. She is responsible for a staff of 1,900 spread across four campuses, and has also led Bancroft in expanding its consulting work for school districts and other organizations.
Doris Damm
Damm foresaw the cost-effective economics of temporary employment back in 1970s, and founded ACCU Staffing Services in 1979. Thirty-two years since she launched the firm from her home, she reigns as president and chief executive of a $50 million privately held company spread across 21 regional offices in the Delaware Valley.
Major Alma Cain
The Salvation Army is about to get a whole lot more high profile in South Jersey, thanks to the construction of the new $60 million, 120,000-square-foot Kroc Corps Community Center. Cain, a Camden Citadel Corps Officer for the Salvation Army, is overseeing implementation of the center. When it opens, the organization's local staff will increase from 15 to 160, and its service area will expand to include Camden, Burlington and Gloucester Counties.
Col. Gina Grosso
Col. Grosso is the Joint Base and 87th Air Base Wing commander at Joint Base McGuire-Dix-Lakehurst—the only woman to fill such a role on the first base of its kind, a joint base of Army, Air Force and Navy personnel. Grosso supports more than 80 mission partners and provides ai­rmen to combatant commanders in a variety of operations.
Gail Kasper
Kasper started her professional speaking and personal coaching company in 1998 and now commands upwards of $25,000 per engagement. She provides strategic planning advice to help businesses and individuals increase production, revenues, team cohesion and leadership skills. "You have to be able to take risks," Kasper says; in her case, those risks have paid off big time.
Tracy Duffield
Duffield has worked on her family farm in Sewell for 26 years, coordinating agritourism events and helping grow the farm into a regional destination. During her tenure, the business has grown 300 percent. Duffield sits on the New Jersey Farm Bureau Wo­men's Committee, and serves on the board of directors for the Camden Children's Garden.
Wanda P. Hardy
As managing principal of WP Hardy Consulting in Deptford, Hard­y provides management con­sultancy, train­ing and organizational development to businesses, government agencies and universities. She is also a sought-after professional coach, and a lecturer at Saint Joseph's University. Her recent successes include the development of the Nonprofit Management Certificate Program for Burlington Community College.
Published (and copyrighted) in South Jersey Biz, Volume 1, Issue 2 (February, 2011).
For more info on South Jersey Biz, click here.
To subscribe to South Jersey Biz, click here.
To advertise in South Jersey Biz, click here.