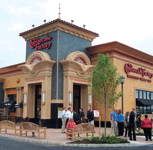 Spotlight on: Cherry Hill
…From the pages of Camden County Advantage…
Poised for growth—now and in the future.
South Jersey residents have always flocked to Cherry Hill for shopping, dining and entertainment, but with the recent expansion of the Cherry Hill Mall and the conversion of the former Garden State Park racetrack into a major retail and dining mecca, it attracts an ever-increasing number of visitors from Center City Philadelphia, Pennsylvania, Northern New Jersey, Delaware and beyond.
Upscale shopping and dining are always major draws, and only add to the township's highly acclaimed quality of life. CNN and Money magazine included Cherry Hill among the 2006 'Best Places to Live in the U.S.' rankings, and the township recently ranked among the top ten safest municipalities in the nation, according to the same survey. Philadelphia magazine places the school system among the best in the metro region. Cherry Hill also boasts a new state-of-the-art 72,000-square-foot library, completed in 2005.
"Cherry Hill is being completely reborn," says Art Campbell, CEO of the Cherry Hill Regional Chamber of Commerce. "We've always been a regional destination for business and retail, but we're becoming a super-regional destination, attracting people from a much broader geographic area, thanks to some high-end retailers and restaurants."
Prior to the mall renovation, including the addition of Nordstrom, local residents were leaving the area to shop, but now they have more reasons to stay. "We're attracting people to Cherry Hill from places like Princeton and Philadelphia who might have driven elsewhere to go shopping before," says Robert Wahlquist, Senior Regional Manager of the Pennsylvania Real Estate Investment Trust (PREIT), which owns many premier retail locations, including the Cherry Hill Mall.
Wahlquist says that given the economic malaise that's plagued the rest of the country, the progress that Cherry Hill has seen over the last 20 months has been nothing short of amazing.
"New shopping malls are just not being done, and renovations are rare these days," he says. "When you combine the Cherry Hill Mall with the shopping at the former Garden State Park, it adds up to over $1 billion in retail sales. That's a staggering number for such a short stretch of road. It's comparable in sales to the Magnificent Mile in Chicago." Aside from shopping and dining, Cherry Hill's commercial base is diverse, with banking, insurance, healthcare, high-tech, pharmaceutical, electronics and hundreds of professional firms doing business there. Of Camden County's 25 largest private-sector employers, 44 percent are located in Cherry Hill. The township is also home to some of the largest international companies in southern New Jersey, including Subaru of America, Lockheed Martin, Pinnacle Foods, Melitta Coffee, and Baxter Healthcare.
Accompanying the business boom is persistent vehicular traffic moving in and out of town. To address this all-too-common suburban plight, Cherry Hill will participate in the New Jersey Housing and Mortgage Finance Agency's new Live Where You Work (LWYW) program, which provides low-interest mortgages and other financial incentives to homebuyers who purchase residences in the municipalities where they are employed. Cherry Hill Mayor Bernie Platt believes that taking part in this program will increase the use of alternative transportation in the township. "Walking, biking, carpooling and public transit will become much more feasible ways for local employees to travel from home to work and back, as opposed to individual drivers motoring in and out of town," he says.
But LWYW is only one component in a larger plan for the township to become a sustainable community. Mayor Platt recently teamed up with RecycleBank, an innovative program that offers residents cash-value rewards for their curbside recycling. Cherry Hill has led the way in this effort, allowing residents to combine paper, plastic and metal recycling in one bin. "It's easier for residents," says Campbell, "and each bin has a computer chip to identify the homeowner, so residents get credit for their efforts." That information is converted into RecycleBank Points, which can be used to order rewards through participating retailers. The Cherry Hill business community has also embraced the program through its RecycleBank reward sponsorships.
Platt has further introduced a 10-point green plan, approved by the town council, to improve the quality of life for the community by endorsing strong environmental initiatives. In addition, the nonprofit organization Sustainable Cherry Hill brings local residents and businesses together to work toward becoming a more energy-efficient and environmentally aware community.
"The Cherry Hill Green Action Plan will take a progressive and ambitious stand against environmental degradation causing the current crisis of global warming," Platt says. "This is Cherry Hill's opportunity to be an environmental leader, shrink our carbon footprint and find ways to improve township energy conservation."
The township's various initiatives and overall resilience during this period of economic turmoil should serve it well once a recovery hits full swing. "Ten years from now, Cherry Hill will be a case study on how businesses, residents and government came together to make [one town] grow and prosper despite tough economic times," says Wahlquist. "Once the pendulum swings in the other direction, we'll be in a great position. We're here for the long haul."
When You Go
Cherry Hill Mall
2000 Route 38
Cherry Hill
856.662.7441 begin_of_the_skype_highlighting 856.662.7441 end_of_the_skype_highlighting
www.cherryhillmall.com
Garden State Park:
Marketplace & Towne Place
Route 70 & Haddonfield Rd
Cherry Hill
856.662.7441
www.GardenStatePark.net
For more information about the township, visit
www.CherryHill-NJ.com
.
Published (and copyrighted) in
Camden County Advantage
, Summer 2009.
For more info on Camden County Advantage, please contact Marketing Through Publishing, PO Box 2838, Cherry Hill, NJ 08034, or call 856-983-5667.
To advertise in Camden County Advantage, please call 856-983-5667.