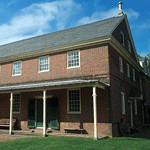 Sights to See: African-American Tourist Sites
…From the pages of Burlington the Beautiful…
Take a tour of where black history was born.
To a national audience, February may be the official month for celebrating African-American history, but in Burlington County it can be embraced all year long. That's because the area has a rich history of an African-American presence dating back to the 1600s, says Jeff Macechak, education director of the Burlington County Historical Society. Notable residents included charismatic African-American clergy, inventors, fugitives on the Underground Railroad and freed slaves, each doing their part to make history. The following sites are just a few of the locations that provide a window into the fascinating African-American background of the area. Take a tour of one or all of them, and remember how far we've come.
Bethlehem African Methodist Episcopal Church
213 Pearl Boulevard, Burlington
Touring information: Not open to the public, available for viewing from the street
Built in 1836, Old Bethel is the name commonly used to refer to what is one of the oldest African-American churches in New Jersey. In 1883, pastor Reverend Jeremiah H. Pierce legally challenged the forced attendance of his children at an all-black elementary school in the area and won the case. Macechak says an adjacent cemetery contains the graves of 212,000 African-American Union Army and Navy Civil War soldiers.
Burlington Friends Meeting House
341 High Street, Burlington
609.387.3875 begin_of_the_skype_highlighting 609.387.3875 end_of_the_skype_highlighting
Touring Information: Tours available through City of Burlington, 609.386.3993
Established in 1678, this was the area's first meeting house for the Delaware Valley Quakers. Influenced heavily by the teachings of minister and early abolitionist John Woolman, they were among the first organized groups to speak out against slavery. In a burial ground outside of the meeting house lies the grave of African-American clock and watchmaker Peter Hill. One of the three remaining tall case clocks he made holds a place of honor in the Smithsonian Museum in Washington, D.C.
Dr. George Haines House
33 North Main Street, Medford
Touring Information: Private residence, available for viewing from the street
Once the private residence of Dr. George Haines, Medford's first registered physician, it is believed that this house was a stop along the Underground Railroad for fugitive slaves. Renovations in 1992 by the current residents revealed a small secret room underneath the kitchen in the rear of the house, which supports the oral history. While the home is only available to be viewed from the street, you can stand outside and imagine the human drama that once went on there.
John Woolman Memorial House
99 Branch Street, Mount Holly
609.267.3226
Touring Information: By appointment
This historic house honors the life of John Woolman, who played a major role in influencing the Quakers' anti-slavery beliefs. Used as a bed and breakfast and as a place to house displaced German refugees in the early 20th century, the home is now available for workshops and to tour by appointment.
The Underground Railroad Cafe Art Gallery & Educational Center
16-18 East Union Street, Burlington
609.877.5695
ugrrburlington.webs.com/index.htm
Touring information: Open Wednesday through Saturday: 11AM-5PM
Located on a state-designated Underground Railroad site, this museum and gallery offers patrons art and artifacts of the African-American experience during that time. Whether you visit for live neo-soul music on Freedom Fridayz or for soul food and open mic night on the first Saturday of each month, the Underground Railroad Cafe not only offers a good cup of coffee but also a compelling look at African-American history.
While these sites are just a highlight of African-American history in the area, there are many other sites available for touring from Medford to Bordentown.
For more information, contact the Burlington County Division of Cultural Affairs & Tourism at 609.265.5068 or visit the County's Web site at
www.co.burlington.nj.us/departments/resource_conservation/cultural/index.htm
. Published (and copyrighted) in
Burlington the Beautiful; County of Opportunities
, Spring/Summer 2009.
For more info on Burlington the Beautiful; County of Opportunities, please contact Marketing Through Publishing, PO Box 2838, Cherry Hill, NJ 08034, or call 856-983-5667.
To advertise in Burlington the Beautiful; County of Opportunities, please call 856-983-5667.