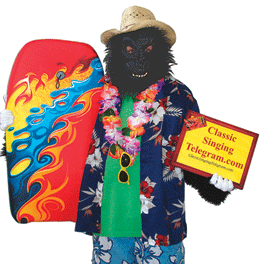 Working for a Song
Thinking outside the cube.
Working for a Song
Why one Deptford man is bullish—and, yes, a bit ape-ish—on the singing telegram market.
Twenty-five years ago, Chris Purcell was a young, hungry, budding performer in Philadelphia. At night, he took to the stage, acting and singing in theater productions and dinner shows. But during the day, he sacrificed just a bit of his dignity, dressed up as a gorilla or a bellhop, and knocked on doors for a singing telegram service.
Those days were long gone—or so Purcell thought, until last summer, when out of the blue he began receiving phone calls requesting his singing telegram services. So, the full-time art auctioneer wrote a few songs, invested in some inventive costumes and launched a new business, ClassicSingingTelegram.com.
Now, his Deptford-based startup, one of a handful of area companies offering the service, is growing fast. In addition to his staff of 10 on-call performers, Purcell has been known to don a gorilla suit himself in a pinch. We caught up with him between songs to ask how the business is treating him.
Why'd you decide to start this business?
After I did two singing telegrams in one week, I said, "Wait a minute!" I knew that in the 1930s singing telegrams became very, very hot. Then they had a revival in the 1980s, and they became the hottest thing around—but they kind of died out in the 1990s. Since I had these requests, I decided to start a singing telegram company. Now they're hot again.
How many calls do you receive?
We're up to about 300 telegrams this year so far.… It's just getting busier and busier every day.
What's the price point?
Prices range from $99 up to $179 depending on what you want to add: balloons, Godiva chocolates, flowers, oversize Hershey's Kisses or personalized songs. Otherwise we have general songs. And it depends on the character. The most popular are the bellhops, which are classics from the 1930s. Also popular are the gorillas. We have a Phillie Gorilly fan, an Eagles Gorilly fan, and a Margarita Gorilly that looks like he fell out of a Jimmy Buffett concert. What was your most unusual request?
For woman's 100th birthday, a man ordered three different telegrams to come at three different times at the party to come and perform, and give three different gifts. Also, we had a police officer from Vineland who proposed to his girlfriend eight years ago and she said, "Not now." So he decided to do a proposal via singing telegram. This time, he sealed the deal with a classic bellhop and a "Will you marry me?" song.
What business lesson have you learned from this endeavor?
No. 1, gorillas are funny. But the most important thing is not only being silly. You don't know how many tears of joy come out of our singing telegrams. So many times [recipients] cry throughout the song, not from embarrassment, but because they're so happy someone is singing to them. The most tears of joy are when the husbands send the wives birthday or anniversary romance packages, with balloons and Godiva chocolates, to the woman's workplace. They look like a Prince Charming. Romance is still king—that's what I've learned.
Photo: ClassicSingingTelegram.com owner Chris Purcell as a singing Margarita Gorilly.
Published (and copyrighted) in South Jersey Biz, Volume 1, Issue 1 (January, 2011).