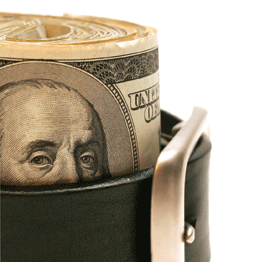 Beyond the Recession
A look at the state of business in South Jersey.
Is the recession over? It depends who you ask. Officially, the recession ended in June 2009, according to the Business Cycle Dating Committee of the National Bureau of Economic Research, the official arbiter of such things. In South Jersey, while there's plenty of optimism for a successful 2011, businesses large and small have continued to tighten their belts over the past year.
"Many of our members perceived little improvement in the overall economy during the third quarter," says Debra DiLorenzo, president and chief executive of the Chamber of Commerce Southern New Jersey. "Economic conditions in the region remain weak, and there was actually a slight decline in the pace of growth compared to second quarter of 2010." Recession or no, only 40 percent of businesses surveyed by the Federal Reserve Bank of Philadelphia reported observing an improved business climate in 2010.
The core of the problem is that the unemployment rate is still stuck at a recession-level 9.2 percent in New Jersey, according to William Dunkelberg, chief economist at the National Federation of Independent Business. "The bottom has been hit, but we didn't bounce," he says. On the bright side, he notes, the South Jersey region fared better than others due to less overbuilding in residential and commercial real estate.
In general, he observes, small businesses, including repair shops and lower-end retail, weathered the storm best, while construction, printing, finance and real estate companies suffered most. Some of the companies that were born in the boom failed, while others learned to make do with less.
For 2011, Dunkelberg expects that economic growth will be substantial as consumers return to spending. "Pay more attention to the macro picture," he suggests. "Housing is a good example: You might be having a great year, but if all construction firms are building homes faster than the population is growing, that will bring a crash. Seeing this happening, a smart builder pulls back and makes sure finances are solid."
That's a lesson many local businesspeople have learned the hard way in the past few years. But while the economy seemed to lag for much of 2010, some real signs of growth appeared in the fourth quarter, notes Marlene Asselta, president of the Southern New Jersey Development Council. "That's unusual because, traditionally, not too much happens in the fourth quarter of a business calendar," she notes. "Businesses are saying they're more confident in the predictions that the national economists are giving us, so that they can expand their business, rehire those they've had to let go, make small investments and look at new opportunities."
DRIVING INNOVATION
For large companies situated in South Jersey, the keys to moving forward have been trimming excess and exploring new revenue streams. In many cases, those changes poised businesses to be even more solid once the economy turned around.
"We had to get out of our comfort zone," explains Raymond Rastelli, president of Rastelli Foods Group in Swedesboro. "There were two major things we concentrated on: making sure that we added additional value to our present customer base and diversifying our sales strategy."
The company explored new business segments to boost sales, ultimately coming close to their 2010 revenue goals. "We're excited about 2011 as well, because we see a trend out there of confidence building. Our customer base is primarily the restaurants and high-end resorts, and they are a bit more positive in their thought process and attitude, and that usually translates into additional volume," Rastelli says. To complement that client base, the company launched its Rastelli Direct program in 2009, bringing specialty products directly to consumers. That category is growing dramatically, becoming a large segment of the company's overall business. "My gut is telling us that the future of retail sales is going to be via the Internet and viral media," Rastelli says—and now his company is part of that future.
Another notable local presence, Melitta, is also branching out, pushing its Café Collection, which debuted in 2009. The company is investing $10 million into its 40-year-old Cherry Hill coffee roasting facility as a result. "The modernization is tied into the strategic plan for the growth of our coffee," says Donna Gray, director of public relations for the company.
Businesses survived the recession by learning how to do more with less, says Les Vail, executive director of the Gloucester County Chamber of Commerce. "I see businesses looking to be more creative in finding more affordable ways to promote themselves. They are looking for different networking opportunities," he adds. To accommodate those needs, the chamber has added more free networking events and created a Buy Local Community Portal, to get people shopping in their communities. And they are working with the Entrepreneurs Forum of Southern New Jersey at the South Jersey Technology Park at Rowan University to develop new best practices training classes.
Banks are getting creative as well. For example, Liberty Bell Bank started a business development group last year, according to chief lending officer John Herring. "We're getting a lot of loan requests as a result of that group's activity," he says.
THE GOVERNMENT INFLUENCE
State and local government entities have also been working to drive the economy—with varying degrees of success. At the state level, Gov. Chris Christie is pushing forward with the economic development plan he set out early in 2010, including the New Jersey Partnership for Action and Choose New Jersey, which is marketing the state as a business hub. And more recently, legislators have approved a package of bills under the Back to Work New Jersey initiative: those include some $500 million in tax breaks for tech startup investors, the movie industry and historic preservation efforts. The plan also includes a change to corporate tax structures and funding for on-the-job training for the unemployed.
DiLorenzo says that such initiatives are already making a difference in South Jersey.
"I believe our members have had their hope in the future restored because of the Governor's strong support of the business community and his commitment to stabilizing our tax structure," she says. "A strong business climate and firm financial footing on the state, county and municipal levels will ultimately lead to the creation of jobs. The biggest issues facing our state are taxes; the state budget and fiscal stability; and unemployment."
While local government agencies have suffered extreme cutbacks due to the downturn in the economy, there are still a number of county- and municipal-level programs designed to attract and retain business. These include low-interest loans, grant programs, property tax and payroll tax incentive programs.
Among the unusual creditors stepping in is the Burlington County Bridge Commission, which now handles economic development for the county. They offer businesses zero-interest and low-interest loans. Mark Remsa, the county's director of economic development and regional planning, says loans are available for working capital up to $50,000 and gap financing up to $200,000. In many cases, the county will underwrite part of a loan, and a bank will provide the rest. Gap financing, for example, is helping Riverside's Café Madison to expand, while a Recovery Zone Facility Bond will help fund the development of medical office and retail complex in Edgewater Park.
"We've been seeing a lot of interest and have been processing a lot of applications," says Remsa. However even these county-sponsored loans have their limits. "Unfortunately, a lot of [the applications] have been falling short because of stiffer underwriting standards that banks are now employing. But we haven't seen any waning of interest. There's actually been pretty steady interest from people trying to grow their own businesses."
Likewise, the Camden County Improvement Authority serves as a one-stop shop for government incentives to assist businesses in Camden County looking to grow. "There are incentives offered by a multitude of agencies," says Sandi Kelly, director of economic and business development for the Camden County Improvement Authority. Such services include site selection, financing, project management and workforce training. "We work with federal, state and local agencies to package everything together and act as an account representative for the business.... We help get them from ground-breaking to ribbon-cutting to expansions, and we help them with any kind of advocacy issue they may have."
And in Gloucester County, the Department of Economic Development is getting creative, working with the New Jersey Economic Development Authority and local financial institutions in order to pave the way for new businesses to enter the county. "Gloucester County has stepped up our efforts in targeting niche industries and promoting our region for new growth," says Lisa Morina, the director of the county's Department of Economic Development. The New Jersey Department of Labor projects that Gloucester County will be South Jersey's job-growth leader through 2016 as a result.
INCOMING!
While there are certainly challenges, there's plenty of reason for optimism according to Bob Wahlquist, senior regional manager for Pennsylvania Real Estate Investment Trust, whose portfolio includes the Cherry Hill Mall. South Jersey, he notes, "is less congested than many parts of the greater Philadelphia metro area. There's tax-free shopping on apparel and shoes. There is a diverse population. And, while we've been impacted by the economy, we've not been devastated the way certain parts of the country have been. Add all those together and it gives us advantages over other parts of the country."
Among the bright spots in South Jersey's business climate are a number of new construction projects that are either underway or scheduled to begin in 2011. The Port of Paulsboro, set to come online in 2012, is one of the most aggressive job creation projects being undertaken in the region. The Marine Terminal Project involves redevelopment of an industrial brownfield site and is expected generate up to 750 temporary construction jobs and up to 2,500 permanent jobs. Alternative energy is also sparking an investment surge: Three solar power generation facilities are planned for West Deptford alone, while another is slated to come online in National Park and a fifth is planned for Monroe Township.
Also in Gloucester County, phase two of the $300 million Rowan Boulevard project in Glassboro, an $18 million student housing project, was completed in August 2010, while a 36,000-square-foot, $14 million Barnes & Noble opened in November. This year, Rowan Boulevard will break ground on an $18 million Courtyard by Marriott hotel, a $30 million mixed-use building and a $33 million, 1,300-car parking garage.
Meanwhile, in Camden, the conversion of the old RCA building into condominiums is in the environmental remediation stage and should be completed in mid-2012. A new student housing facility is in the works for Rutgers-Camden, with construction to begin in 2011 and to be completed by the fall of 2012. And the Campbell Soup Co. in June opened an 80,000-square-foot building, bringing the headquarters' total space to 750,000 square feet. The company is also the master developer of 70 adjacent acres, called Gateway Office Park, which will bring in some 500,000 square feet of new office space.
And there's another food-manufacturing giant on its way. Pinnacle Foods, the maker of such brands as Vlasic and Duncan Hines, plans to invest $6 million into an expansion at the Woodcrest Corporate Center in Cherry Hill. Pinnacle will move about 270 employees into the 56,267-square-foot building on the site of the former Langston Steel Plant.
Healthcare continues to be an expanding industry across South Jersey. Gloucester County, for one, saw more than $150 million in new capital investments last year, including expansions at the Kennedy Wellness Center and Penn Medical facilities in Woodbury Heights. And Kennedy Health System's $12.5 million, 60-bed sub-acute-care wing at its Kennedy Health Center in Washington Township is expected to begin seeing patients in January 2011.
And, there's more to come. The new $750 million Virtua Hospital in Voorhees is almost complete, and will open in early 2011. In Camden, construction of the Cooper Medical School of Rowan University is slated for completion in 2012, while a joint project between Lourdes Health System and the Delaware River Port Authority will bring a transit-oriented development, including offices and a grocery store, to the city's Ferry Avenue station.
"It's been the meds and eds in Camden City that have been leading the redevelopment efforts by not just improving their own facilities, but by encouraging development around the neighborhood where their facilities are located," says Camden County Freeholder Director Louis Cappelli Jr.
RETAIL RECOVERY
The retail sector was hard-hit during the recession, yet in South Jersey there are plenty of positive signs, Cappelli says.
"We're beginning to see some slow, steady growth both on the development side and growth in the job market as well," he says. "I think a measure of how well Camden County did during this recession is reflected in some of the retail development that's occurred over the past two years, mainly the retail development at the Cherry Hill Mall, the site of the former Garden State Race Track, and also the Cross Keys retail center that has continued to thrive through this recession."
"New Jersey has high density and good demographics," adds James Westfall, asset manager for Stanbery Development. The company's Shoppes at Cross Keys, which opened in Gloucester Township in 2009, were already 83 percent occupied by fall 2010. Just as important to retailers as desirable demographics are the synergies available to them. Chico's, for instance, likes for its stores to be located near Ann Taylor Loft and Coldwater Creek shops. All three are in the Shoppes at Cross Keys.
On the White Horse Pike in Somerdale, Cooper Towne Center recently opened, bringing in new retail, including a Walmart. Construction has also begun on affordable housing on the site. As well, Wawa is building a location at Route 30 and Franklin Avenue in Berlin, with plans to open by the end of the year. "We have additional developments being pursued in Cherry Hill, Gloucester Township and Pennsauken," says Wawa spokes­person Lori Bruce. Beneficial Bank last May opened two new branches in Cherry Hill. Along with traditional banking services, the locations offer a financial literacy program that includes workshops, a library and a "little learners" corner for kids.
Retail is often a leading indicator for economic recovery, and it's on the upswing. For example, in Gloucester County alone, new retail establishments that have opened during the past six months include Big Lots, Sixth Avenue Electronics, Joyce Leslie, Bot­tom Dollar, Rite Aid, Walgreens, Wawa superstores and a number of restaurants.
While there's plenty of work to be done, for South Jersey businesses that could be very good news indeed.
The Job Market What openings, expansions, layoffs and closures mean for South Jersey, by the numbers.
+2,500 jobs
The Port of Paulsboro could bring thousands of permanent jobs both in cargo handling and via the businesses expected to set up shop at the port.
+1,000 to 2,200
Virtua Hospital in Voorhees could see its 1,800-strong full- and part-time workforce shoot to 2,800 workers, with the possibility of 4,000 when the campus is fully developed.
+700
Rowan Boulevard will bring hundreds of jobs into the Glassboro area.
+500
In addition to 100 construction jobs, Somerdale's Cooper Towne Center is likely to bring 500 permanent jobs.
-500
Last February, more than 500 jobs left the area when the U.S. Post Office shuttered its Philadelphia Logistics and Distribution Center at the Pureland Industrial Complex in Logan Township.
-400
Last February, Sunoco's Eagle Point Refinery closure cost 400 jobs in West Deptford.
+350
Virtua Health and Wellness Center in Washington Township added hundreds of workers when it opened its new 256,000-square-foot, $31 million facility last spring.
-175 to 219
Viking Yacht Co. in New Gretna, Burlington County, put workers on indefinite furlough in October, the latest in several years of cutbacks.
-175
Watson Quality Foods closed its Blackwood facility, displacing 175 full- and part- time workers.
-162
Last March, Sony cut 162 jobs from its plant in Pitman, where it ended DVD production.
-160
Jobs eliminated in New Jersey by the closure of Marlton and South Plainfield Sears Essentials stores in 2010.
+150
JVK Operations Ltd. spent $4 million to develop its medical linen laundering facility in Washington Township, bringing in an expected 150 jobs by 2012.
+135
A new medical complex with retail and offices being developed by the Edgewater Park Crossing Group on Route 130 in Edgewater Park Township is expected to create 135 jobs.
-135
Jobs lost last spring in the closure of the Office Depot distribution center in Westampton.
+100
The Cooper Medical School of Rowan University, in addition to 300 to 400 construction jobs, is expected to add around 100 permanent positions in Camden.
+90
Pinnacle Foods' $6 million expansion at the Woodcrest Corporate Center in Cherry Hill added 90 jobs and retained about 130 with a move into the former Langston Steel Plant.
+85
In 2010, Midwestern retailer hhgregg added 50 jobs in the new Deptford retail center. It also opened a regional distribution center in Logan Township, adding 35 positions.
+80
Rastelli Food Group added 91,000 square feet of manufacturing space in Logan Township and will be ramping up to 80 new jobs by year's end.
+80
Catapult Learning, a provider of educational services moved its headquarters to the Ferry Terminal Building on Camden's waterfront, and will add 80 jobs in the process.
+65
The redeveloped Browns Mills Shopping Center in Pemberton Township will generate around 65 jobs.
+60
SSM Industries, a high-tech HVAC materials company, purchased a 46,000-square-foot manufacturing facility in West Deptford, and added 60 new jobs.
+50 to 70
Schar, an international food manufacturing company, will open U.S. headquarters in Logan in late 2011, a $14 million new construction project that will add up to 70 workers.
+30
Diversified Industries, which moved its 65 employees to Woolwich in 2010, is expected to add 30 more jobs in the next decade.
+26
Cargill Food's distribution center relocated to a 40,000-square-foot facility in Logan Township in 2010, creating 26 new jobs.
+25
Long-established operations at CompuCom underwent a $2 million expansion in Paulsboro, retaining 250 jobs and adding 25 new positions.
+16
The Cafe Madison expansion in downtown Riverside will add jobs following the construction of a new banquet hall.
Published (and copyrighted) in South Jersey Biz, Volume 1, Issue 1 (January, 2011).