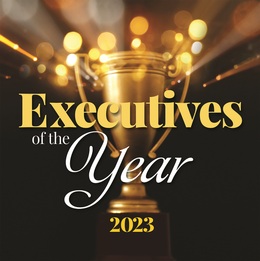 Executives of the Year 2023
For this year's edition of our annual feature, we wanted to showcase not only the impressive accomplishments of the area's decision-makers, business bigwigs and giants of industry but also get to know the people behind the titles. With that in mind, we're pleased to introduce our readers to 2023's Executives of the Year, 19 individuals who've answered leadership's call to action in their ongoing missions to make South Jersey—and its neighboring regions, too—a great place to both work and call home.
M. Susan Hardwick, President and CEO, American Water
At American Water Works, the country's largest publicly traded water and wastewater utility company, Hardwick leads 6,500 professionals providing drinking water and wastewater services to more than 14 million people in 14 states. She joined American Water in 2019 and became CFO that same year; in 2022, Hardwick was named president and CEO, and was elected to its board of directors. Her board positions also include New Jersey Resources, Family Promise and the Philadelphia Chamber of Commerce. She previously served as executive vice president and CFO of Vectren Corporation, and has held leadership roles with a variety of community boards.
What kind of hobbies do you have?
I love to cook! It is a great stress reliever. I love to experiment with recipes and try them on my (unsuspecting) friends. I also collect antiques, particularly pottery from the turn of the century (1900s–THAT century!). I enjoy researching the history of the pieces and learning more about how they were utilized.
Quandell Iglesia, CEO and Team Leader at IQ Real Estate Team/Founder of SNJ Millennials
Iglesia is a dedicated and passionate individual, multifaceted entrepreneur and community leader. Through IQ Real Estate Team (HomeSmart), he serves New Jersey and Pennsylvania communities; through the nonprofit SNJ Millennials (SNJ Next), he introduces young professionals to new business networks while providing them with valuable business educational resources. Iglesia is also on the board of education for Monroe Township Public Schools, has received numerous awards, been recognized in numerous publications and a former New Jersey Young Democrats - Southern Vice President. Throughout his endeavors, Iglesia is a true servant-leader dedicated to success and service, leaving a lasting impact on his community, education and the business world.
What was the first thing you remember wanting to be?
When I was younger, I first wanted to be a photographer.
How do you balance your leadership role with your home life?
Balancing my leadership role with my home life can be challenging, but I live by the scripture Matthew 6:33.
Mary O. Griffin, PMP, IOM, Vice President, Member Relations and Programs, African American Chamber of Commerce of NJ (AACCNJ)
Griffin oversees the day-to-day operations of membership retention, relations and programs structured to meet the goals, objectives and services commensurate with the mission of the chamber. Previously, she spent 37 years as a program manager/project director in the telecommunications industry, starting with Bell Labs in 1981, and received her BS in mathematics and computer science from Fayetteville State University and MS in computer science from Hoboken's Stevens Institute of Technology. Griffin currently serves on the New Jersey Small Business Development Centers advisory board, The Supplier Diversity Development Council board, the Bancroft board of trustees and the 2023 Northeast Board of Regents for Institute.
What kind of hobbies do you have?
In my spare time I like to play pickleball and watch sports.
How do you balance your leadership role with your family life?
I focus on being productive during the work week so I can dedicate my weekends to my family by being fully present and engaged while making memorable moments.

Ashley Griffiths, Executive Director, Gloucester County Habitat for Humanity
Griffiths has worked in the nonprofit industry for over a decade, with specific experience building programs to both increase access to affordable homeownership and support the military and veteran communities. She earned a B.A. in history from Temple University and is a proud AmeriCorps alumna, for which she credits teaching her the importance of leadership and turning talk into action to implement change. Griffiths volunteers with the Delaware Valley Veterans Consortium, serving on the executive and membership committees, and participates in the Honorary Commander Program at Joint Base McGuire-Dix-Lakehurst. Griffiths also enjoys the performing arts and can be seen in regional stage productions.
What was the first thing you remember wanting to be?
The first thing I wanted to be growing up was an actress. It continued to be my dream, although as I grew older I realized the reason behind it was bigger: I wanted to change the world, and I thought that being famous would provide the platform and resources to have a greater impact.
Dianna Houenou, Chair, NJ Cannabis Regulatory Commission
In November 2020, Houenou was appointed by Gov. Phil Murphy as the first-ever chair of the New Jersey Cannabis Regulatory Commission, which officially launched in April 2021. Before becoming chair, she was a senior policy advisor and associate counsel in Gov. Murphy's office. Her work focused on criminal justice, community affairs and immigrants' rights. Houenou helped establish the state's Office of New Americans, pushed for expungement reform and ensured cannabis legalization provided critical protections for people. Before joining the government, she led the American Civil Liberties Union of New Jersey's efforts to advocate for cannabis legalization, police accountability, and immigrant-friendly policies in municipalities and state governments.
What was the first thing you remember wanting to be?
When I was about five years old, I wanted to become a police officer simply because I'd get to run red lights. Later, my family predicted that I would be a lawyer because I often argued over minute details. I didn't think much of it then, but their predictions turned out to be true!
Simone Bryerman, Owner, Proshred Southern NJ
Born in England and graduating from Reading University with a degree in typography and graphic communication, Bryerman started her career as a designer. This led to her first entrepreneurial business in the design and printing industry, which she successfully sold after several years. When she moved to the USA, Bryerman went from printing paper to shredding it when she and her husband Howard opened the Southern New Jersey Proshred franchise. Adding Proshred Delaware, hard-drive shredding and electronics disposal—as well as specializing in excellent customer satisfaction—has enabled Proshred SNJ to grow to include multiple trucks and a bigger staff.
What was the first thing you remember wanting to be?
I wanted to be an opera singer, as I was around many classical musicians from an early age, including Andre Previn, Kiri Te Kanawa and Vladimir Ashkenazy, to name just three. Unfortunately—or fortunately—I realized that living life out of a suitcase was not for me, much to my parents' relief.
Ren Cicalese, CPA, PFS, CGMA, Managing Shareholder, Alloy Silverstein
A Rutgers–Camden alumnus, Cicalese joined Alloy in 1980. Since then, he has seen the CPA firm's team grow and services expand, and will celebrate its 65th anniversary in 2024. In addition to providing tax and accounting solutions to individuals and businesses, Cicalese manages the firm and supervises its services in the areas of M&As, reorganization, client accounting services, payroll and more, and is a member of several professional organizations. The Medford resident passionately advocates for giving back to South Jersey and leads Alloy through many charitable initiatives, including an Adopt-a-Family drive, American Heart Association fundraising, encouraging employees' paid volunteer days, and hosting collection drives.
What's a secret talent or skill of yours that would surprise people?
How hard I work, still to this day. It would surprise people how early I get to work each morning, and that I'm always the first one in. And that I started my accounting career as a tax season temp—yet here I am today.
Mike Dinneen, President and CEO, First Harvest Credit Union
First Harvest Credit Union serves South Jersey through seven branches and, under Dinneen's leadership, it has prioritized investing in underserved communities, fortifying its balance sheet, and will soon be creating more than 20 new South Jersey jobs to support growth, improved member service and new virtual banking channels. Dinneen holds an MBA from DeSales University, a BSJ from West Virginia University, and a certificate in strategy and digital marketing from Cornell University. He has given his time to numerous children's-based organizations within Burlington County, including the Mount Holly-based Sacred Heart CYO and the Lumberton Township Education Foundation.
What was the first thing you remember wanting to be?
At a young age, my favorite teachers inspired me, and I wanted to become a teacher or bus driver.
How do you balance your leadership role with your home life?
Your true identity and legacy is your family, not your leadership title. As a CEO, although your work always follows you home, I don't ever lose sight that my true role at home is dad and husband first.
Kim Hanemann, President & CEO, Public Service Electric & Gas (PSE&G)
In June 2021, Hanemann assumed her current role at one of the largest combined electric and gas companies in the United States—which is also New Jersey's oldest and largest publicly owned utility, serving nearly three-quarters of the state's population, or approximately 2.6 million customers. Previously, Hanemann was PSE&G's senior vice president and COO, responsible for electric, gas and customer operations, as well as asset management and centralized services organization. She also oversaw the on-time, on-scope and on-budget execution of the company's large construction projects. Hanemann is on the board of directors forMiddlesex Water Co., New Jersey Chamber of Commerce and New Jersey Utilities Association.
What was the first thing you remember wanting to be?
The first thing I remember ever wanting to be was a veterinarian.
How do you balance your leadership role with your home life?
The key is to be present for the important stuff. When you're home, be present at home. When you're working, be present at work.

Shawn C. Thomas, Ed.D., Executive Director of Adult & Continuing Education and Business Engagement, Rowan College at Burlington County
Dr. Thomas has earned dual doctorates in higher education leadership and organizational leadership from Nova Southeastern University, a master's degree in adult and organizational development from Temple University, and a master's degree in human resource administration from Holy Family University. She has a passion for seeing both individuals and organizations not only pursue but also achieve their highest potential, stretching beyond their fears to do what they thought was impossible. In her current role, Dr. Thomas and her team are responsible for developing non-traditional educational pathways to ensure students are able to reach their employment and educational goals.
What kinds of hobbies do you have?
I love learning new things! I make jewelry, bath and body products, garden, cook, decorate, reading and writing.
What is a secret talent or skill of yours that would surprise people?
I was a farmer for a few years, raising Yorkshire hogs. I'm not afraid of hard work: I can set fences and muck stalls with the best of them!
Gary Farnesi, Senior Vice President, Commercial Banking Team Lead, WSFS Bank
Farnesi manages a team of associates in assisting business customers with their banking and lending. He takes great pride in mentoring his team, helping them develop their careers and building the next generation of bankers. Prior to his banking career, Farnesi started Office Tech Inc., which became one of the largest leasing and technology companies in the tri-state area. His entrepreneur and business-owner experience provides him with the firsthand knowledge that helps customers meet their goals. Farnesi has served on several nonprofit boards, including CTS Youth Transition Center, and coached youth programs in Camden and Pennsauken, along with conducting financial mentor programs for high school students.
What's a secret talent or skill of yours that would surprise people?
I was one of the youngest inductees into my high school's athletic hall of fame, and I also sang in the choir. I was cast as the lead in one of the school's shows, where I played Horace Vandergelder in Hello Dolly.

Jon Katz, President & CEO, Bestwork Industries for the Blind, Inc.
For more than 20 years, Katz served in the U.S. Marine Corps in infantry, logistics, acquisition, and recruiting, and he has since worked in the defense industry and as an entrepreneur. He has devoted the past eight years to working in the nonprofit sector, first as vice president for business development at National Industries for the Blind in Arlington, Virginia, and leading Georgia Industries for the Blind in Bainbridge before taking over the helm as president and CEO of Bestwork Industries for the Blind, Inc., New Jersey's largest employer of people who are blind or visually impaired, and located in Cherry Hill.
What kind of hobbies do you have?
I enjoy boating and I'm an avid fisherman, specifically offshore fishing for tuna. I'm very active and a passionate cyclist. I annually participate in the Great Cycling Challenge, which raises money to fight childhood cancer. I love muscle cars, and attend car shows at the Shore with "Ole Bessie," my 1964 Chevy Nova.

Ardella Coleman, MHR, MBA, CDE, CMP, Vice President, Diversity and Talent Acquisition, Cooper University Health Care
A Chicago native, Coleman got her GED before joining the U.S. Navy, where her responsibilities were to support personnel and military pay functions. Following active duty, she earned her first degree from University of North Florida before pursuing a master's degree at Howard University, an MBA through the University of Phoenix, and a master's in human resources, labor and industrial relations from Michigan State University. The trajectory of her life and career has focused on people and supporting both organizational and employee workplace success. In Coleman's current role, she leads talent acquisition and supports diversity hiring for Cooper, as well as leading its diversity programs.
What was the first thing you remember wanting to be?
I wanted to be a firefighter very early on, but women were not allowed to do as during that time. So, when I was 8 years old and I saw a sign in the post office advertising for women to join the military, that was something I decided I wanted to do. So I did it.
Adam S. Malamut, Esq., Founder and Managing Partner, Malamut & Associates
Malamut is a respected attorney known for his passionate client advocacy. With expertise in various legal domains—including redevelopment, labor and employment law, litigation and education law—he leads a thriving mid-sized law firm headquartered in Cherry Hill, where he represents dozens of authorities, municipalities and counties. He is a life member of the Million Dollar Advocates Forum and a SuperLawyer since 2019. Notably, Malamut received the prestigious Civil Rights Award from the NAACP in 2015. His popularity is rising quickly as a video content creator, exploring topics such as politics, current events, the law, sports and sports memorabilia.
What's a secret talent or skill of yours that would surprise people?
I'm not sure I would call it a secret talent, but I love to cook. My father was an amazing chef and definitely passed his love for food along to me. Luckily, my wife Nicole and kids, Ava and Chase, also share this passion, so the kitchen has become a great family gathering place.
Melissa Fox, MHA, FACMPE, FACHE, Chief Operating Officer, Acenda Integrated Health
A leader in healthcare operations and innovation, Fox brings over 20 years' experience to her role. She oversees more than 120 programs throughout 12 counties, has secured millions of dollars in federal, state and private funding to launch pilot initiatives for vulnerable and marginalized populations, and leads the team launching the state's first public health institute. Fix has spoken about disparities and integrated care at events such as the USDA National Nutrition Security and Healthcare Summit, the Centers for Medicare and Medicaid Services Health Equity Conference, and The Office of Head Start in the Administration for Children & Families regarding Black women's health disparities.
What was the first thing you remember wanting to be?
I remember wanting to be a teacher. My mom was a teacher when I was very young, and I spent a lot of time as a child with my father in college classrooms when he was in grad school—he even gave me my own little journal to take notes!
Lee Sheilds, Office Managing Partner, Marcum
With more than 25 years of public accounting and tax experience, Lee represents business and individual clients in a wide variety of industries, including real estate, manufacturing, distribution, technology and professional services. Much of his client base comprises medical and dental practices where he has been instrumental with buying and selling transactions. Sheilds is sought after for his knowledge on new and ever-changing tax programs, such as the Paycheck Protection Program and Employee Retention Credits. His expertise includes preparing corporate, partnership and individual income tax returns, advising clients on maximize capital efficiency and minimize tax liabilities, and representation before federal and state taxing authorities.
How do you balance your leadership role with your home life?
Although it's sometimes difficult, I only attend to clients' emergencies when I am at home; non-urgent matters, I'll handle the next morning. I find it helpful to start the day off very early to ensure all client needs are met.
Sydney Montgomery, Esq., Executive Director and Founder, Barrier Breakers
Faith-based nonprofit Barrier Breakers increases access to—and success in—higher education for BIPOC and other marginalized groups, having worked with 7,000 students on the college and law school admissions process. Montgomery holds a B.A. in English from Princeton University, a J.D. from Harvard Law School, a certificate in independent educational consulting from UC Irvine, and a certificate in anti-racism in urban education from the University of North Carolina at Charlotte. A member of numerous organizations, Montgomery is also an MDiv/MACEF candidate at Princeton Theological Seminary. She speaks at and leads workshops about educational equity and diversity, equity and inclusion in higher education, corporate and faith-based settings.
What was the first thing you remember wanting to be?
I've wanted to be an attorney since I was 8. When I saw a TV program talking about adoption, I brought the idea to my parents, who said no. That sparked my interest in both the foster-care system and being an attorney who helps children. I did practice family law before launching Barrier Breakers!
John Oberer, Senior Principal/Operations Officer, GZA GeoEnvironmental
With over 30 years' experience in environmental site assessment, underground storage tank, hazardous waste, soil and groundwater investigations, and remediation, Oberer has been involved in investigations and remediation of soils and groundwater in both unconsolidated and bedrock aquifers at sites involving organic and inorganic contaminants. Since the establishment of New Jersey's Licensed Site Remediation Professional (LSRP) program, Oberer has served as the LSRP of record for various sites, preparing Response Action Outcomes and other required submittals. He is a founding member of the Licensed Site Remediation Professionals Association, having served on its interim board of directors and board of trustees and held every executive office.
How do you balance your leadership role with your home life?
The most difficult things about being in a leadership role are not bringing work problems home, and spending time both on the things you enjoy and with those you care about. I try to leave work at the door at the end of the day so I can be with my family 100% at home.
Sam Ferraino, President, Southern New Jersey Central Labor Council, AFL-CIO
Since 2004, Ferraino has served as president of Local 360, continuing his quest to preserve the rights and benefits of its 12,000+ members, and is president of the Southern New Jersey Central Labor Council AFL-CIO, an organization protecting the quality of life for working people. He was elected chair of the Cannabis Apprenticeship Program, in conjunction with the Department of Labor and Rowan University. Ferraino additionally chairs ShopRite's pension and health funds, chairs the Local 360 health, pension and severance funds for numerous employers, and is a trustee for the funds providing health, pension and legal benefits to New Jersey, Pennsylvania and Delaware union members.
What kind of hobbies do you have?
I have several cherished activities, including coin collecting, physical fitness and painting custom football helmets. My most substantial hobby revolves around community engagement: I find immense satisfaction in actively participating within organizations such as Gloucester County Improvement Authority, Woodbury City Council and the school board, where I contribute to empowering my community.
---
Click here to subscribe to the free digital editions of South Jersey Biz.
To read the digital edition of South Jersey Biz, click here.

Published (and copyrighted) in South Jersey Biz, Volume 13, Issue 11 (November 2023).

For more info on South Jersey Biz, click here.
To subscribe to South Jersey Biz, click here.
To advertise in South Jersey Biz, click here.