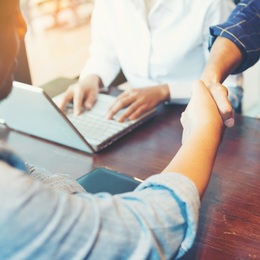 Putting the Customer First
Now more than ever, building strong relationships is crucial to sustaining and growing your business.
Dana Lancellotti certainly knows a thing or two about the importance of strong customer relationships, and not just because she currently serves as the president and CEO of the New Jersey Restaurant and Hospitality Association (NJRHA). With previous roles in the tourism industry, as well as jobs in hotels and restaurants, it is a topic she has experienced firsthand from multiple perspectives.
The way she sees it, a major reason why many get into this type of work is the desire to meet people and provide them with an enjoyable escape.
"People who are drawn to the hospitality industry, people who own restaurants and work in management in restaurants, are people who really get a thrill out of giving people a great time," Lancellotti says. "They love to see people enjoying their food, enjoying their atmosphere, enjoying the ambiance, all of those things. They really put their heart and soul into it, and it's very different from other industries in some cases, because that may not be what's always needed in every industry, but it's expected in ours."
Customer satisfaction is critical to the success of restaurants, hotels and tourist destinations, but it is a concept that is essential to all types of businesses. Giving clients a positive result usually means they will return in the future themselves and even share their experience with family, friends and through social media.
South Jersey Biz spoke to professionals from three different sectors to learn what they feel are the secrets to building great customer relationships: Lancellotti, whose organization supports business owners by educating them, advocating on their behalf and holding special events; longtime real estate professional Anne Koons, who has established herself as a respected agent in both the residential and commercial markets with her client-first philosophy; and Jo-Ann Weiner, EA, CFE, the founder of J.L. Weiner & Associates and a specialist in forensic accounting.
What do you feel is the secret to building strong customer relationships in your particular industry?
Anne Koons: I've always treated people the way I wanted to be treated. Sometimes, I've been accused of being very tough, but you don't get anywhere in this world being a pushover. I know my business, and I would say if you really know your business, it's an easier sell—whether you're listing a property or buying a property—to have people work with you. They feel confident dealing with someone who has been through it before and knows the market.
Dana Lancellotti: Everyone has a different setup, and a lot of times the owner is the one greeting the customers. But if they don't have that, it's very important that they pass along their customer-friendly parameters to their staff, their servers, their bussers and their bartenders—all of them need to understand the deep philosophies of that particular restaurant or entity. You want the customers to feel like they're always welcome.
Jo-Ann Weiner: It is very important for me to understand all the facts I can from the client and listen to their point of view. In addition, it is my belief that all my clients can understand the most complicated tax matter or forensic matter once it is explained in a clear way to them. The clients deserve that respect.
Have you witnessed repeat or referral business based on the client satisfaction you've been able to provide?
JW: Yes, I do have repeat clients because life is hard, situations arise, and I feel blessed that they trust me to assist them. I strive hard to achieve results that are fair and reasonable and to hear two words from my clients: thank you. Then I know my client is satisfied.
AK: Referrals are very important and I've gotten a lot of business that way over the years. … It's been interesting the last few years because you had a lot of people get their [real estate] license. … I feel like a lot of the people who came into the industry were looking to make a quick buck. They didn't really care about the person they sold the house to or about getting a referral, and a lot of them didn't do their homework. There's more to selling a house than putting a sign up or taking people through a house. You have to know about the mortgage industry, inspections, locations, schools—there's a lot that goes into it.
In the era of online reviews and social media posts, does that make business owners more mindful of customer service?
DL: Unfortunately, people who are not happy are much more likely to write something on a review than the people who had a wonderful experience. … So it is a big deal, and I think the most important thing to do is respond. If you get a bad review, respond to it and say, 'I would really like if you came by and gave us another try,' or 'Give us a call so we can talk and make it right.' All of those things are super important, but here's the reality: In a lot of cases they can set that up and hopefully the bad reviews aren't coming often, so it's manageable. But then there are those owners who don't have extra staff sitting at a desk and searching online to make sure their approval rating is good. There are companies out there providing assistance with that, so I would certainly recommend that they look into it. They're always welcome to call us and see if there's anything we can recommend as far as technology that helps you to manage your standing, your reputation and your image online.
---
Click here to subscribe to the free digital editions of South Jersey Biz.
To read the digital edition of South Jersey Biz, click here.

Published (and copyrighted) in South Jersey Biz, Volume 13, Issue 10 (October 2023).

For more info on South Jersey Biz, click here.
To subscribe to South Jersey Biz, click here.
To advertise in South Jersey Biz, click here.