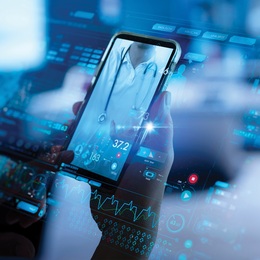 Innovation to Advance Patient Care
As the South Jersey health care industry moves forward in a post-pandemic era, changes in what patients are looking for in care has come into sharper focus.
In considering the impact the pandemic has had on South Jersey health care, it is easy to get caught up in the loss. There was a staggering loss of life, countless employees lost their jobs and the economic hit yielded a loss in revenue that is still reverberating across the industry years later.
But as we now find ourselves firmly in a post-pandemic era with a health care industry that is steadily recovering, it is also easy to recognize a somewhat unexpected boon to come out of this experience.
Namely, innovation and advancement in patient care.
Those in health care, of course, are always assessing the best way to move forward, but the pandemic has influenced both the speed of this development and which needs should be moved to the forefront.
And local industry leaders took notice.
"The patient experience is important to us," Julie Dwyer, director of operations at Premier Orthopaedic Associates, says. "You always have to think a little outside the box for the patient care side and focus on what's best for them."
Creating new care
---
Telemedicine experienced incredible growth in 2020, and it has only continued this upward trajectory since. And those serving South Jersey in the health care industry have focused on a number of programs and partnerships that utilize remote care in inventive new ways.
"Our goal is to meet patients where they are and we know that patients want to have their
family nearby when they are dealing with a medical issue," Baligh R. Yehia, MD, MPP, MSc, FACP, president of Jefferson Health, says.
The expansive multi-state hospital and health care network's virtual reach has only made it easier to serve patients.
"Jefferson has an extensive portfolio of telehealth offerings including primary care, cardiology, diabetes management, urology, medical oncology, neurology and rehabilitation, among other services," Yehia says. "For our patients in New Jersey, we also provide an expanded level of convenient at-home services, including primary care and nursing services."
Utilization of behavioral health care has also witnessed a marked uptick since the pandemic, and industry leaders have worked to figure out how best to meet this growing demand.
In 2021, AmeriHealth—which insures 265,000 New Jersey residents—announced a collaboration with Quartet Health to address its members' behavioral health needs. The virtual Quartet platform can gauge a patient's needs, connecting users with the appropriate treatment or provider.
"It enables us to identify folks who are really in need a lot earlier," Mike Munoz, market president at AmeriHealth, says.
At Premier Orthopaedic Associates, meeting the evolving needs and wants of its patients has been a focus of the company. Remote health monitoring has been an unquestionable patient desire across the field during the pandemic, according to Dwyer. To that end, the company is currently launching two remote monitoring initiatives.
The first is a partnership with PatientIQ, a digital monitoring platform that inputs and analyzes patient surgical outcomes in order to help define which are best, while assisting health care personnel in developing the highest quality of care. A big difference, according to Dwyer, is how PatientIQ incorporates how a patient is feeling about their progress or benchmarks.
"The individual patient experience sometimes varies from what is clinically shown on paper or through a diagnostic exam," Dwyer explains. "The goal is to obtain more of a direct patient experience into the database in order to study what is best for the patient and where they feel they are (or are not) progressing."
A partnership with BioIntellliSense has also proven beneficial for the orthopedic provider. Remote monitoring with the BioButton® wearable device at home, combined with algorithmic-based analytics, may exhibit signs of clinical deterioration and possible surgical complications via continuous patient trending and reporting while at home.
"This is wonderful for the patient and may also benefits the hospital by enabling shorter patient stays," Dwyer says. "I am very excited to see how the solution works for our patients."
When the pandemic was at its worst, Virtua Health was quick to start a comprehensive Hospital at Home program. The program provides 24/7 access to Virtua's care team and routine at-home visits.
"This was at a time when hospitals were experiencing record capacity," says John Matsinger, DO, MBA, the health care system's executive vice president and chief operating officer. "Even though the demand on our resources has subsided, the demand for Hospital at Home continues to grow. This is because we can provide hospital-level care in people's bedrooms."
"Studies show that this model helps people heal faster, have a better overall experience, and feel more ownership of their health. Our data reflects those benefits too," Matsinger continues.
Another invaluable resource for Virtua has been its urgent care telehealth program, which enables individuals with a suspected or confirmed illness, such as COVID-19, to connect with a provider without ever leaving home. The program offers convenience with the added benefit of keeping others safe.
"At Virtua, we strive to treat each person as a unique individual and develop a care plan that is specific to them," Matsinger says. "These advances in technology empower that."
A continuing health priority
---
The U.S. Department of Health and Human Services declared an end to the COVID-19 public health emergency in the spring, but the lingering effects of the pandemic and the evolving variants continue to make the virus a health priority.
"Although we're gradually learning to manage to live with COVID-19, the reality is the virus is here to stay," Munoz says. "It's like the flu—it's going to be around forever."
Most recently, when AmeriHealth compared COVID utilization, New Jersey was doing better in the number of COVID cases, although the state is starting to see an uptick.
"We're still looking to identify trends and staying ahead of the curve in the resources that we are making available to members," Munoz says.
This includes recommending vaccination and, when not feeling well, staying home and taking a COVID-19 test. It also brings up the question of masking, with mandates a thing of the past and something that many are not interested in revisiting.
Matsinger points out a difficult aspect of the current virus is how easy it is to mistake for a cold or allergies.
"I've spoken with people who dismissed their mild symptoms of illness only to realize later that they inadvertently spread the virus to family, friends or coworkers," he explains. "I recommend for anyone who feels 'off' in any way to be cautious and take a COVID test."
Safe handling
---
It's not only COVID infections that are impacting the industry; working to manage this exposure and maintain safe workplaces for both staff and patients still needs to be top priority in order to curb transmission in the first place.
"Health care facilities are trying to manage regulatory exposure, maintaining safe workplaces for COVID to keep staff and patients safe from exposure/transmission, all while still trying to maintain productivity and service the patients for the variety of needs that they come to the facility for whether surgeries, routine procedures, examinations, etc.," says Richard Lynch, PhD, CIH.
Lynch founded Environmental Safety Management Corp. to fulfill these needs. The company handles the full range of chemical and microbiological hazards that face the workplace, including chemicals such as formaldehyde and anesthetic gases; volatile organic compounds, which are commonly used in hospital settings for disinfection; and the metals, dusts and fumes that can come from building renovations and construction.
According to Lynch, it all starts with a "careful" approach that includes investing in the equipment and professional development to keep pace with the changing health care landscape.
"Many [facilities] have reached out to us to help them, to make sure that their facilities are safe for their staff. … We deal with infectious agents, including viruses, bacteria, mold, and [we] have been very active in helping health care facilities, hospitals, nursing homes and surgical care centers manage risks posed by the COVID emergency."
Facing challenges
---
Being able to provide patients with the care they need and desire means addressing challenges head-on across the board. Staffing continues to be problematic in the industry, although the issues seen back in 2020 have started to subside.
"Staffing is our biggest challenge as far as the clinical end is concerned. Medical assistants that reach our clinical expectations have been difficult to find and then also being able to successfully make it through our vetting process is even more of a challenge," Dwyer says.
Yehia acknowledges staffing shortages and the rising cost of health care are challenges health systems are actively facing; however, these are not the things he sees as Jefferson Health's most significant obstacles.
"Perhaps the biggest challenge we face today is providing equitable care and reaching underserved populations. In our region, the zip code in which you live could influence your life expectancy by as much as 20 years. That is simply unacceptable," Yehia says. "It is our intention to address those structural causes through deep partnerships with community and faith-based organizations, businesses, entrepreneurs and a broad base of advocates to address causes of health inequity."
Jefferson, along with several regional health organizations, is part of the recently formed Regional Coalition to Eliminate Race-Based Medicine, which aims to "work together to remove race 'adjustments' from 15 commonly used clinical decision support tools that may adversely impact patients' outcomes."
Matsinger echoed similar sentiments about the challenges of addressing inequity in health care. He is proud of what Virtua Health has accomplished in reaching underserved populations. Virtua's mobile services improve access to care by bringing services directly to communities. In 2023, the health network added a Mobile Health and Cancer Screening Unit to its lineup, equipped with 3-D mammography equipment.
"At Virtua, we are doing more than ever to prioritize matters of health equity so that all people have a chance to lead their healthiest possible life," he says. "The goal of this program—and all of Virtua's mobile offerings—is to make a meaningful intervention earlier in someone's health journey. If a mammogram reveals cause for concern, we can quickly bring the person into our cancer program and develop a treatment plan. Similarly, the children who receive screenings and services onboard Virtua's Pediatric Mobile Unit can be referred to early intervention programs or other specialists as needed. The earlier we can detect something, the greater the impact we can have."
Building a better future
---
There's noticeable excitement surrounding the world of health care. It never left—not really—but COVID fatigue is a real thing, and it has taken some time for the health care sector to bounce back.
AmeriHealth has been able to identify in its individual population about 3,500 members who potentially qualify for Medicare, and as of Jan. 1, 2024, the company will be expanding its Medicare coverage in several counties in the central and southern parts of the state. With this change, members will be able to choose from different Medicare PPO plans.
Munoz feels this change was a "natural progression" for AmeriHealth, and he's excited to offer this to their members.
"We're hoping this along with the recent announcement of the expansion of subsidies into 2028 will be good for our members," he says, "but also good for AmeriHealth, to be able to grow and be able to expand our brand."
An exciting recent addition to Premier Orthopaedic Associates, Dwyer explains, is a robot "assistant" for minimally invasive surgeries at its surgical center located in Vineland. While it is a learning curve for some of the experienced doctors, recent orthopedic graduates are actually coming from their residencies having trained with similar technology.
"While robots have been used in surgery for many years, the introduction of the technology in orthopedics in our area is relatively new," according to Dwyer.
So while the practice looks to expand its robotic offerings to help treat other parts of the body as well, Premier Orthopaedic Associates is also focusing on growing its platelet-rich plasma (PRP) therapy, which involves using a patient's own harvested platelets to generate more cell growth to repair injured tendons, ligaments or muscles.
Newer robotics procedures have come to Jefferson Health, too. A new program by the ENT team at Jefferson Health Otolaryngology-Head & Neck Surgery at Cherry Hill Hospital involved a first-of-its-kind robot-assisted electrode insertion in a cochlear implantation procedure, ensuring added control and safety.
"This technology increases capacity for individuals with hearing loss to engage with the world around them," Yehia says.
Jefferson Health is also "where our communities need us to be," the network's president added.
This month, the provider introduced its Cervical Cancer Mobile Screening Unit in South Jersey, and more screening events will take place in the coming months.
In addition to expanded robotic surgeries, artificial intelligence (AI) is also making an impact. The science presents a myriad of possibilities, but it comes with clear challenges. Matsinger is optimistic about AI as long as those involved act responsibly.
"Here's an example. This summer, Virtua became the first health system in the state to have a complete roll-out of a device called G.I. Genius," Matsinger says. "This uses machine-learning to help clinicians identify potentially cancerous polyps during a colonoscopy. By no means does it replace the clinician. Instead, it arms him or her with a new tool and enhances what they can observe using only the naked eye."
With the health care industry using lessons learned during the onset of the pandemic and combining those with emerging technologies and expansive new programs, the future outlook for local providers and their patients is looking more and more promising.