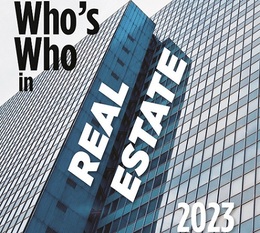 Who's Who in Real Estate 2023
A look at some of the most notable names in South Jersey commercial real estate
Recent changes in the market from inflation to sustained supply-chain issues have made the real estate market increasingly difficult to navigate. It takes an experienced and dedicated professional to ensure a smooth, cost-effective buying process. This year's Who's Who in Real Estate honorees are prime examples of what hard work, dedication to your craft and adaptation can accomplish. These professionals go above and beyond to not only improve the landscape not just for themselves, but their clients and emerging brokers as well.
Jared Feldman
Executive Chairman, First National Realty Partners
As Executive Chairman, Feldman is focused on implementing initiatives that support First National Realty Partners' (FNRP) long-term growth and strategic vision. Before joining FNRP, Feldman invested across the credit and equity spectrum, focusing on real estate-rich retail, restaurant, homebuilders, and REITs. He also advised several large private and public real estate operators on prospective investments. He has deployed more than $100M of equity capital for multi-billion-dollar investment fund platforms. Jared has an MBA from Columbia University, a JD from Hofstra University School of Law and a B.S. from New York University's Stern School of Business. He is admitted to the New York State Bar.
"Not all investments are created equal. It's important to look beyond the negative headlines and at the underlying trends in the asset class you are investing in. Commercial real estate, particularly the open-air retail sector, has shown to be resilient. Retailers are looking to expand their footprints. Due to limited new construction in the pipeline, spaces in pre-existing strip malls are in high demand. At FNRP, we have seen positive leasing momentum that we believe is driven by this demand. Multiple tenants have recently opened across our properties, significantly increasing overall occupancy and benefiting our firm and investors greatly."
Jason Fox
New Jersey Office Leasing Director, Paramount Realty
With a 15-plus year career in commercial real estate, Fox has over five years of experience as a commercial real estate broker at Colliers International out of Philadelphia/South Jersey and more than a decade of landlord leasing experience at Brixmor Property Group and most recently, Paramount Realty. As director of leasing at Paramount, a prominent retail developer and property owner in the Northeast region, Fox helps manage and lease over 15 million square feet of retail shopping centers and related development projects throughout 15 states.
"There isn't just one way to get across the finish line. More than ever, it's imperative to keep an open mind and to be creative when working a commercial real estate deal today. There are new challenges and hurdles that both landlords and tenants alike are forced to deal with on a daily basis; whether it be financing/lending, rising construction costs, inflated pricing of goods/food/labor, understanding rental rates/cap rates/market comps and trends, and how these affect each individual outcome. It's important to not have tunnel vision and to ensure you're viewing deals from all angles in today's environment."
Nancy Glick
Chief Operating Officer/Broker, Newmark Associates
Glick is the co-founder and chief executive officer of the Commercial Real Estate Supplier Diversity Alliance (CRESDA), and serves as the chief operating officer of Newmark Associates, the longest running women-owned and -operated commercial real estate firm in New Jersey. Glick began her real estate career at Newmark in 2005 and in her role as COO she has worked alongside company founder Susanne Newmark to develop technology and management systems to accommodate the firm's burgeoning growth and dedicated over 15 years to building the company's supplier diversity and inclusion programs. As a broker-salesperson, Glick specializes in property acquisitions and disposition with a sub-specialty in working with court-appointed receivers to market and sell distressed properties and in 2018, she received the Real Estate Forum's Women Who Influence Award.
"The most significant transformation in the industry since my real estate career began is the notable shift towards diversity, equity and inclusion. While changes in asset classes and valuation have occurred, the recent focus on addressing the industry's lack of diversity—including women, minorities, LGBTQ individuals and veterans—stands out. As an advocate for 15 years, I founded CRESDA in 2021, a company dedicated to enhancing supplier diversity in commercial real estate. The heightened awareness of this issue is fostering meaningful change and promoting a more inclusive landscape."
Grace LaDelfa
Director of Property Management, WCRE
As director of property management at WCRE, LaDelfa uses her diverse experience and passion to fuel the growth of WCRE's Property Management department. With a multifaceted career spanning legal, energy, international business and commercial real estate sectors, LaDelfa possesses a unique skill set that enriches her approach to various facets of business. Before her tenure at WCRE, LaDelfa excelled in managing a diverse portfolio of commercial real estate in South Jersey. She now strives to elevate WCRE's property services to new heights, while expanding their commercial management portfolio in both New Jersey and Pennsylvania.
"After many people and businesses experienced the luxuries of working from home, it's important for commercial property owners and managers to focus on enhancing the tenant experience. Happy tenants are more likely to stay long-term, reducing turnover costs. Understand the importance of amenities, security and well-being within commercial spaces. This will help keep people in the office and keep your spaces occupied."
"One of the best pieces of professional advice I have been given is to embrace the mindset that everyone you encounter has something valuable to teach you. Whether they have the intention to teach you or not, listen to other people's mistakes, successes, and experiences, and learn from them. By doing so, you are arming yourself with the knowledge to conquer future situations."
Sam Leone
President, Conifer
Leone is responsible for Conifer's strategic direction, culture, growth, overall management and strategic growth opportunities—including new development, strategic partnerships and investment. Throughout his 15-year tenure at Conifer, Leone has overseen more than 60 new developments, comprising 5,000-plus homes across four states. Leone was honored by his peers in 2008 with the Conifer Outstanding Achievement Award and recognized by the Gloucester County Chamber of Commerce with the Dedicated Service Award. Before joining Conifer, Leone served as a finance officer for the New Jersey Economic Development Authority and was responsible for financing numerous community and business development projects across New Jersey. Prior to that, Leone served as director of business development for Glassboro, where he oversaw all community and economic development activities, including a $350 million "town and gown" makeover of Rowan Boulevard.
"The way that we approach multifamily development has changed a lot. The typical financing structure we used when I started nearly two decades ago allowed us to develop 100-plus multi-family homes in each community. Now, that same approach only yields 45-50 homes. So, we've migrated to new forms of capital and financing structure to allow us to develop larger communities with the economy of scale that permits us to operate more efficiently while still delivering great service to our residents."
Stephen McCarthy
Director of Investor Relations, Strategic Funding Alternatives
McCarthy is the director of investor relations for strategic funding alternatives (SFA), where he is responsible for introducing high-net-worth individuals and institutions to investment opportunities in commercial real estate. McCarthy has worked with hundreds of investors to allocate over $75 million of equity across more than 20 commercial real estate investment opportunities. His experience is diverse, including acquisitions of several 100-plus unit multi-family apartment complexes, multi-tenant office buildings, flex/warehouse space and marinas. Strong relationships are key so McCarthy and his team work vigorously to shield investor capital from market risk, both efficiently and effectively.
"Today, fundamental insight for commercial real estate investors is heightened due to rising interest rates. Such fluctuations directly impact property valuations and borrowing costs, necessitating careful planning and strategic financing to navigate hidden pitfalls. Our view—informed decisions solidify portfolio optimization and amplify the potential for quality investments in the long run."
"Hybrid work schedules and evolving tenant requirements have created a significant shift in the office market. Now more than ever, landlords must address tenants' desires and accommodate for flexible schedules, technology needs and collaborative spaces. Adapting with the market will enhance property value, support tenant retention and create a win-win for valued tenants and real estate investors."
Gloria Monks
President-Elect, New Jersey Realtors
Gloria holds a real estate broker's license in New Jersey and Pennsylvania and serves on the New Jersey Realtors executive leadership team and board of directors, and will serve as the organization's 2024 president. She also serves as a member of the Mercer County Bar Association–Real Estate Section, Asian Real Estate Association of America and the National Association of Hispanic Real Estate Professionals. Nationally, Monks serves as a director for the National Association of Realtors (NAR), serves as a member on NAR's Federal Taxation Committee, the Incentives for Construction/Rehabilitation of Homes Workgroup, and is an inaugural mentor for NAR's mentorship program.
"The best advice I have been given is the same advice I have shared with others. Get involved in our industry and volunteer. This is our livelihood. The more you get involved, the more you learn from others. Whether you volunteer locally or on the state level of the Realtors organization, you will have the chance to connect with [professionals] at different brokerages, in different areas of the state and of different specialties too. These connections are so important, as they help us to help our clients find the home of their dreams and move our industry forward."
Robert Powell
Vice President of Development & Marketing, Vineland Construction Co.
A licensed real estate agent in New Jersey and Pennsylvania and certified commercial investment member, Powell joined Vineland Construction Co. in 2014 and his primary responsibilities include handling all marketing, business development, new development entitlement, approvals, leasing, redevelopment and the acquisition and disposition of assets. His fingerprints are all over Vineland Construction's vast portfolio including his work with local companies like New Jersey American Water and national clients ranging from Popeye's and Mavis to AutoZone and Everbrook Academy. When not working, Powell enjoys traveling with his wife and two children, surfing, golfing, and either playing with or watching his children play sports.
"The biggest change I've seen in real estate has been the impact of technology in every facet of the industry. Over the past 10-plus years, the advancement of technology and integration into real estate has changed not only how we interact and transact but also the fundamentals of portfolios and asset allocation throughout the industry. E-commerce has driven the development of industrial space and impacted legacy retail sites while virtual work and meetings has created a new dynamic in office space and helped fuel the large population shift that started during the pandemic and continues today."
Rebecca Ting
SIOR, Senior Vice President-Office Division, NAI Mertz
Ting started her corporate real estate career over 25 years ago with a national development firm and has represented various institutional owners and been responsible for asset management, leasing and sales of millions of square feet of mid-rise, one-story office, retail and flex projects, valuing in excess of $100 million. She has received broker recognition awards from Brandywine Realty Trust and Liberty Property Trust and is active in numerous real estate organizations including SIOR (Society of Industrial and Office Realtors) of which she has been a member since 1996. She is a past President for the New Jersey Chapter of SIOR, a designation of which only three women in the State of New Jersey have held.
"A mentor impressed upon me that 'time kills deals.' That's an evergreen adage, and it's certainly true in today's uncertain market. With rapid changes occurring in our industry, we have to be nimble in the way we do business. We need to be not only full service, but expedient and attentive in our service delivery. Fewer deals are getting done at the moment, but that doesn't mean that clients aren't monitoring the market. You need to remain top of mind with your clients and ready to respond when opportunities present themselves."
Fran Turchi
President, National Integrity Title
Turchi is the president and co-owner of National Integrity Title Agency. An industry expert with nearly 40 years of experience, she began her career in the settlement department. Not long after, Turchi advanced into an examining role where she honed her skills and became an authority in the core functions of title agency operations. As a leader, Turchi recognizes the importance of National Integrity's team in ensuring all clients are served at the highest level. She does more than manage, rather working hands-on, illustrating that no task is too routine, no challenge is too difficult, no team member is too experienced. Turchi champions peer mentoring and believes strongly in empowering those at every tier of the processing, title and closing departments.
"The goal is not the end product but every step of the client experience. It is the level of attention we provide to each individual's needs that establishes trust and reinforces our commitment to assist them. … No matter the position, one needs to have the "skill" and the "will" to be in this business—the "skill" to understand intricate tasks and the "will" to get them done. Generally, we seek experienced industry professionals but keep our eyes open for the new generation of title insurance specialists."
Cindy Weiner-Palmere
Vice President, Sales & Leasing, The Flynn Company
Since joining The Flynn Company in 1992, Weiner-Palmere has continued to maintain a high occupancy rate in all the properties she represents. Her success is attributed to marketing, tenant retention and her close personal relationships with the clients. Formerly an asset manager with a national development company, Weiner's 37 years of expertise involves the leasing and sales of a variety of properties as well as lease and purchase negotiations between owners, buyers and tenants. Due to Weiner's extensive experience in landlord and tenant representation, she can realistically advise clients both regionally and nationwide in all facets of a real estate transaction.
"The past decade has proven to be somewhat of a roller coaster ride and this could be misleading to many. For new prospects entering the market, there will be an obvious lack of knowledge to the status of present market conditions. Although commercial real estate has experienced some solid increases regarding demand, rental rates and more, the pandemic and interest rate increases have created 'change.' In many markets, change has caused exceptional growth; however, owners and investors are concerned as to how inflation and interest rates will affect the future market."