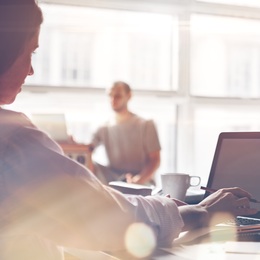 A Place to Call Home
The ongoing evolution of office space is having a noticeable impact on the industry.
A cooling market, the persistence of remote work and hybrid schedules, combined with differing industry needs continue to create a wildly varying set of demands for those looking to expand, downsize, update or relocate their office spaces.
According to CBRE's U.S. Real Estate Market Outlook for 2023, "the slow and uneven recovery of the U.S. office market in the aftermath of the pandemic has created a deep divide between prime and secondary office buildings that will continue to widen. Demand for the best buildings in attractive locations will support rent growth in top-tier office towers. By contrast, there will be a smaller pool of tenants interested in older office buildings."
J.P. Morgan Chase & Co.'s 2023 midyear commercial real estate outlook shared similar views. Citing a greatly reduced demand for office space thanks to the increase of remote and hybrid work, the company did note that A-class properties were performing well. "Office properties with leases of 10 years or more may be able to ride out the market correction. But B- and C-class office buildings—especially those located with shorter leases outside prime locations—face challenges as the workplace evolves," the report stated.
Christopher Jerjian is the founder and CEO of Kiwi Offices, which specializes in turnkey, independent furnished micro-office suites in Mount Laurel and Cherry Hill. He points out that these days most tenants are unwilling to sign long-term leases, forcing landlords to weigh the financial implications of spending significantly to modify existing office space when those occupying the properties may walk away within a year or two.
While acknowledging that larger businesses and corporations will continue to support the need for Class A office space, Jerjian is forecasting a noticeable shift within Class B and C office spaces soon. That future, he says, will be geared more toward finished spaces with an open plan that perhaps will allow for the rotating in and out of employees during different days of the week. Think generic looks and a generic size, so those looking for 5,000-square-feet may have to rent 7,000-square feet for instance.
"You're going to have to take the closest fit to what your needs are as a tenant, because the landlord is not going to be able to finance a deal where they have to change the structure of the space every five years," Jerjian says. "It is going to be much more flexible use. I do not think you will have your old, static office spaces. You will be desking, having employees bring their laptop and plug in."
Further examining the issue, JLL released its U.S. Office Outlook for the second quarter in late July and in its report detailed signs that point toward the office marketplace turning a corner and heading toward recovery despite the lingering impact of remote workforces and climbing interest rates.
"Tenants remain defensive, and continue to downsize office portfolios through large volumes of sublease space being added to the market, but improved leasing momentum across most markets led to the first quarterly increase in gross lending activity in four quarters," the report opened.
Jerjian makes the analogy that the commercial real estate industry has been slow to "convert from analog to digital," and says the issues its currently faced with have existed for some time but were certainly exacerbated by the pandemic.
"There's a lot of issues out there for landlords and I do think the industry is in trouble just because there is so much space out there," Jerjian says. "But I think as buildings get repurposed, you might find down the road there is actually a shortage of office space."